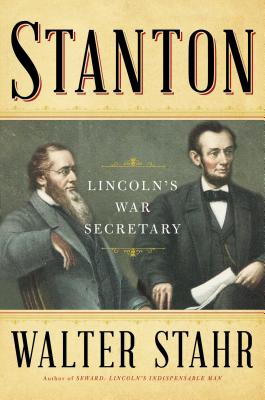 Stanton (Hardcover)
Lincoln's War Secretary
Simon & Schuster, 9781476739304, 768pp.
Publication Date: August 8, 2017
Other Editions of This Title:
Paperback (8/28/2018)
* Individual store prices may vary.
Description
"This exhaustively researched, well-paced book should take its place as the new, standard biography of the ill-tempered man who helped save the Union: It is fair, judicious, authoritative and comprehensive."—The Wall Street Journal

"A welcome and significant addition to the ample literature on the Civil War and Reconstruction." —Ron Chernow, author of The New York Times bestseller Alexander Hamilton

Walter Stahr, award-winning author of the New York Times bestseller Seward, tells the story of Abraham Lincoln's indispensable Secretary of War, Edwin Stanton, the man the president entrusted with raising the army that preserved the Union.

Of the crucial men close to President Lincoln, Secretary of War Edwin Stanton (1814–1869) was the most powerful and controversial. Stanton raised, armed, and supervised the army of a million men who won the Civil War. He organized the war effort. He directed military movements from his telegraph office, where Lincoln literally hung out with him. He arrested and imprisoned thousands for "war crimes," such as resisting the draft or calling for an armistice. Stanton was so controversial that some accused him at that time of complicity in Lincoln's assassination. He was a stubborn genius who was both reviled and revered in his time.

Stanton was a Democrat before the war and a prominent trial lawyer. He opposed slavery, but only in private. He served briefly as President Buchanan's Attorney General and then as Lincoln's aggressive Secretary of War. On the night of April 14, 1865, Stanton rushed to Lincoln's deathbed and took over the government since Secretary of State William Seward had been critically wounded the same evening. He informed the nation of the President's death, summoned General Grant to protect the Capitol, and started collecting the evidence from those who had been with the Lincolns at the theater in order to prepare a murder trial.

Now with this worthy complement to the enduring library of biographical accounts of those who helped Lincoln preserve the Union, Stanton honors the indispensable partner of the sixteenth president. Walter Stahr's essential book is the first major biography of Stanton in fifty years, restoring this underexplored figure to his proper place in American history.
About the Author
Walter Stahr is the author of Stanton: Lincoln's War Secretary; Seward: Lincoln's Indispensable Man, a biography of one of the most important Americans of the nineteenth century; and John Jay: Founding Father, a biography of America's first Supreme Court Chief Justice. He lives in Newport Beach, California.
Praise For Stanton: Lincoln's War Secretary…
"This exhaustively researched, well-paced book should take its place as the new, standard biography of the ill-tempered man who helped save the Union: It is fair, judicious, authoritative and comprehensive."
— The Wall Street Journal

"A judiciously sympathetic treatment that tries to calm a still-uncalmable subject."
— The New York Times

"Walter Stahr has delivered another solid, well-researched biography of a major, if often overlooked, figure in American history. His portrait of Edwin Stanton is fair-minded, rigorous, and scrupulously honest, balancing his sometimes questionable record on civil liberties with the logistical wizardry that he applied to win the Union war effort. Stanton is thus a welcome and significant addition to the ample literature on the Civil War and Reconstruction."
— Ron Chernow, author of The New York Times Bestseller Alexander Hamilton

"Moving swiftly across the enormous landscape of Stanton's life and times, Stahr provides a narrative that is both readily accessible and compelling for scholars long familiar with the basic facts. Stahr finds in even the more ephemeral material insights into the ways Stanton stood out from his cohort while embodying the virtues and limitations of his times."
— NPR

"A lively, lucid, and opinionated history . . . The book should be Stanton's definitive biography for some time to come."
— Kirkus Reviews, starred review

"There are many biographies of Stanton, but Stahr's will stand out as one of the finest and most detailed. This is a book for both scholars of Civil War history and general readers who have a deep interest in that period."
— Washington Independent Review of Books

"Walter Stahr has given us the best all-around account of Stanton's life as Lincoln's Secretary of War in over half-a-century. Here is the biography of America's most difficult man—delightfully written, well-informed, humane and judicious."
— Dr. Allen C. Guelzo, author of Abraham Lincoln: Redeemer President, winner of The Lincoln Prize

"Walter Stahr's Stanton offers a masterly account of one of the great characters of the Civil War. The Secretary of War from 1862-1865 was irascible, autocratic, and vengeful, but also steadfast, punctilious, and practical. This fascinating biography reveals how such a complex and unlikely figure came to play such a vital role at the country's hour of peril."
— Amanda Foreman, author of A World on Fire: Britain's Crucial Role in the American Civil War

"Stahr has given us not only the definitive biography of the man after Lincoln most responsible for Union victory, but also a work of stunning force and literary excellence. Indeed, I believe Stanton to be one of the finest Civil War biographies ever written."
— Peter Cozzens, prize-winning author of The Earth is Weeping

"In this well researched, forcefully written and argued biography, Walter Stahr shows why Stanton deserves great credit for helping to make Lincoln a successful leader. The gruff, irascible, humorless war secretary and the magnanimous, affable, humorous president were an odd couple, but together they provided the extraordinary leadership that the times required."
— Michael Burlingame, author of Abraham Lincoln: A Life

"Stahr is at his best highlighting Stanton's adroitness in manipulating people, organizational structures, and budgets to accomplish the goal of winning the war. . . . Stahr is especially effective in demonstrating how Stanton served as a political ally of Lincoln's, using the president's considerable influence to his advantage. Highly recommended for novice and experienced Civil War readers alike."
— Library Journal (starred review)