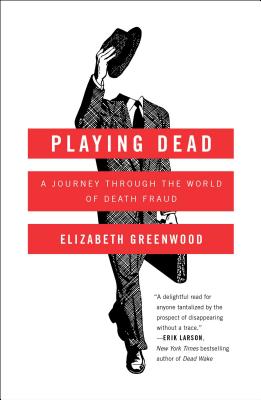 Playing Dead
A Journey Through the World of Death Fraud
Hardcover

* Individual store prices may vary.
Other Editions of This Title:
Digital Audiobook (8/8/2016)
Paperback (8/15/2017)
Description
"A delightful read for anyone tantalized by the prospect of disappearing without a trace." —Erik Larson, New York Times bestselling author of Dead Wake

"Delivers all the lo-fi spy shenanigans and caught-red-handed schadenfreude you're hoping for." —NPR

"A lively romp." —The Boston Globe

"Grim fun." —The New York Times

"Brilliant topic, absorbing book." —The Seattle Times

"The most literally escapist summer read you could hope for." —The Paris Review

Is it still possible to fake your own death in the twenty-first century? With six figures of student loan debt, Elizabeth Greenwood was tempted to find out. So off she sets on a darkly comic foray into the world of death fraud, where for $30,000 a consultant can make you disappear—but your suspicious insurance company might hire a private detective to dig up your coffin...only to find it filled with rocks.

Greenwood tracks down a British man who staged a kayaking accident and then returned to live in his own house while all his neighbors thought he was dead. She takes a call from Michael Jackson (no, he's not dead—or so her new acquaintances would have her believe), stalks message boards for people contemplating pseudocide, and gathers intel on black market morgues in the Philippines, where she may or may not obtain some fraudulent goodies of her own. Along the way, she learns that love is a much less common motive than money, and that making your death look like a drowning virtually guarantees that you'll be caught. (Disappearing while hiking, however, is a way great to go.)

Playing Dead is a charmingly bizarre investigation in the vein of Jon Ronson and Mary Roach into our all-too-human desire to escape from the lives we lead, and the men and women desperate enough to give up their lives—and their families—to start again.
Praise For Playing Dead: A Journey Through the World of Death Fraud…
"A beguiling foray into the wacky yet somehow ever-fascinating realm of death fraud."
— Maria Konnikova, New York Times bestselling author of The Confidence Game

"Mesmerizing."
— Elle

"Wonderfully weird."
— Deborah Blum, New York Times bestselling author of The Poisoner's Handbook

"Elizabeth Greenwood is as entertaining and gifted an archeologist of subcultures as she is an able explorer of issues like anonymity, the right to privacy, and how much control people can ever exert over their identities. An energetic and insatiable writer, her generous mind infuses every page of this astonishing book."
— Heidi Julavits, author of The Folded Clock

"Exuberant and ironic, witty and compassionate, various and keenly-focused, Playing Dead is eccentric investigative journalism. A terrific subject, where the deadly (excuse the pun) serious and absurdly comic meet and mesh."
— Margo Jefferson, author of Negroland

"Riveting."
— The Huffington Post

"Ghoulishly existential."
— BloombergBusinessweek

"Quirky, engaging, and surprisingly uplifting... Elizabeth Greenwood has written a book about death, faked and real, that teaches us much about life."
— Eric Weiner, New York Times bestselling author of The Geography of Genius

"Playing Dead marks the debut of a very talented author. Both the book and the writer are cause for celebration."
— Jeff Guinn, New York Times bestselling author of Manson

"A bizarre exposé of the disappearance industry."
— Entertainment Weekly

"Wildly entertaining."
—Tony Perrottet, author of Napoleon's Privates

"Slightly macabre, but ultimately very human; it is a questioning of how we seek satisfaction in life, and when we cut and run. Greenwood's narrative voice is humble and approachable, but as an investigator she is tenacious.... Playing Dead will please those attracted to the eccentric, as well as anyone who has ever fantasized about leaving it all behind."
— Shelf Awareness

"Belongs to that genre of popular nonfiction best exemplified by Jon Ronson.... It's a form that above all requires a likable, self-deprecating, curious narrator, and Greenwood fits the bill."
— Slate

"Catnip."
— The Guardian

"Highly entertaining."
— Lenny Letter

"Earnestly researched."
— Kirkus Reviews

"From digging up suspect graves to buying her own death certificate, Greenwood investigates the work of death fraud with probing comedic wit, and ultimately delivers a reflection on the efficacy of escaping ourselves."
— DuJour

"A tragicomic study."
— Bust

"Entertaining and enlightening."
— Booklist

"If your life totally sucks then simply end it and start a new one. Elizabeth Greenwood's creepy and hilarious foray into death fakery shows you how."
— Simon Doonan, author of The Asylum and Beautiful People
Simon & Schuster, 9781476739335, 272pp.
Publication Date: August 9, 2016
About the Author
Elizabeth Greenwood is the author of Playing Dead: A Journey Through the World of Death Fraud. Her work has appeared in The New York Times, VICE, O, the Oprah Magazine, Longreads, GQ, and others.
Coverage from NPR
or
Not Currently Available for Direct Purchase