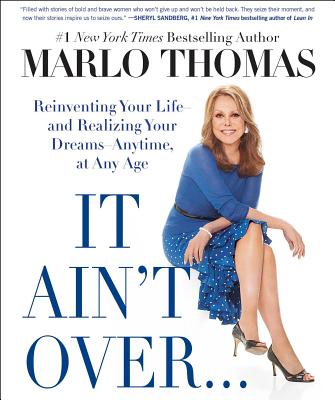 It Ain't Over . . . Till It's Over: Reinventing Your Life--And Realizing Your Dreams--Anytime, at Any Age (Paperback)
Reinventing Your Life--And Realizing Your Dreams--Anytime, at Any Age
Atria Books, 9781476739922, 400pp.
Publication Date: April 19, 2016
* Individual store prices may vary.
or
Not Currently Available for Direct Purchase
Description
From actress, activist, and #1 New York Times bestselling author Marlo Thomas comes a unique, inspirational book "filled with stories of bold and brave women who won't give up and won't be held back" (Sheryl Sandberg, bestselling author of Lean In). Anyone who has ever tried to make a big life change knows it can be complicated--and frightening. Especially if you're feeling stuck. But how do you get up the nerve to actually take the leap? Marlo Thomas's It Ain't Over...Till It's Over introduces us to sixty amazing women who proved that it's never too late to pull yourself out of a hole or to live out a dream--to launch a business, lose weight, discover a hidden talent, escape a dangerous relationship, find love, or fill a void in life with a challenging new experience. Meet an unemployed saleswoman who fought her way back from bankruptcy by inventing a simple product that earned her millions; a graphic artist who fulfilled a childhood ambition by going to med school at age forty-two; a suburban mom whose snack recipe for her daughter's lunchbox turned into a successful business; and a middle-aged English teacher who, devastated to learn that her husband was cheating on her, refused to be a victim, filed for divorce, and began the challenging journey of rebuilding her life. From the first page to the last, It Ain't Over...Till It's Over speaks to women of all ages with an empowering message: The best is yet to come.
About the Author
Marlo Thomas is the author of six bestselling books: Free to Be...You and Me; Free to Be...a Family; The Right Words at the Right Time (Volumes 1 and 2); Thanks & Giving: All Year Long; and her memoir, Growing Up Laughing. She has won four Emmy Awards, a Peabody, a Golden Globe, a Grammy, and has been inducted into the Broadcasting Hall of Fame. She is the National Outreach Director for St. Jude Children's Research Hospital. In 2010, Ms. Thomas launched her website, MarloThomas.com, on AOL and the Huffington Post.
Advertisement