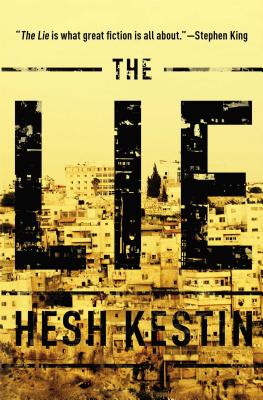 The Lie
A Novel
Hardcover

* Individual store prices may vary.
Other Editions of This Title:
Paperback (3/3/2015)
Library Binding, Large Print (7/1/2014)
Description
A "page-turner that will engage your mind and emotions in a way few novels do" (Stephen King) about a left-wing Israeli lawyer—famous for defending Palestinians—whose views face the ultimate test when her own son is captured and tortured by terrorists.

DAHLIA BARR DOES NOT SUFFER FOOLS—or her own government, with which she is normally at odds. Shrewd, brash, and as tough as she is beautiful, the controversial Israeli attorney specializes in defending Palestinians accused of terrorism. She is also a devoted mother, a soon-to-be-divorced wife, and the lover of a handsome American television cor­respondent.

To Dahlia's astonishment, the Israeli secu­rity establishment one day approaches her with a tantalizing proposition: Join us, and become the beleaguered nation's arbiter on when to use the harshest of interrogation methods—what some would call torture. Dahlia is intrigued. She has no intention of permitting torture. Can she change the system from within?

Then, as Dahlia settles into her new job, her son Ari, a twenty-year-old lieutenant in the Israel Defense Forces, is kidnapped by Hezbol­lah and whisked over the border to Lebanon. The one man who may hold the key to Ari's rescue is locked in a cell in police headquar­ters. Edward Al-Masri—professor, activist, media gadfly—is an Arab who has a long and complicated history with Dahlia. And he's not talking. Yet.

The Lie is a nail-biting thriller, pulsing with insight into the inner workings of Israel's secu­rity apparatus. It is an unforgettable story of human beings on both sides of the terror equa­tion whose lives turn out to share more in common than they—and the reader—could ever have imagined.
Praise For The Lie: A Novel…
"A page-turner that will engage your mind and emotions in a way few novels do. The narrative is headlong, the issues have never been more current, and the characters come alive from the page. This is a story about the lies we tell until the truth is forced upon us, and about divided countries, including those of the human heart. I started reading; I ended up experiencing. The Lie is what great fiction is all about."
— Stephen King

"The Lie is a page-turning triumph, foaming with emotional resonance and ripped-from-the-headlines suspense. Welcome to the next generation of political thrillers."
— David Goodwillie, author of American Subversive

"I was moved to tears (and cheers!) by this wonderfully compelling account of deeply personal conflict in the midst of Israel's war against terror. Hesh Kestin is a superb storyteller who knows the Middle East intimately. The Lie is alive with an abundance of surprising fact and thoroughly engaging fiction."
— Richard D. Heffner,host of public television's The Open Mind

"An utterly riveting thriller that is likely to rank as one of the year's best…. The Lie has everything: memorable characters, a compelling plot, white-knuckle military action, and an economy and clarity of prose that is direct, powerful, and at times beautiful."

"Not a single word is wasted in Kestin's masterfully wrought and mercilessly readable novel of intrigue, and terror. The Lie's political, cultural, and personal insights are matched only by its breathtaking action and suspense. Quite simply, the best thriller I've read in ages."
— Jonathan Evison, New York Times-bestselling author of West of Here and All About Lulu

"In this taut novel, the dark complexities of the Palestinian-Israeli conflict hit home… Dahlia … is a magnetic presence throughout…. Extraordinary… A powerful and unsettling finale."

"Knuckle-gnawing, heart-stopping, sleep-suspending… The plot is compelling; the writing, taut, lucid... and the issues around which the story revolves are as current as the breaking news on 24/7 cable TV. But it is the characters, full-spirited, paradoxical and unpredictable, who usher the book out of the realm of "genre fiction" and place it prominently within the narrower category of simply superb fiction."

"A fast-moving, tense thriller… Calling the book cinematic takes nothing away from its literary muscle… A tightly plotted story, a political game of nerve with some seriously charismatic special ops for good measure…. Kestin brings the action alive through details both mundane and exotic… A vivid picture of life in an everyday war zone."

"Extraordinarily fun and surprisingly intriguing."

"Kestin, a Brooklyn-raised former foreign correspondent, engages us with authentic detail… [The Lie] will stay with you."
Scribner, 9781476740096, 240pp.
Publication Date: March 4, 2014
About the Author
Hesh Kestin was for two decades a foreign correspondent, reporting from the Middle East on war, international security, terrorism, arms dealing, espionage, and global business. He was the London-based European correspondent for Forbes and is an eighteen-year veteran of the Israel Defense Forces. His articles have appeared in Newsday, the Jerusalem Post, Inc. and Playboy. The father of five, Kestin lives on Long Island in New York.
or
Not Currently Available for Direct Purchase