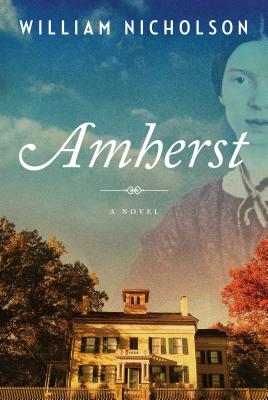 Amherst (Hardcover)
A Novel
Simon & Schuster, 9781476740409, 304pp.
Publication Date: February 10, 2015
Other Editions of This Title:
MP3 CD (2/10/2015)
Paperback (2/16/2016)
Compact Disc (2/10/2015)
Hardcover, Large Print (9/9/2015)
* Individual store prices may vary.
Description
From an Oscar-nominated screenwriter and the author of Motherland, a novel about two love affairs set in Amherst—one in the present, one in the past, and both presided over by Emily Dickinson.

Alice Dickinson, a young advertising executive in London, decides to take time off work to research her idea for a screenplay: the true story of the scandalous, adulterous love affair that took place between a young, Amherst college faculty wife, Mabel Loomis Todd, and the college's treasurer, Austin Dickinson, in the 1880s. Austin, twenty-four years Mabel's senior and married, was the brother of the reclusive poet Emily Dickinson, whose house provided the setting for Austin and Mabel's trysts.

Alice travels to Amherst, staying in the house of Nick Crocker, a married English academic in his fifties. As Alice researches Austin and Mabel's story and Emily's role in their affair, she embarks on her own affair with Nick, an affair that, of course, they both know echoes the affair that she's writing about in her screenplay.

Interspersed with Alice's complicated love story is the story of Austin and Mabel, historically accurate and meticulously recreated from their voluminous letters and diaries. Using the poems of Emily Dickinson throughout, Amherst is an exploration of the nature of passionate love, its delusions, and its glories. This novel is playful and scholarly, sexy and smart, and reminds us that the games we play when we fall in love have not changed that much over the years.
About the Author
William Nicholson is a screenwriter, playwright, television writer, and novelist. In addition to his Academy Award–nominated screenplays for Shadowlands and Gladiator, he is the author of Motherland; several young adult and fantasy novels; and a sequence of contemporary adult novels set in England. He lives in Sussex, England.
Praise For Amherst: A Novel…
"Alice has come to Emily Dickinson's hometown to research a screenplay about the long affair between the poet's brother Austin and Mabel Todd, a professor's wife. Soon life tips its hat to art: Alice herself enters into an affair. Nicholson deftly weaves Mabel's story with Alice's, shedding light on the timeless longing, lust and loneliness of love."

"A spirited…investigation of the meaning of love."

"Accomplished novelist and screenwriter Nicholson spins a tale of two college-two love triangles…The poetry and history go down easy, the lovers fall hard, and the tragic, treacherous terrain of romantic entanglement is well explored in what more than one reader saw as ripe material for a screenplay."

"[A] wonderfully smooth, sinuous, enigmatic and sexy tale of two love affairs… Nicholson's dialogue is beautifully oblique and emotionally wrought. We're drawn into both worlds, both romances. And of Emily and Mabel and Alice and Sue: 'For love of Her — Sweet — countrymen — /Judge tenderly — of Me.'"

"Dickinson's spirit fuels the drama, which switches between two parallel stories that illuminate the power as well as the often crippling delusion of romantic love…. direct, provocative, even sexy at times."

"Nicholson not only gives us an entertaining and often touching novel but also does a larger service. He reminds us of how well Dickinson knew the human heart, including its loneliness, and that humans, of any century, yearn for deep connection, often against the odds."

"A compelling reflection on sex and marriage in the 19th century, [Amherst] is an enjoyable concoction of first-hand accounts and modern imagination."

"Nicholson's prose is sharp while not giving too much away…The novel is a perfect accompaniment for a long winter's evening…readers who enjoy their historical fiction mixed modern mystery will enjoy Amherst."

"Weaving voices of the past and present, Nicholson creates an engaging, many-faceted novel that deftly explores the timeless torments of love and loneliness."

"Nicholson is an accomplished novelist (Motherland) and Oscar-nominated screenwriter in whose hands this meticulously researched and thought-provoking exploration of the nature of passionate love soars. Told in alternating chapters between the past and the present and using the poems of Emily Dickinson throughout, this work...is accessible to all and should be welcomed by book groups. Highly recommended."

"Nicholson's parallel love stories hold classic appeal, while the historical aspects of the tale provide interest for those seeking 'the real story' of one of America's most revered poets."

"A cinema-ready exploration of love and lust in New England past and present."

"Lyric and rich, this beautiful novel presents two love affairs more than a century apart, expertly stitched together by the unseen hand of Emily Dickinson. Through a small, intimate lens the novel explores blockbuster themes of love, honesty and fidelity. It is a rare and lovely book."
— Priya Parmar, author of Vanessa and Her Sisters and Exit the Actress

"William Nicholson's masterly novel, zig-zagging between two contrasting eras, weaves love, sex and poetry together so seamlessly that you can hardly see the joins."

"A compelling reflection on sex and marriage in the 19th century."



"William Nicholson's multi-stranded love stories are grounded in ultra-credible characterisation."
— Allan Massie

"Plenty of writers like to counterpoint contemporary stories with events from the past, plenty more produce series of novels revolving around the same set of characters, but in The Lovers of Amherst Nicholson is bold enough to try both in the same book. The result is a success. A beguiling meditation on poetry and love."

"Although Emily (Dickinson) barely appears in the novel, Nicholson manages to convey the extraordinary, mesmerising power of her poetry without clumsiness. Indeed the 19th-century sections are so historically rich that at times they feel more like biography than fiction."

"His [Nicholson's] greatest achievement, though in The Lovers of Amherst, is to compel us to approach Emily Dickinson's poetry with fresh eyes."

"In this ambitious and brilliantly executed installment a true historical love story intertwines with an imagined contemporary one."
or
Not Currently Available for Direct Purchase