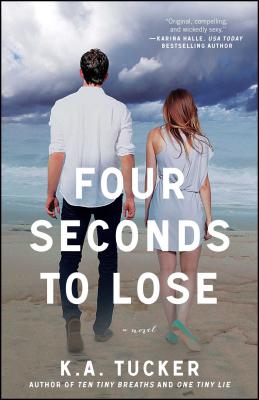 Four Seconds to Lose
A Novel (The Ten Tiny Breaths Series #4)
Paperback

* Individual store prices may vary.
Other Editions of This Title:
Digital Audiobook (11/4/2013)
Description
When a gorgeous young dancer walks through his door, a strip club owner must decide whether to follow his rules or his heart in the third novel by the author of One Tiny Lie and Ten Tiny Breaths.

I believe you don't have years, or months, or weeks to impact a person's life. You have seconds. Seconds to win them over, and seconds to lose them.

Owning a strip club isn't the fantasy most guys expect it to be. With long hours, a staff with enough issues to keep a psych ward in business, and the police regularly on his case, twenty-nine-year-old Cain is starting to second-guess his unspoken mission to save the women he employs. And then blond, brown-eyed Charlie Rourke walks through his door, and things get really complicated. Cain abides by a strict "no sleeping with his staff" rule. But being around Charlie challenges Cain's self-control . . . and it's been a long time since any woman has done that.

Twenty-two-year-old Charlie Rourke needs a lot of money, really fast, in order to vanish before it's too late. Taking her clothes off for men makes her stomach curl, but Charlie tells herself that at least she's putting her acting and dancing skills to good use. And though her fellow dancers seem eager to nab their sexy, sophisticated, and genuinely caring boss, she's not interested. After all, Charlie Rourke doesn't really exist—and the girl pretending to be her can't get distracted by romance.

Unfortunately, Charlie soon discovers that developing feelings for Cain is inevitable, and that those feelings may not be unrequited—but losing him when he finds out what she's involved with will be more painful than any other sentence awaiting her.
Praise For Four Seconds to Lose: A Novel (The Ten Tiny Breaths Series #4)…
"Tucker's probe and pacing have a vibrant energy."
— Kirkus

"Original, compelling, and wickedly sexy."
— Karina Halle

"I devoured this book! Characters, romance, suspense -- I loved every single moment. Don't lose another second waiting to give this one a read."
— Cora Cormack

"Likable characters, steamy liaisons and surprising plot twists add up to satisfying romance. Readers will be eager for the next installment."
— Kirkus

"Fiercely truthful, this book twisted my heart around and handed it to me. This is one you definitely don't want to miss."
— Courtney Cole

"Intense, hot, emotional...K.A. Tucker left no feeling untouched. A gripping read."
— Colleen Hoover

"Tucker delivers another emotional and unforgettable read. Livie and Ashton's electrically charged connection will have readers frantically turning pages. Add in the witty and sexually suggestive banter and you've got a recipe for one hot and angsty romance. One Tiny Lie tackles heavy topics, but the balance between the romance, coming-of-age storyline and darker issues is extremely well-done. An absolute must read!"
— Romantic Times (4.5 out of 5 stars)

"A touching, gorgeous read. I laughed, cried, swooned, and took ten tiny breaths of my own!"
— Cora Carmack

"Loved it!! A MUST READ! I won't say any more. The shock value from the very start to the very end must be experienced blindly for full impact. Just know I think you should read it."
— Maryse Black

"This is one the best contemporary novels to hit shelves this year, and a must-read for those who love realistic stories about strong females."
— Jen Lamoureux
Atria Books, 9781476740492, 400pp.
Publication Date: April 1, 2014
About the Author
K.A. Tucker writes captivating stories with an edge. She is the bestselling author of the Ten Tiny Breaths and Burying Water series and the novels He Will Be My Ruin, Until It Fades, Keep Her Safe, and The Simple Wild. She currently resides in a quaint town outside Toronto with her husband and two beautiful girls.