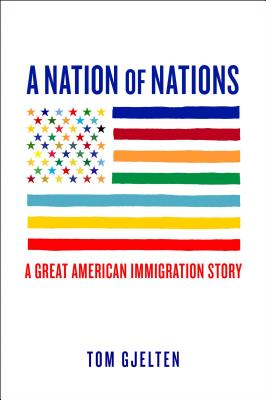 A Nation of Nations
A Great American Immigration Story
Hardcover

* Individual store prices may vary.
Other Editions of This Title:
Paperback (10/25/2016)
MP3 CD (11/3/2015)
Compact Disc (11/3/2015)
MP3 CD (11/3/2015)
Compact Disc (11/3/2015)
Description
The dramatic and compelling story of the transformation of America during the last fifty years, told through a handful of families in one suburban county in Virginia that has been utterly changed by recent immigration.

In the fifty years since the 1965 Immigration and Nationality Act, the foreign-born population of the United States has tripled. Significantly, these immigrants are not coming from Europe, as was the case before 1965, but from all corners of the globe. Today non-European immigration is ninety percent of the total immigration to the US. Americans today are vastly more diverse than ever. They look different, speak different languages, practice different religions, eat different foods, and enjoy different cultures.

In 1950, Fairfax County, Virginia, was ninety percent white, ten percent African-American, with a little more than one hundred families who were "other." Currently the African-American percentage of the population is about the same, but the Anglo white population is less than fifty percent, and there are families of Asian, African, Middle Eastern, and Latin American origin living all over the county. A Nation of Nations follows the lives of a few immigrants to Fairfax County over recent decades as they gradually "Americanize." Hailing from Korea, Bolivia, and Libya, these families have stories that illustrate common immigrant themes: friction, between minorities, economic competition and entrepreneurship, and racial and cultural stereotyping.

It's been half a century since the 1965 Immigration and Nationality Act changed the landscape of America, and no book has assessed the impact or importance of this law as this one does, with its brilliant combination of personal stories and larger demographic and political issues.
Praise For A Nation of Nations: A Great American Immigration Story…
"Powerful human stories. . . . Gjelten has produced a compelling and informative account of the impact of the 1965 reforms, one that is indispensable reading at a time when anti-immigrant demagoguery has again found its way onto the main stage of political discourse."
— Colin Woodard

"A Nation of Nations is a necessary book on what America has become in the last half-century. It tells the stories of new immigrants to a great country and defines and celebrates an exciting new American Exceptionalism."
— Richard Reeves, author of INFAMY: The Shocking Story of the Japanese-American Internment in World War II

"For anyone who believes passionately in the American ideal— that we are a nation, while occasionally distracted or knocked off track, striving to live closer to its founding principle, that 'all are created equal'—A Nation of Nations is a welcome addition to enlarging our understanding of each other and the possibilities of the United States."
— June Shih

"Builds through the accumulation of detail to a book of impressive heft."
— Helen Thorpe

"The 21st century will be defined by seismic global immigration, remapping human interaction to the core, and the United States will remain the model for other nations to emulate. Tom Gjelten understands why, not only because he is a byproduct of immigration, but because he has been in the trenches—the inner cities, the rural landscapes, the contested borders--where America is reborn on a daily basis. In this probing exploration, he explains, lucidly and with compassion, the extent to which the motto e pluribus unum is the engine of progress."
— Ilan Stavans, editor of Becoming Americans: Immigrants Tell Their Stories from Jamestown to Today

"Tom Gjelten sings of a new America that bravely invites newcomers. A Nation of Nations would have pleased Whitman himself for its generosity, spirit and hope. This book is both smart and moving."
— Min Jin Lee, author of Free Food for Millionaires

"An incisive look at immigration, assimilation, and national identity. . . . A timely, well-informed entry into a national debate."
— Kirkus Reviews
Simon & Schuster, 9781476743851, 416pp.
Publication Date: September 15, 2015
About the Author
Tom Gjelten is a veteran journalist and author of Sarajevo Daily: A City and Its Newspaper Under Siege and Bacardi and the Long Fight for Cuba: The Biography of a Cause. Over a thirty-year career as a correspondent for NPR News, he has covered wars in Central America, the Middle East, and the former Yugoslavia, as well as major national stories in the United States. His NPR reporting has won him two Overseas Press Club Awards, a George Polk Award, and a Robert F. Kennedy Journalism Award. He is a regular panelist on the PBS program Washington Week, a member of the Council on Foreign Relations, and a member of the Editorial Board at World Affairs Journal.
or
Not Currently Available for Direct Purchase