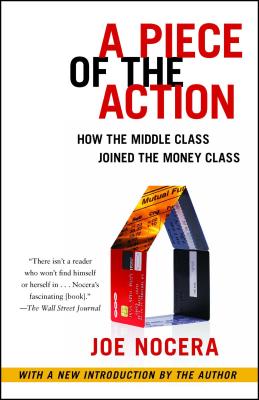 A Piece of the Action
How the Middle Class Joined the Money Class
Paperback

* Individual store prices may vary.
Description
Now with a new introduction describing the fallout of America's consumer credit boom, 1994's wildly acclaimed bestseller A Piece of the Action tells the story of how millions of middle class Americans went from being savers to borrowers and investors through the invention of credit cards, mutual funds, and IRAs—resulting in profound societal change.

"America began to change on a mid-September day in 1958, when the Bank of America dropped its first 60,000 credit cards on the unassuming city of Fresno, California." So begins Joe Nocera's riveting account of one of the most astonishing revolutions in modern American life—what Nocera labels "the money revolution." In the decades since, the middle class has gained access to credit cards, to mutual funds, to retirement accounts—and to hundreds of other financial vehicles that have allowed everyone to get "a piece of the action." In this lively, engaging book, some of the great financial characters of modern times—from Charles Merrill to Charles Schwab to Peter Lynch—strut across the stage as the course of this great financial shift is charted.

In an all-new introduction, Nocera takes a look back at the consequences of the money revolution. Were members of the middle class as prepared as the innovators claimed to take control of their financial lives? Or did events like the dot-com and the housing bubbles suggest something else: that far too many of us lacked the wherewithal to make sound investment decisions?
Praise For A Piece of the Action: How the Middle Class Joined the Money Class…
"One of America's finest business writers has collided with one of America's biggest untold stories, and the result is, predictably, a smash hit. Joseph Nocera explains why you have become the financially obsessed creature you are, and if you have a moment to spare from adding your credit card bills to your stock market losses, you should listen to him."
— Michael Lewis, author of The Big Short

"Nocera is one of the most gifted observers of the business world today. It is no surprise that he has produced the definitive history of the post-World War II revolution in personal fincance and made it both vivid and comprehensive."
— Bryan Burrough, coauthor of Barbarians at the Gate

"Everyman as financier. That's the engaging and under-reported story that Joe Nocera shares with us in A Piece of the Action. This is not financial history, not business history: It's a timely and superbly researched history of a dominant facet of modern American culture—one that has changed how we act, what we worry about, and who we are."
— Tom Peters, coauthor of In Search of Excellence

"There isn't a reader who won't find himself or herself in . . . Nocera's fascinating [book]."
— The Wall Street Journal

"[A Piece of the Action] fills in what is literally thirty years of missing history to the story of postwar America."
— Los Angeles Times Book Review

"A riveting saga of the rise and rise of America's personal finance industry—and the ferocious innovators who built it."
— Fortune

"A very fine specimen of journalism . . . Nocera does succeed in breathing life into inanimate things . . . clear, accessible and engaging."
— The New Republic

"Lively portraits of the legends of these financial industries . . . well-researched, tightly written, and full of eyewitness accounts."
— Chicago Tribune
Simon & Schuster, 9781476744896, 480pp.
Publication Date: October 15, 2013
About the Author
Joe Nocera is an op-ed columnist for The New York Times. He was previously a business columnist for the Times and a staff writer for The New York Times Magazine. He spent ten years at Fortune, where he rose to editorial director, and has written for numerous publications, including GQ, Esquire, and Newsweek. He has won three Gerald Loeb awards and three John Hancock awards for excellence in business journalism. His most recent book is the New York Times bestseller All the Devils Are Here, which he coauthored with Bethany McClean. He lives in New York.