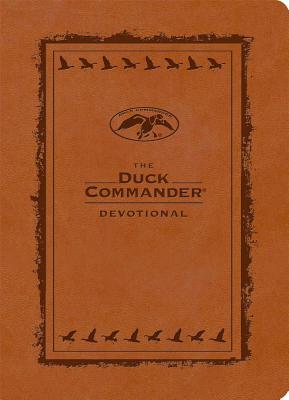 The Duck Commander Devotional: Brown (Imitation Leather)
Brown
Howard Books, 9781476745541, 383pp.
Publication Date: April 1, 2014
Description
Featuring imitation leather and a beautiful burnished design, this 365-day devotional--which includes devotional messages from all the members of the Robertson clan--is an ideal gift for Duck Dynasty(R) fans, hunters, outdoor enthusiasts, and anyone who wants to take aim at spiritual growth. Loyal fans of the Duck Dynasty family will relish this collection of inspirational messages for each day of the year. From patriarch Phil and matriarch Kay to their four sons (Willie, Jase, Jep, and Alan) and their beautiful wives and children, the entire Robertson clan contributes to this encouraging guide. You'll also hear from Martin and Godwin, the only two non-family members who are regulars on the show. Each devotional contains a brief message, a passage from Scripture, and a prayer. Not only are the messages motivational, but they are also laced with the characters' trademark wit and humor. An ideal companion for Duck Dynasty fans, hunters, outdoor enthusiasts, and anyone who wants to grow in their faith, The Duck Commander Devotional will both entertain and inspire.
About the Author
Alan Robertson is the oldest of the four Robertson boys and is making his first appearance on the show in this upcoming season's launch. He grew up hunting, fishing, and helping build the foundation of the family business in the 1970s and 80s. Alan left the duck call business when he received the call for ministry in 1988 and served as a senior pastor in West Monroe, Lousiana, until 2012, when he, too, joined the Duck Commander clan to work with the family business. Alan received an associate s degree from White s Ferry Road School of Biblical Studies and a bachelor in ministry from Sunset International Bible Institute. He lives in West Monroe, Louisiana, with his wife, Lisa, his two grown daughters, and two grandchildren.
Advertisement