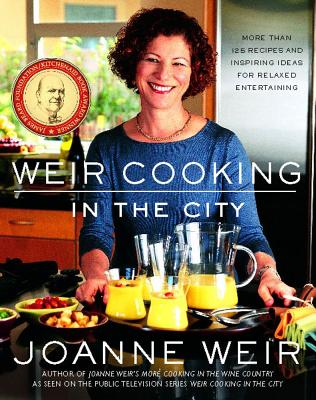 Weir Cooking in the City (Paperback)
More Than 125 Recipes and Inspiring Ideas for Rela
Simon & Schuster, 9781476745671, 336pp.
Publication Date: February 23, 2013
* Individual store prices may vary.
Description
The American city is thriving. In urban neighborhoods across the country you can find intriguing restaurants, gourmet and ethnic markets, farmers' markets, and artisanal breads and cheeses. In her new book, "Weir Cooking in the City, " chef and teacher Joanne Weir takes readers and home cooks into our nation's ethnically diverse and vibrant culinary and cultural urban landscape.
Exploring her adopted city of San Francisco as a guide, Joanne invites readers to search their own cities for the myriad international flavors and tastes they will find there. From local ethnic neighborhoods to the butcher to the farmers' market, Joanne seeks out the best ingredients and most delicious dishes and shows how they can be re-created in home kitchens anywhere. A companion volume to her new series on public television, "Weir Cooking in the City" brings every city to life.
With chapters on Firsts, Soups, Mains, and Desserts, Weir includes more than 125 vividly flavored, inventive recipes, created with urban cooks in mind: those cooks with not enough time and too little space, but an appetite for creating memorable meals and social gatherings. Start your meal with Joanne's Straw Potato Cakes with Smoked Salmon and Caviar, Parmesan Flan, or Kale Soup with Pancetta and White Beans. Showcase beautiful salad greens in a Radicchio, Arugula, Golden Raisin, and Pine Nut Salad or a Duck Salad with Pecans and Kumquats, or spice things up with a Thai Beef Salad with Mint and Cilantro. Simple yet delicious main courses include Silver-Roasted Salmon with Sweet-Hot Relish; Pan-Seared Chicken Breasts with Mustard, Rosemary, and Capers; and Green Lasagna with Artichokes and Leeks. Sweets like Warm Chocolate, Cinnamon, and Coffee Tart; Plum Cake; Double Chocolate Ice Cream with Dried Cherries; and Panna Cotta with Raspberries will complete your meal. Each recipe is accompanied by wine suggestions from wine expert Tim McDonald.
Filled with mouth-watering photographs throughout, "Weir Cooking in the City" is the cookbook for the modern home cook, with essential information on stocking your pantry, matching wine with food, and effortless entertaining. From creating a party of Mediterranean-inspired small plates to a simple but sophisticated supper after a movie or play, from bustling neighborhood markets to Joanne's welcoming kitchen, this excursion into city cuisine will inspire you to create a weekday meal or an impromptu dinner party.
About the Author
Joanne Weir is an award-winning author, cooking teacher, and chef. She cooked for five years at Chez Panisse and has studied with Madeleine Kamman. She is the host of the popular public television series Weir Cooking in the Wine Country. Her new series, Weir Cooking in the City, begins in spring 2004. Weir was awarded the first International Association of Culinary Professionals' Cooking Teacher of the Year Award of Excellence in 1996. Her books From Tapas to Meze, You Say Tomato, and Joanne Weir's More Cooking in the Wine Country were nominated for James Beard Awards. She lives in San Francisco.
Praise For Weir Cooking in the City: More Than 125 Recipes and Inspiring Ideas for Rela…
Alice Waters Chef, Chez Panisse, and author of Chez Panisse Café Cookbook As a cook, as a teacher, and as an author, Joanne Weir has never strayed from her firm and unassailable convictions that cooking should be pure and simple and that ingredients should be pure and fresh.



Madeleine Kamman Author of The New Making of a Cook: The Art, Techniques, and Science of Good Cooking Joanne inherited a long past of work in the kitchen from her European and American grandmothers. The love she has for her work is visible in everything she does.


Publishers Weekly Weir's recipes are lusty and unpretentious, emphasizing fresh, seasonal ingredients, and her lucid writing makes seamlessly accessible the few that are more complex....She pays special attention to the blending of sweet, salty, sour, and bitter, and the result is magical.
or
Not Currently Available for Direct Purchase