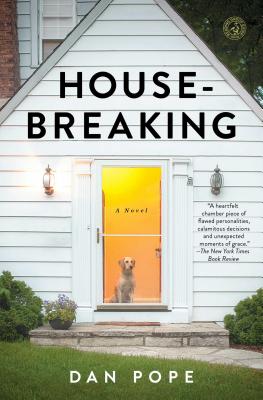 Housebreaking (Paperback)
A Novel
Simon & Schuster, 9781476745916, 304pp.
Publication Date: May 31, 2016
Other Editions of This Title:
Digital Audiobook (5/11/2015)
Hardcover (5/12/2015)
Compact Disc (5/12/2015)
MP3 CD (5/12/2015)
Compact Disc (5/12/2015)
* Individual store prices may vary.
Description
In this "heartfelt chamber piece of flawed personalities, calamitous decisions, and unexpected moments of grace" (The New York Times Book Review), two suburban families are hopelessly entangled during an explosive Thanksgiving weekend that changes their lives forever.

When Benjamin's wife kicks him out of their house, he returns to his childhood home in Connecticut to live with his widowed father. Lost, lonely, and doubting everything he felt he knew about marriage and love—even as his eighty-year-old father begins to date again—Benjamin is trying to put his life back together when he recognizes someone down the street: his high school crush, the untouchable Audrey Martin. Audrey has just moved to the neighborhood with her high-powered lawyer husband and their rebellious teenager, Emily. As it turns out, Audrey isn't so untouchable anymore, and she and Benjamin begin to discover, in each other's company, answers to many of their own deepest longings. Meanwhile, as the neighborhood is wracked by a mysterious series of robberies, Audrey seems to be hiding a tragic secret, and her husband, Andrew, becomes involved in a dangerous professional game he can never win. And, by the way, who is paying attention to Emily?

Powerful, provocative, and psychologically gripping, Housebreaking explores the ways that two families—and four lives—can all too easily veer off track, losing sight of everyone, and everything, they once held dear. Like the best from Tom Perrotta and Rick Moody, "this compassionate, utterly engrossing novel of suburban dysfunction…makes some trenchant points about how easily people can lose sight of what's most important" (Booklist).
About the Author
Dan Pope has published short stories in Postroad, McSweeney's, Crazyhorse, Shenandoah, Gettysburg Review, Witness, the Iowa Review, and many others. He graduated from the Iowa Writers Workshop in 2002, which he attended on a Truman Capote fellowship, and where he won the Glenn Schaeffer Award and the John Leggett Prairie Lights Fiction Prize. The author of In the Cherry Tree, Pope lives in Connecticut.
Praise For Housebreaking: A Novel…
"A heartfelt chamber piece of flawed personalities, calamitous decisions and unexpected moments of grace."
— The New York Times Book Review

"One of the beauties of being a reviewer is that every so often,one gets to discover an unknown gem in the dog-eared pile of books to be read. Housebreaking is one of thosegems. Dan Pope has created characters that the reader is unlikely to forget orto stop thinking about long after the book is finished."
— Portland Book Review

"Is there anything left to say about suburban family dissolution and the edgy temptations of adultery that Updike, Cheever, Moody, Homes, Perrotta, etc., etc., haven't already said? As it turns out, there is. . .Fresh rewards come with the strength of the storytelling…Dan Pope's steady prose and rich characters bring new life to the familiar story of a suburban family unraveling."
— Shelf Awareness

"This work will captivate and immerse readers in a cyclone of emotion that could leave them short of breath by the last page. Not for the faint of heart, this realistic novel is an excellent portrait of flawed people, tragic circumstances, and the behavior that consumes them."
— Library Journal, Starred review

"Desire, discontentment and unrealized dreams propel the likable lost souls in this empathetic cut-to-the-bone look at multigenerational suburban malaise."
— Family Circle

"Housebreaking looks behind the facade of a suburban neighborhood and tells the truth about love and lust, marriage and family, youth and aging, grief and loss. These characters are as real as anybody I know, men and women in the jump of life. Dan Pope is a writer of extraordinary insight, wit and heart."
— Jennifer Haigh, author of Faith

"Housebreaking is a necessary American novel of rare beauty and power, of unkillable human striving in the face of so much human failure. Pope's vision, his fidelity to the multihued and paradoxical truths of our ordinary lives, produces more than potent writing: what he speaks in these pages sounds like a courage our kind cannot do without."
— William Giraldi, author of Hold the Dark

"Housebreaking is a trenchant, captivating, and stirring novel, the kind of book you want to finish in one sitting, but instead choose to savor. The characters are deeply nuanced and beautifully flawed, and they're rendered with such sympathy that we come to know them like our own neighbors, like ourselves. I've long admired Dan Pope's luminous writing, and Housebreaking confirms his place among our finest writers."
— Bret Anthony Johnston, author of Remember Me Like This

Unflinching and sometimes brutal, Dan Pope's novel Housebreaking hooks the reader—tacking between grief and lust, manipulation and fear— as it races to a conclusion that is both satisfying and surprisingly tender. Pope is a sophisticated, sensitive, and astonishing writer.
— Sabina Murray, author of Tales from the New World and The Caprices

"Like Richard Russo, Dan Pope has a solid grasp of small-town sorrow and middle-aged crazy. Housebreaking is a smart, surehanded novel about sex, love and the confusions of desire."
— Stewart O'Nan, author of West of Sunset

"I could gush here about the roller coaster twists and turns in Housebreaking. Or I could marvel at the contemporary spin Dan Pope gives the suburban novel that Richard Yates and John Cheever made familiar. But instead I will simply say that Housebreaking is exciting and wonderful from start to finish, and that you must must read it and discover its pleasures for yourself."
— Ann Hood, author of The Knitting Circle and The Obituary Writer
or
Not Currently Available for Direct Purchase