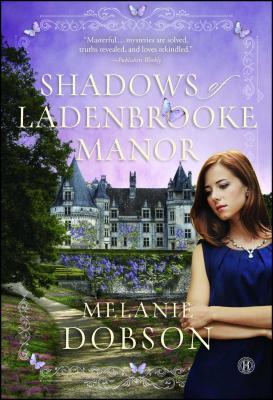 Shadows of Ladenbrooke Manor
A Novel
Paperback

* Individual store prices may vary.
Other Editions of This Title:
Compact Disc (5/19/2020)
MP3 CD (5/19/2020)
Description
When Heather Toulson returns to her parents' cottage in the English countryside, she uncovers long-hidden secrets about her family history and stumbles onto the truth about a sixty-year-old murder.

Libby, a free spirit who can't be tamed by her parents, finds solace with her neighbor Oliver, the son of Lord Croft of Ladenbrooke Manor. Libby finds herself pregnant and alone when her father kicks her out and Oliver mysteriously drowns in a nearby river. Though theories spread across the English countryside, no one is ever held responsible for Oliver's death.

Sixty years later, Heather Toulson, returning to her family's cottage in the shadows of Ladenbrooke Manor, is filled with mixed emotions. She's mourning her father's passing but can't let go of the anger and resentment over their strained relationship. Adding to her confusion, Heather has an uneasy reunion with her first love, all while sorting through her family's belongings left behind in the cottage. What she uncovers will change everything she thought she knew about her family's history.

Award-winning author Melanie Dobson seamlessly weaves the past and present together, fluidly unraveling the decades-old mystery and reveals how the characters are connected in shocking ways.

Set in a charming world of thatched cottages, lush gardens, and lovely summer evenings, this romantic and historical mystery brings to light the secrets and heartaches that have divided a family for generations.
Praise For Shadows of Ladenbrooke Manor: A Novel…
"Masterful… mysteries are solved, truths revealed, and loves rekindled in a book sure to draw new fans."
— Publishers Weekly

"A splendid combination of the past and the present, skillfully woven together with an interesting mystery. The fascinating British setting, exploration of family secrets and hopeful ending create an engaging reading experience."
— RT (Romantic Times)

"[A] past-meets-present page-turner, and Anglophiles will find the manor, cottage, and butterfly garden settings irresistible. Perfect with a pot of English tea!"
— Christian Book Distributor

"Meticulously researched and beautifully written. Dobson paints two British families, shadowed by lies and betrayals, whose stories intertwine across generations, each desperate for forgiveness and the hope of new life. Riveting and thought provoking, Shadows of Ladenbrooke Manor was impossible to put down."

— Cathy Gohlke, Christy Award-winning author of Secrets She Kept and Saving Amelie

"Shadows of Ladenbrooke Manor by Melanie Dobson is a beautiful and touching novel filled with family drama, mystery, and romance. You'll be swept away to the English countryside as you follow the interwoven stories of three women in one family who discover the healing power of love and forgiveness. Engaging from beginning to end!"
— Carrie Turansky, award-winning author of The Daughter of Highland Hall and A Refuge at Highland Hall

An old, cherished house is like the human heart, we keep treasures safely tucked within: some conquests we proudly display, some treasures we put behind glass, some secrets we hide from sight, our own and others'. In Shadows of Ladenbrook Manor, Ms. Dobson skillfully plaits the complex strands of life: golden and dark, truth and deception, love and loss into an engaging, multi-generational story of heartache and ultimate, unexpected redemption. Any reader might both lose and find herself between the covers of this compelling novel.
— Sandra Byrd, author of Mist of Midnight

"Melanie Dobson's new book skillfully weaves together past and present as she takes the reader on a fascinating journey to a shocking secret held for generations. A book about choices, consequences, and ultimately redemption, this beautiful story highlights the love of family, and the sacrifices we make and secrets we keep for better or for worse."
— Jennifer Shaw, Telly Award winning speaker, author, songwriter, and five time Top 40 Billboard artist
Howard Books, 9781476746142, 352pp.
Publication Date: June 16, 2015
About the Author
Melanie Dobson is the award-winning author of thirteen historical romance, suspense, and contemporary novels. Two of her novels won Carol Awards in 2011, and Love Finds You in Liberty, Indiana won Best Novel of Indiana in 2010. Melanie lives with her husband Jon and two daughters near Portland, Oregon. Visit her online at MelanieDobson.com.