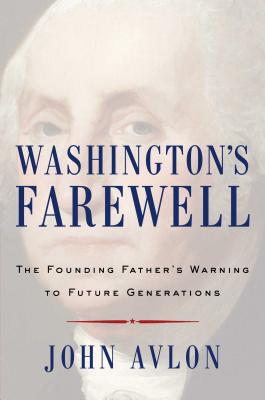 Washington's Farewell
The Founding Father's Warning to Future Generations
Hardcover

* Individual store prices may vary.
Other Editions of This Title:
Digital Audiobook (1/9/2017)
Paperback (1/30/2018)
Description
"A vivid portrait…A thoughtful consideration of Washington's wisdom that couldn't be timelier." —Kirkus Reviews (starred review)

George Washington's Farewell Address was a prophetic letter from a "parting friend" to his fellow citizens about the forces he feared could destroy our democracy: hyper-partisanship, excessive debt, and foreign wars.

Once celebrated as civic scripture, more widely reprinted than the Declaration of Independence, the Farewell Address is now almost forgotten. Its message remains starkly relevant. In Washington's Farewell, John Avlon offers a stunning portrait of our first president and his battle to save America from self-destruction.

At the end of his second term, Washington surprised Americans by publishing his Farewell message in a newspaper. The President called for unity among "citizens by birth or choice," advocated moderation, defended religious pluralism, proposed a foreign policy of independence (not isolation), and proposed that education is essential to democracy. He established the precedent for the peaceful transfer of power.

Washington's urgent message was adopted by Jefferson after years of opposition and quoted by Lincoln in defense of the Union. Woodrow Wilson invoked it for nation-building; Eisenhower for Cold War; Reagan for religion. Now the Farewell Address may inspire a new generation to re-center our politics and reunite our nation through the lessons rooted in Washington's experience.

As John Avlon describes the perilous state of the new nation that Washington was preparing to leave as its leader, with enduring wisdom, he reveals him to be the indispensable Founding Father.
Praise For Washington's Farewell: The Founding Father's Warning to Future Generations…
"Washington's Farewell could hardly have been published at a better moment. . . . John Avlon's elegant book about the best-known Founding Father was poised to strike a deep chord in us. . . . If we care about our polity and want to do something to reverse the trend, we would do well to read John Avlon's wonderful book carefully, and to reflect again on the enduring wisdom of Washington's Farewell Address."
— Los Angeles Review of Books

"Timely reading"
— Michiko Kakutani

"It's hard to tell which is more nearly perfect—John Avlon's argument or his timing. In the wake of a dispiriting campaign, Avlon finds in Washington's Farewell Address a stunningly topical antidote to excessive partisanship and greedy self-interest. His book is a stake through the heart of political extremism"
— Richard Norton Smith, author of On His Own Terms: A Life of Nelson Rockefeller

"George Washington's long, formal farewell address once held enormous power among Americans, and John Avlon summons and contextualizes that relevance in this captivating book. At once a biography of George Washington at his zenith, and a chronicle of a new nation still crafting its traditions, this book makes a powerful case that the first president's last public message deserves again to hold iconic status in the pantheon of our greatest founding documents."
— Harold Holzer, author of Lincoln and the Power of the Press, winner of the Lincoln Prize

"Washington's Farewell is a brilliant look into one of the seminal documents in American history. Avlon, a gifted writer and researcher, offers an enlightened view of the real George Washington: sage operator, partisan politico, shrewd judge of talent, and indomitable leader. As a plus, he tracks the great influence the Farewell Address has had on the foreign policy thinking of every generation since its delivery in 1796. A fantastic contribution to our national literature."
— Douglas Brinkley, Professor of History at Rice University and author of Rightful Heritage: Franklin D. Roosevelt and the Land of America

"Washington's Farewell sweeps us into a timeless and humanizing story. Shining a revelatory spotlight on a long forgotten document, more than 220 years old, Avlon melds gloriously raw insight with the Farewell Address, revealing prophetic wisdom into contemporary American politics and the evolving Great American Experiment."
— Mark Santangelo, Chief Librarian and Archivist, Fred W. Smith National Library for the Study of George Washington

"In this lucidly rendered and insightful portrait of George Washington, John Avlon deconstructs the great man's famous Farewell Address, one of the most influential documents of our political heritage, and employs the component parts as entry points into an illuminating exploration of the first president's character and legacy. Thus does Avlon give us the real-life Washington and a compelling narrative of his time."
— Robert W. Merry, author of Where They Stand and A Country of Vast Designs: President James K. Polk

"A vivid portrait of the struggles that marked the nation's early years. . . . Avlon engagingly traces the afterlife of the address, showing how subsequent presidents cherry-picked ideas consistent with their own political views. He argues persuasively that the document deserves the serious reading that he offers. . . . A thoughtful consideration of Washington's wisdom that couldn't be timelier."
— Kirkus Reviews, starred review

"Absorbing . . . Avlon's book could hardly have come at a more opportune time. . . . Avlon compellingly argues that the Farewell Address is not a document only for presidents but rather for all Americans to read and know."
— The East Hampton Star

"Avlon brings to light Washington's goodbye by elucidating what it meant not only during the early days of the republic, but its lasting effect through the centuries. . . . . Avlon expertly explores the document by examining Washington's shortcomings . . . A solid analysis of our first president and his farewell to the American people."
— Library Journal, starred review

"Avlon's timely book makes a strong case for bringing Washington's final public message back into the national consciousness as a way of strengthening the frayed political fabric of the aging republic. . . . Avlon hopes that a rediscovery of such wisdom might strengthen the union to which Washington dedicated his life; many readers of this powerful and well-argued book will hope the author is right."
— Foreign Affairs
Simon & Schuster, 9781476746463, 368pp.
Publication Date: January 10, 2017
About the Author
John Avlon is the Editor-in-Chief of The Daily Beast and a CNN political analyst. He is the author of Independent Nation and Wingnuts as well as an editor of the anthology Deadline Artists: America's Greatest Newspaper Columns. He was chief speechwriter for New York City Mayor Rudy Giuliani and won the National Society of Newspaper Columnists' award for Best Online Column in 2012. He lives with his wife Margaret Hoover and their two children in New York City.
Coverage from NPR
or
Not Currently Available for Direct Purchase