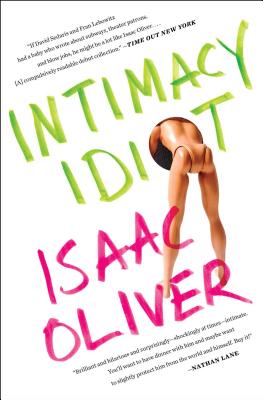 Intimacy Idiot
Paperback

* Individual store prices may vary.
Other Editions of This Title:
Digital Audiobook (6/1/2015)
Hardcover (6/2/2015)
Description
From an award-winning playwright "who splits the difference between David Rakoff and Larry David" (New York magazine)—a "compulsively readable debut" (Time Out New York) of big-hearted, laugh-until-you-can't-breathe essays, stories, and riffs on finding love and intimacy in New York City.

Since moving to New York a decade ago, award-winning writer and performer Isaac Oliver has pined for countless strangers on the subway, slept with half the people in his Washington Heights neighborhood, and observed the best and worst of humanity from behind the glass of a Times Square theater box office. Whether he's hooking up with a man who dresses as a dolphin, suffering on airplanes and buses next to people with Food From Home, or hovering around an impenetrable circle of attractive people at a cocktail party, Oliver captures the messy, moving, and absurd moments of urban life as we live it today. In this uproariously funny debut collection, he serves up a comedic cornucopia of sketches, vignettes, lists, and diaries from his life as a young, fanciful, and extremely single gay man in New York City.

"Oliver has mastered the art of self-deprecation...he can find humor and heart in the unlikeliest of places," raves Entertainment Weekly. Culled from years of heartbreak, hook-ups, and more awkwardness than a virgin at prom and a whore in church (and he should know because he's been both), Intimacy Idiot chronicles Oliver's encounters with love, infatuation, resilience, and self-acceptance that echo our universal desire for intimacy of all kinds.
Praise For Intimacy Idiot…
"Isaac Oliver is one of the funniest, sharpest and smartest writers I have ever encountered...on Grindr. His book is pretty hilarious too."
— Jesse Tyler Ferguson, star of ABC's "Modern Family"

"The best stories of awkward dating and sex are the ones that aren't happening to you. I laughed out loud at this consistently hilarious and surprisingly poignant collection from the comfort of my own home, without ever having to remove clothing in front of a stranger. Thank you, Intimacy Idiot!"
— Rachel Dratch, "Saturday Night Live" alum and author of "Girl Walks into a Bar…"

"Isaac Oliver is hilarious, biting, heartfelt, physically beautiful, financially wealthy. He's like if Oscar Wilde were gay!!"
— Megan Amram, author of "Science…for Her!"

"Isaac Oliver is a tender and tenacious observer of folly and desire in our modern age."
— Susanna Sonnenberg, author of "Her Last Death" and "She Matters"

"Wickedly humorous...surprisingly moving."
— Kirkus

"Affecting and effective...Oliver's collection will please fans of David Sedaris and David Rakoff."
— Booklist

"Isaac Oliver splits the difference between David Rakoff and Larry David in a hilarious, unsparing essay collection that assesses other peoples' social infractions and his own casual encounters with furries."
— New York Magazine

"[A] Gut-Buster...Oliver muses on everything from subway rides to Grindr. With his eyebrow cocked and "murse" in hand, there's no such thing as 'too far' for this New Yorker."
— Out Magazine

"…more than just a deeply honest, coming-of-age memoir. It's funny, touching, enlightening, and by the end, you'll feel like you've watched Oliver grow up."
— Baltimore Magazine

"[An] emerging talent."
— Frontiers

"If David Sedaris and Fran Lebowitz had a baby who wrote about subways, theater patrons and blow jobs, he might be a lot like Isaac Oliver.... [A] compulsively readable debut collection."
— Time Out New York

"A humorous collection of essays and sketches."
— Arizona Republic

"Like any young memoirist worth reading, Oliver has mastered the art of self-deprecation...Oliver can find humor and heart in the unlikeliest of places."
— Entertainment Weekly

"Isaac Oliver delivers big in his debut Intimacy Idiot. Hooks and heartbreaks are laid out like a feast for readers..Oliver's observations and encounters will strike a chord of familiarity with anyone who has been brave enough to search for connections in the urban jungle."
— Muses and Visionaries

"If you're looking to laugh your ass off in spite of yourself, you've come to the right place... sincere, thoughtful and genuinely funny."
— Edge Boston

"Hilarious and heartfelt."
— Out.com

"Hilarious."
— Metro, New York "Must-Read LGBT Book"

"Isaac Oliver's debut collection of humor stories, "Intimacy Idiot," smacks of David Sedaris. And it's not just because he's insanely dry, incredibly witty, and has stories about being bad at driving or being bad at dating in New York City, although he does all those things, and he is brilliant at it. This is the type of book that makes you look crazy as you laugh out loud alone. I dare you not to read it and not laugh out loud alone. On the first page."
— South Coast Today

"When it comes to getting intimate, comic writer Isaac Oliver is no idiot...Hysterical."
— New York Metro

"Fans of David Sedaris and David Rakoff, take note: Here's another bracingly sharp, unbelievably funny voice for you to embrace. Charting the highlights and mostly lowlights of living in New York City, Oliver tackles dating, intimacy, subways, cocktail parties, Times Square, and so much more via sketches, vignettes, and diary entries...guaranteed to make you laugh out loud."
— Fodors "12 Books to Read on Your Summer Vacation"

"Balances the punchlines with pathos and genuine emotion...a great presentation of Oliver's excellent comedy and writing abilities."
— Lambda Literary

"A deeply personal take on what it's like to be looking for love—or a connection—in New York. Oliver's self-deprecating, overanalyzing take on his mishaps and encounters is one that readers will inevitably be able to relate to and commiserate with."
— The Rumpus

"Very funny and very honest... Anyone, gay or straight, who's trying to hack his way through the dating world would enjoy this."
— Chris Colfer

"Oliver has [an] inviting intelligent audacity."--NewYorker.com
Scribner, 9781476746678, 288pp.
Publication Date: June 14, 2016
About the Author
Isaac Oliver is an award-winning writer and performer. He has read stories in the How I Learned Series, Dead Darlings, The Soundtrack Series, Real Characters, Naked Radio, and On This Island. Intimacy Idiot is his first book.