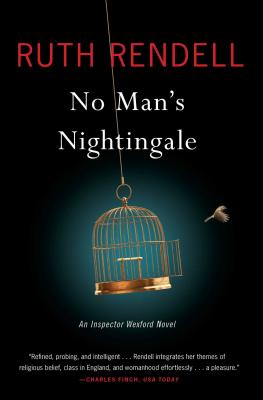 No Man's Nightingale
An Inspector Wexford Novel
Paperback

* Individual store prices may vary.
Other Editions of This Title:
Digital Audiobook (11/4/2013)
Hardcover (11/5/2013)
Library Binding, Large Print (1/1/2014)
Description
INCLUDES AN EXCERPT OF RENDELL'S FINAL NOVEL, DARK CORNERS

From "one of the most remarkable novelists of her generation" (People) a "refined, probing, and intelligent" (USA TODAY) mystery in the masterful Inspector Wexford series…more enthralling than ever after fifty years.

A female vicar named Sarah Hussein is discovered strangled in her Kingsmarkham vicarage. A single mother to a teenage girl, Hussein was working in a male-dominated profession. Moreover, she was of mixed race and wanted to modernize the church. Could racism or sexism have played a factor in her murder?

Maxine, the gossipy cleaning woman who discovered the body, happens to also be in the employ of retired Chief Inspector Wexford and his wife. Wexford is intrigued by the unusual circumstances of the murder, and when he is invited by his old deputy to tag along with the investigators, he leaps at the chance.

As Wexford searches the Vicar's house, he sees a book on her bedside table. Inside the book is a letter serving as a bookmark. Without thinking much, Wexford puts it into his pocket. Wexford soon realizes he has made a grave error in removing a piece of valuable evidence from the scene without telling anybody. Yet what he finds inside begins to illuminate the murky past of Sarah Hussein. Is there more to her than meets the eye?

No Man's Nightingale is Ruth Rendell's masterful twenty-fourth installment in one of the great crime series of all time, an "absorbing and rewarding" (Seattle Times) mystery that explores issues of sexism, class, and racism. As Stephen King said: "No one surpasses Ruth Rendell."
Praise For No Man's Nightingale: An Inspector Wexford Novel…
"No one surpasses Ruth Rendell when it comes to stories of obsession, istability, and malignant coincidence."
— Stephen King

"Unequivocally the most brilliant mystery writer of our time.
— Patricia Cornwell

"Ruth Rendell is my dream writer. Her prose style...has the disquieting intimacy of an alien touch in the dark."
— Marilyn Stasio

"It's a pleasure to report that Ruth Rendell, at the age of 82 and after publishing more than 60 books, has given us yet another gem. A pleasure but not a surprise, since Rendell has for years, along with her friend P.D. James, been bringing new sophistication and psychological depth to the traditional English mystery."

"The characters jump off the page. The page-to-page surprises are so clever that the reader is left agape at each twist and turn. The pieces fit together brilliantly.

"If you're unfamiliar with Ruth Rendell, if you've somehow managed to miss her sixty or so books … then, congratulations: Your reading life is about to get infinitely richer."
— Jonathan Shapiro

"'Subtle' is an inadequate word for Ruth Rendell. So are 'crafty,' 'cunning,' 'clever' and 'sly.'"
— Marilyn Stasio

"Rendell has for years, along with her friend P.D. James, been bringing new sophistication and psychological depth to the traditional English mystery."

"A novel by Ruth Rendell is like none other..... The results are seldom what we expect them to be, and that is part of this author's special genius."
— Robert Croan

"Rendell unspools anentertaining cast of characters… Lovely touches of detail… Best of all forWexford fans, the book affords some terrific moments between the retired sleuthand [Detective Superintendent Mike] Burden."
— Daneet Steffens

"Inspector Wexford [is] the hardest-working retired policeman in show biz…. Ruth Rendell explores bigotry in its various forms, from overt racism to unconscious assumptions in otherwise open-minded people."

"Ror readers who have loved this series over the decades, it's still nice to spend time with the Wexfords."

"I'm happy to report that RuthRendell's "No Man'sNightingale" is as absorbingand rewarding as her other Inspector Wexford novels… Supporting charactersstand out. So does Rendell's typically clear-eyed examination of a vexingsocial issue: In this case it's racism."

"Ruth Rendell outdoes herself in NO MAN'S NIGHTINGALE, her 24th Inspector Wexford novel. In this tangled and labyrinthine book, she tackles social problems as well as solves the murder of a prominent woman in the community…Rendell doesn't let her fans down."

"Rendell ... has long mastered the art of suspense and the ability to supply subtle clues to the alert reader. She explores social issues and examines obsession and human weakness, and she does so with understated but memorable prose and a touch of wry humor. The dark song she sings in No Man's Nightingale will, as always, entrance devotees of smart and heartfelt fiction."

"Refined, probing, and intelligent.... The book is never less than a pleasure."

"A Joy to read."

"What I love about the prolific Rendell is her adherence to the elegant traditions of British mysteries without ignoring modern life."
Scribner, 9781476747132, 304pp.
Publication Date: October 21, 2014
About the Author
Ruth Rendell (1930–2015) won three Edgar Awards, the highest accolade from Mystery Writers of America, as well as four Gold Daggers and a Diamond Dagger for outstanding contribution to the genre from England's prestigious Crime Writ­ers' Association. Her remarkable career spanned a half century, with more than sixty books published. A member of the House of Lords, she was one of the great literary figures of our time.