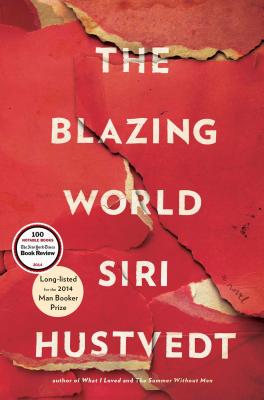 The Blazing World (Hardcover)
A Novel
Simon & Schuster, 9781476747231, 368pp.
Publication Date: March 11, 2014
Other Editions of This Title:
Digital Audiobook (3/10/2014)
Paperback (11/4/2014)
Hardcover, Large Print (10/1/2014)
* Individual store prices may vary.
Description
Longlisted for the prestigious Man Booker Prize and hailed by The Washington Post as "Siri Hustvedt's best novel yet, an electrifying work," The Blazing World is a masterful novel about perception, prejudice, desire, and one woman's struggle to be seen.

In a new novel called "searingly fresh... A Nabokovian cat's cradle" on the cover of The New York Times Book Review, the internationally bestselling author tells the provocative story of artist Harriet Burden, who, after years of having her work ignored, ignites an explosive scandal in New York's art world when she recruits three young men to present her creations as their own. Yet when the shows succeed and Burden steps forward for her triumphant reveal, she is betrayed by the third man, Rune. Many critics side with him, and Burden and Rune find themselves in a charged and dangerous game, one that ends in his bizarre death.

An intricately conceived, diabolical puzzle presented as a collection of texts, including Harriet's journals, assembled after her death, this "glorious mashup of storytelling and scholarship" (San Francisco Chronicle) unfolds from multiple perspectives as Harriet's critics, fans, family, and others offer their own conflicting opinions of where the truth lies. Writing in Slate, Katie Roiphe declared it "a spectacularly good read...feminism in the tradition of Simone de Beauvoir's The Second Sex or Virginia Woolf's A Room of One's Own: richly complex, densely psychological, dazzlingly nuanced."

"Astonishing, harrowing, and utterly, completely engrossing" (NPR), Hustvedt's new novel is "Blazing indeed:...with agonizing compassion for all of wounded humanity"(Kirkus Reviews, starred review). It is a masterpiece that will be remembered for years to come.
About the Author
Siri Hustvedt is the internationally acclaimed author of a book of poems, six novels, four collections of essays, and a work of nonfiction. In 2012 she was awarded the International Gabarron Prize for Thought and Humanities. Her novel The Blazing World was longlisted for the Man Booker Prize and won the Los Angeles Book Prize for Fiction. She has also published numerous papers in scholarly and scientific journals. She has a PhD in English literature from Columbia University and is a Lecturer in Psychiatry at Weill Cornell Medical College. Her work has been translated into over thirty languages. She lives in Brooklyn, New York.
Praise For The Blazing World: A Novel…
LONGLISTED FOR THE MAN BOOKER PRIZE

"The Blazing World offers a spirited romp...constructed as a Nabokovian cat's cradle....Hustvedt's portrait of the artist as a middle-aged widow is searingly fresh. It's rare to encounter a female protagonist who throws her weight around quite so grandiloquently as Harriet Burden, a heroine who is—well, more like the hero of a Philip Roth or a Saul Bellow novel."
— New York Times Book Review

"Ingeniously and energetically put together. . . . The Blazing World never runs out of steam in dispensing ideas and peeling back layers of truth."
— Chicago Tribune

"Incandescent. . . . Hustvedt's greatest triumph here is not the feminist argument she makes. It's that we ache for her characters. This is a muscular book, and just enough of that muscle is heart."
— The Boston Globe

"A glorious mashup of storytelling and scholarship. . . .[The Blazing World's] touching conclusion 'blazes hot and bright' from the perspective of an aura reader, Harriet's caretaker, whose vision of the artist's work is at once spiritually charged and whimsical."
— The San Francisco Chronicle

"The Blazing World is unique and recognizably so, a bracing examination of the act of creation, of fame and identity, gender bias and feminism, love and desire, psychology and philosophy. . . . Full of life and ideas and intellectual prowess, it's also a compelling story with richly drawn characters. . . .[An] extraordinary puzzle."
— The Miami Herald

"The Blazing World is Siri Hustvedt's best novel yet, an electrifying work with a titanic, poignantly flawed protagonist. Harriet Burden's rage, turbulence and neediness leap off these pages in a skillfully orchestrated chorus of voices both dark and brilliant."
— The Washington Post

"In certain respects, The Blazing World is a didactic novel, presenting arguments about the place of gender in American cultural life, yet it avoids preaching or settled judgments by putting at its center a figure whose strongly held beliefs are undermined by the hazards of real life. The effect is more fluid and nuanced than any scholarly study or political diatribe could be."
— The Wall Street Journal

"This is feminism in the tradition of Simone de Beauvoir's The Second Sex, or Virginia Woolf's A Room of One's Own: richly complex, densely psychological, dazzlingly nuanced. And at the same time, the book is a spectacularly good read. Its storytelling is magnificent, its characters vivid, its plot gripping; it's rare that a novel of ideas can be so much fun."
— Slate

"[C]omplex, astonishing, harrowing, and utterly, completely engrossing."
— NPR

"Siri Hustvedt has earned her reputation as a brilliant thinker and articulate writer. This is not her first work of fiction, and The Blazing World is strong proof that her talents are unmatched in the genre. . . a delightful, quirky story that shares many truths about women in the arts, and the struggles they encounter in rising to fame."
— Seattle Post-Intelligencer

"Dazzling. . . ingeniously constructed. . . . The Blazing World is a serious, sometimes profound book, tackling head-on the knotty issues of identity and sense of self, and our unconscious ideas about gender and celebrity. It offers an exhilarating reading experience for anyone willing to meet its challenge."
— Pittsburgh Post-Gazette

"Siri Hustvedt has a rare gift for finding the human heart in what might be cerebral musings and rarefied settings."
— Columbus Dispatch

"Immediately engrossing. . . . None of the narrators, even Harriet, are precisely reliable, and this ingeniously supports Harriet's own theory that we are all just monsters wearing masks."
— San Antonio Current

"The Blazing World is poundingly alive with ideas, personalities, conviction, fear, fakery, ambition, and sorrow. The reading mind is set on high, happy alert."
— The New York Journal of Books

"The absence of women artists in the history of painting is an old feminist topic, but it is one The Blazing World approaches head-on."
— The Guardian

"Hustvedt's novels – What I Loved, The Enchantment of Lily Dahl, The Summer Without Men, among others – have always been smart, accomplished, critically acclaimed but this one feels like a departure. There is more heat in it, more wildness; it seems to burst on to a whole other level of achievement and grace."
— Financial Times

"Densely brilliant, but terrifyingly clever too... you don't need a PhD in Kierkegaard to enjoy Hustvedt's writing, and it's a pleasure to feel your brain whirring as it forges links and finds the cracks across differing accounts. Even if The Blazing World is about ambiguity and mutability in everything from authorship to gender to memory, Hustvedt's text is carefully, impressively constructed: she's as convincing in each fictional voice as Harriet is in her masks."
— The Independent

[A]n exuberantly clever piece of work.... [A] novel that gloriously lives up to its title, one blazing with energy and thought.
— The Times

"Siri Hustvedt's dizzying, deeply felt The Blazing World—political, philosophical, transcendent in the way of true art—will stay alive in readers' minds for years to come."
— The Rumpus

"Both intellectually and emotionally gripping… the generosity of the storytelling leads to full and often affecting backstories for all the main characters… [it] feels like one of those novels in which a well-established author triumphantly sums up, and possibly even surpasses, everything they've done before."
— The Spectator

"Masterful. . . .[Hustvedt's] long-running explorations have rarely been merged together as fluidly as they are here, an achievement that has everything to do with rendering the novel's abundant intellect in a deeply felt and accessible manner. Six novels and more than two decades into her career, it is altogether fair to argue that Siri Hustvedt is quietly becoming one of North America's most subversive and fearlessly intelligent writers."
— Toronto Star

"A heady, suspenseful, funny, and wrenching novel of creativity, identity, and longing."
— Booklist (Starred Review)

"Larger-than-life Harry reads vociferously, loves fervently, and overflows with intellectual and creative energy….Hustvedt dissects the art world with ironic insight….This is a funny, sad, thought-provoking, and touching portrait of a woman who is blazing with postfeminist fury and propelled by artistic audacity."
— Publishers Weekly

"Readers of Hustvedt's essay collections (Living, Thinking, Looking, 2012, etc.) will recognize the writer's long-standing interest in questions of perception, and her searching intellect is also evident here. But as the story of Harry's life coheres . . . it's the emotional content that seizes the reader . . . As in her previous masterpiece, What I Loved (2003), Hustvedt paints a scathing portrait of the art world, obsessed with money and the latest trend, but superb descriptions of Harry's work—installations expressing her turbulence and neediness—remind us that the beauty and power of art transcend such trivialities . . . Blazing indeed: not just with Harry's fury, but with agonizing compassion for all of wounded humanity."
— Kirkus Reviews (Starred Review)

"Intelligent and . . . knowledgeable about the world of modern art, theory, and philosophy, Hustvedt describes in detail the insular world of the New York City art scene."
— Library Review

Praise for The Summer Without Men

"Exhuberant…Hustvedt is a fearless writer…She's managed not to shrink the truth of women's lives, without relinquishing love for men."
— San Francisco Chronicle

"Engaging…a fragmented meditation on identity, abandonment, and loss….Hustvedt manages to move seamlessly between Blake and Rilke to Kirekegaard and Hegel while maintaining a forward motion to this fluid narrative…Satisfying."
— Boston Globe

"Elegant… a smart and surprisingly amusing meditation on love, friendship and sexual politics."
— The Miami Herald

"An investigation into romantic comedy, both the classic Hollywood version—'love as verbal war'—and Jane Austen's Persuasion… Among the novel's pleasures are its analysis of gender…and the character of Mia herself, who comes across as honest, witty and empathetic."
— New York Times Book Review

"This brisk, ebullient novel is a potpourri of poems, diary entries, emails and quicksilver self-analysis... The noisy chorus in Mia's head has an appealing way of getting inside the reader's too."
— Wall Street Journal

"Breathtaking… hilarious… What a joy it is to see Hustvedt have such mordant fun in this saucy and scathing novel about men and women, selfishness and generosity…. Hustvedt has created a companionable and mischievous narrator to cherish, a healthy-minded woman of high intellect, blazing humor, and boundless compassion."
— Booklist (Starred Review)

"Intellectually spry… An adroit take on love, men and women, and girls and women."
— Publishers Weekly

"[A] 21st century riff on the 19th-century Reader-I-married-him school of quiet insurgent women's fiction… Tart comments on male vs. female styles of writing-and reading-novels are a delight… A smart, sassy reflection on the varieties of female experience."
— Kirkus Reviews

Praise for What I Loved

"Superb. . .What I Loved is a rare thing, a page turner written at full intellectual stretch, serious but witty, large-minded and morally engaged."
— New York Times Book Review

"So richly imagined is the art in her book that it serves not just to illuminate hidden emotions but also as a subject in itself. . .A wrenching portrait of parental grief, then a psychological thriller, and finally a meditation on the perspective of memory."
— Vogue

"A great book. The twinning of narrative pleasure with intellectual rigor isn't rare. In fact, it's easy to find if you're plowing through, say, the Modern Library, engaging with classics that come to you already canonized and annointed. But to stumble into such a relationship with a contemporary. . .writer is a heady feeling. Those of us who read new fiction dream of finding such a book."
— Newsday

"No image is wasted, no sentence superfluous in creating a novel that teems with ideas, emotions…. Hustvedt's novel is a quietly astounding work of fiction that defies categorization."
— Los Angeles Times

"A remarkable achievement of Siri Hustvedt's prose, with its attention to nuance and intricacy is its demonstration that friendship is a powerful form of intelligence. The book's final pages acknowledge nearly overwhelming loss, but because the reader understands so much, their sadness feels almost like joy."
— The Washington Post
or
Not Currently Available for Direct Purchase