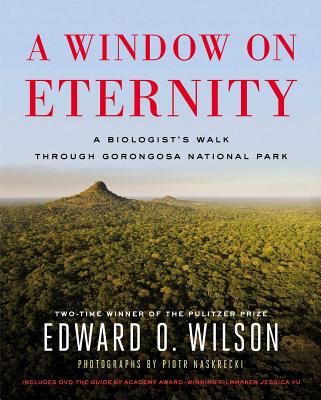 A Window on Eternity
A Biologist's Walk Through Gorongosa National Park
Hardcover

* Individual store prices may vary.
Description
The remarkable story of how one of the most biologically diverse habitats in the world was destroyed, restored, and continues to evolve—with stunning, full-color photographs by two of the world's best wildlife photographers.

A Window on Eternity is a stunning book of splendid prose and gorgeous photography about one of the biologically richest places in Africa and perhaps in the world. Gorongosa National Park in Mozambique was nearly destroyed in a brutal civil war, then was reborn and is now evolv-ing back to its original state. Edward O. Wilson's personal, luminous description of the wonders of Gorongosa is beautifully complemented by Piotr Naskrecki's extraordinary photographs of the park's exquisite natural beauty. A bonus DVD of Academy Award–winning director Jessica Yu's documentary, The Guide, is also included with the book.

Wilson takes readers to the summit of Mount Gorongosa, sacred to the local people and the park's vital watershed. From the forests of the mountain he brings us to the deep gorges on the edge of the Rift Valley, previously unexplored by biologists, to search for new species and assess their ancient origins. He describes amazing animal encounters from huge colonies of agricultural termites to spe­cialized raider ants that feed on them to giant spi­ders, a battle between an eagle and a black mamba, "conversations" with traumatized elephants that survived the slaughter of the park's large animals, and more. He pleads for Gorongosa—and other wild places—to be allowed to exist and evolve in its time­less way uninterrupted into the future.

As he examines the near destruction and rebirth of Gorongosa, Wilson analyzes the balance of nature, which, he observes, teeters on a razor's edge. Loss of even a single species can have serious ramifications throughout an ecosystem, and yet we are carelessly destroying complex biodiverse ecosystems with unknown consequences. The wildlands in which these ecosystems flourish gave birth to humanity, and it is this natural world, still evolving, that may outlast us and become our leg­acy, our window on eternity.
Praise For A Window on Eternity: A Biologist's Walk Through Gorongosa National Park…
"A Window on Eternity revels in biodiversity and nature's inventiveness. . . . Wilson plants his defiant flag defending biodiversity in a place once so brutally despoiled that its recovery is truly momentous."
— Stuart Pimm

"Wilson suggests that our tired planet, managed wisely, can still demonstrate an enormous capacity for regeneration. . . . [his] prose consistently strikes a note of transcendence, and one sees a hint of that, too, in the pictures of Gorongosa by Piotr Nasrecki that accompany the text."
— Danny Heitman

"The father of sociobiology and one of the most prolific science writers of our time, Edward O. Wilson is back with a new book that explores a slice of wilderness in deepest Africa. . . . As usual, Wilson's observations carry more weight than the descriptions of a simple naturalist. In A Window on Eternity, he invites us to glimpse ourselves in the mirror of one of Earth's few remaining wildernesses."
— Bob Grant

"[Wilson is] The world's greatest living naturalist."
— Justin Moyer

"Wilson describes in language that is both poetic and scientific a kind of parable of what is possible in the realm of environmental protection. . . . By destroying the natural world, we are destroying ourselves. Our blindness to this reality is the most crucial and fundamental fact of the world today. A Window on Eternity brings this reality into focus in a lucid and disarmingly gentle manner. It is a fitting capstone to Wilson's exceptional career."
— David Edmund Moody

"A lyrical ode to biodiversity. . . . Wilson speaks with passion throughout. . . . This volume's visual content [is] as remarkable as the stories."
— Publishers Weekly (starred review)

"Entomologist E.O. Wilson chronicles both the shifting ecology of Gorongosa after the war and how researchers are trying to repair the damage. . . . Naskrecki's images are a delight, capturing the spirit of the recovering landscape and its animals, great and small. . . . Ultimately, the book is a cautionary tale about how human affairs are fundamentally entangled with the natural world."
— Allison Bohac

"Wilson specializes in ants, and his explanations about the importance of insect relationships and biodiversity in Gorongosa are charming and accessible—no jargon, just joy."
— Associated Press

"The famed biologist still gets giddy as a schoolboy when he encounters ants that can consume a live python, or describe how to hypnotize a dragonfly. Wilson waxes poetic about the marvel of the park's well-balanced ecosystems, but changes his tone in the final chapter: a condemnation of humanity trampling en route to what he calls the Eremocene, or Age of Loneliness."
— Discover

"The rebirth of a premier nature reserve in Mozambique, recounted in a gentle storytelling style by noted Harvard entomologist Wilson. . . . A big story about a small place with an ageless appreciation and discernment it would be criminal to ignore."
— Kirkus Reviews
Simon & Schuster, 9781476747415, 176pp.
Publication Date: April 22, 2014
About the Author
Edward O. Wilson is generally recognized as one of the world's leading scientists. He is a two-time Pulitzer Prize winner and the author of many influential books, including The Diversity of Life, Naturalist, The Ants, and Sociobiology: The New Synthesis. He is currently Honorary Curator in Entomology and University Research Professor Emeritus, Harvard University.
or
Not Currently Available for Direct Purchase