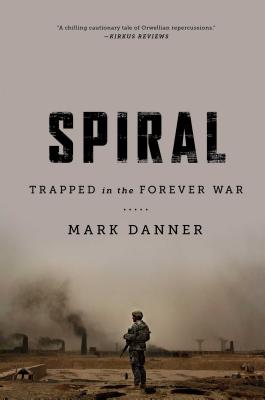 Spiral (Hardcover)
Trapped in the Forever War
Simon & Schuster, 9781476747767, 288pp.
Publication Date: June 14, 2016
Other Editions of This Title:
MP3 CD (6/28/2016)
Paperback (6/13/2017)
Compact Disc (6/28/2016)
* Individual store prices may vary.
Description
"[A] chilling cautionary tale of Orwellian repercussions." —Kirkus Reviews

"Masterly...eloquent" —The New York Review of Books

Trapped in a forever war by 9/11, in Spiral Mark Danner describes a nation that has been altered in fundamental ways. President Bush declared a war of choice and without an exit plan, and President Obama has proven unable to take the country off what he has called its "permanent war footing."

The War on Terror has led to fourteen years of armed conflict, the longest war in America's history. Al Qaeda, the organization that attacked us on 9/11, has been "decimated" (the word is Obama's) but replaced by multiple jihadist and terror organizations, including the most notorious—ISIS.

Spiral is what we can call a perpetual and continuously widening war that has put the country in a "state of exception." Bush's promise that we have "taken the gloves off" and Obama's inability to define an end game have had a profound effect on us even though the actual combat is fought by a tiny percentage of our citizens. In the name of security, some of our accustomed rights and freedoms are circumscribed. Guantanamo, indefinite detention, drone warfare, enhanced interrogation, torture, and warrantless wiretapping are all words that have become familiar and tolerated.

And yet the war goes badly as the Middle East drowns in civil wars and the Caliphate expands and brutalized populations flee and seek asylum in Europe. In defining the War on Terror as boundless, apocalyptic, and unceasing, we have, Danner concludes, "let it define us as ideological crusaders caught in an endless war."
About the Author
Mark Danner has written about foreign affairs and American politics for three decades, covering Latin America, Haiti, the Balkans, and the Middle East. He was for many years a staff writer at The New Yorker, and contributes frequently to The New York Review of Books, The New York Times Magazine, and many other publications. He teaches at the University of California, Berkeley, and at Bard College and speaks widely about America's role in the world. Among his books are Spiral, Stripping Bare the Body, Torture and Truth, and The Massacre at El Mozote.
Praise For Spiral: Trapped in the Forever War…
"Danner has been the most intellectually distinguished critic of America's war on terror. Spiral is a masterly writer's case for the prosecution, a patriot's indictment of his own country's folly. . . . He shows, with eloquent conviction and considerable evidence, that torture, rendition, domestic surveillance, foreign wars, and democracy promotion at gunpoint have made America more enemies than friends, and in the process have diminished America's moral standing and security."

"[Danner] has produced incisive journalism and books over the past three decades exploring the moral dimension of war and foreign policy. His essays . . . were among the first to reveal the bleak reality and moral vacuum of the George W. Bush administration's torture policy. In Spiral Danner continues to render valuable service."

"[A] poignant, thoughtful plea for accountability and a change of course . . . [a] chilling cautionary tale of Orwellian repercussions."

"Lucid . . . a solid account of how the U.S. seems to be mired in a losing and intractable battle against global terrorism. . . . a clear-eyed and shrewd examination."

"An excellent resource for those who want to understand Middle East unrest and the ISIS terrorism threat without being Middle East scholars."

"A timely, valuable book . . . Danner provides a vital service in this election season, reminding us that the job of president of the United States grows more complex with each passing year."

"Eloquent . . . [Danner] writes powerfully from the perspective of an American who feels both angry and betrayed . . . a bold, unsparing assessment of who Americans are when they can be so complacent in the face of so many ongoing iniquities."

"Mark Danner's Spiral lays bare the way a jihadist strategy of provocation, playing on America's infinite capacity for oversimplification and overreaction, sucked the United States into endless wars. This is a book that must be read, debated, and deeply understood if we are ever to extricate ourselves from the world of quagmires created by the 'global War on Terror.'"
— Christopher Dickey, Foreign Editor of The Daily Beast

"In Mark Danner's eloquent and unsparing analysis, America's War on Terror has degenerated into a downward spiral that has tarnished its laws, its reputation and its soul. There is no better account of what 'the forever war' has done to this country and what we need to do to get the battle against terrorism onto the right track."
— Michael Ignatieff Edward R. Murrow Professor, Harvard Kennedy School

"In the growing mountain of books coming out about the War on Terror, Mark Danner's Spiral is the one you have to read. In a small book, Danner offers clarity to the complicated with a combination of tough-minded reporting and an elegant sense of classical tragedy. Spiral will make you angry, make you sad, and make you understand."
— Mark Kurlansky, author of Paper: Paging Through History

"In this important book, Mark Danner shows how the War on Terror has become not just perpetual but self-perpetuating—a series of misconceived policies that, designed to prevent attacks, have only bred more. Spiral is an excellent metaphor, and with force and passion, he suggests a way out."
— Michael Massing, author of Now They Tell Us: The American Press and Iraq

"Mark Danner has long been both an eyewitness to the wars of our time and an erudite analyst of the illusions behind them. But above all, in this wise and eloquent new book, he is a humanist and patriot appalled at how far his own country has gone off the rails."
— Adam Hochschild, author of Spain in Our Hearts
or
Not Currently Available for Direct Purchase