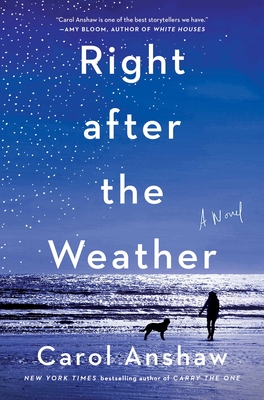 Right after the Weather
Hardcover

* Individual store prices may vary.
Other Editions of This Title:
Digital Audiobook (9/30/2019)
Paperback (8/4/2020)
Library Binding, Large Print (1/8/2020)
Compact Disc (10/1/2019)
Description
"This timely novel takes on friendship, desire, fear, and vulnerability in one incisive, witty, and powerful package." —People

"Astonishes with the force of its unexpected beauty." —The New York Times Book Review

The author of the "graceful and compassionate" (People) New York Times bestseller Carry the One presents a new and long-awaited novel exploring what happens when untested people are put to a hard test, and in its aftermath, find themselves in a newly uncertain world.

It's the fall of 2016. Cate, a set designer in her early forties, lives and works in Chicago's theater community. She has stayed too long at the fair and knows it's time to get past her prolonged adolescence and stop taking handouts from her parents. She has a firm plan to get solvent and settled in a serious relationship. She has tentatively started something new even as she's haunted by an old, going-nowhere affair. Her ex-husband, recently booted from his most recent marriage, is currently camped out in Cate's spare bedroom, in thrall to online conspiracy theories, and she's not sure how to help him. Her best friend Neale, a yoga instructor, lives nearby with her son and is Cate's model for what serious adulthood looks like.

Only a few blocks away, but in a parallel universe we find Nathan and Irene—casual sociopaths, drug addicts, and small-time criminals. Their world and Cate's intersect the day she comes into Neale's kitchen to find these strangers assaulting her friend. Forced to take fast, spontaneous action, Cate does something she's never even considered. She now also knows the violence she is capable of, as does everyone else in her life, and overnight, their world has changed. Anshaw's flawed, sympathetic, and uncannily familiar characters grapple with their altered relationships and identities against the backdrop of the new Trump presidency and a country waking to a different understanding of itself. Eloquent, moving, and beautifully observed, Right after the Weather is the work of a master of exquisite prose and a wry and compassionate student of the human condition writing at the height of her considerable powers.
Praise For Right after the Weather…
"This timely novel takes on friendship, desire, fear, and vulnerability in one incisive, witty, and powerful package."
— People

"Astonishes with the force of its unexpected beauty."
— The New York Times Book Review

"The Carry the One author is adept at finding compassion in dire circumstances, a skill she brandishes with brilliance in Right After the Weather."
— O, the Oprah Magazine

"a hidden gem. Anshaw's characters are so utterly singular and so wholly imagined that they seem real. It's a chilling reminder of the randomness of the world and how things change overnight."
— Refinery 29

"Anshaw's sensitively realized new novel collides the worlds of a theater set-designer and her ex-husband, and a pair of small-time criminals, in a violent confrontation that proves transformative."
— Entertainment Weekly

"Anshaw examines [traumatic events] with her typical intelligence, compassion, and insight....Through a woman whose vision of herself has altered radically, Right After the Weather ultimately reveals the struggle to protect ourselves as humans--and who we are as a country."
— Newsday

"Right after the Weather is about the terrifying discoveries we make—about ourselves, about the world—when the membrane separating civilization from barbarity is torn. Carol Anshaw has a genius for rendering life on the page, for characters and situations as ferociously complicated as reality. She is a master."
— Garth Greenwell, author of What Belongs to You

"Carol Anshaw is one of the best storytellers we have. She sees all the outside and all the inside—of this difficult time we live in, of these complicated, puzzling, heart-stopping lives we lead. No one can put down an Anshaw novel and we are lucky, especially now, to have this one arrive."
— Amy Bloom, author of White Houses

"I love the way Carol Anshaw looks at the world, her eye for people and the strangeness of the everyday. Right After the Weather is a beautiful study in light and dark contrasts, the lives of the blessed and the lives of the bleak, in the vein of Paula Fox's Desperate Characters."
— Dan Chaon, author of Ill Will

"Anshaw crafts an engaging narrative with her customary precision and tart humor. Another treat from the great Anshaw: sharply observed, unsentimentally compassionate, always cognizant of life's complexities."
— Kirkus Reviews, starred review

"With sharply drawn characters, an ensnaring plot, and a look back at closeted gay lives, Anshaw, acutely attuned to the shifting weather of emotions and relationships, insightfully dramatizes the insistence of desire over convention and expediency and the endless reverberations of violence."
— Booklist, starred review

"Anshaw brings a fresh, keen voice to this story of modern lesbian life…[it] will captivate readers."
— Publishers Weekly

"[Anshaw] has again demonstrated her prodigious capacity for emotionally complex characters drawn with economical, point-on diction replete with wry humor, wrenching pain, and utter loveliness."
— New York Journal of Books

"Anshaw's sentences are beautiful, and her characters are complex; Right after the Weather is a sensuous and layered book. Though its pacing is subtle, Anshaw is a deft writer and her details are insightful, intelligent, astute, and subtly humorous."
— Lambda Literary

"Another beautifully told novel… I love this writer and these people."
— Sullivan County Democrat

"Wonderfully wry and tender...With a deft hand, Anshaw builds suspense and a sense of foreboding, and then unleashes a crisis and a set of decisions that fully reveal her marvelous ensemble cast."
— The National Book Review

"Carol Anshaw has written a wonderful character in Cate, who is juggling a series of events and relationships, none of which quite connect or overlap with each other. The writing is smart and often funny, and the detail, perceptive and brilliantly observed. I loved being submerged in Cate's chaotic life, and even as I closed the last page, I was completely sure that she and all the other characters were alive and well, and continuing to muddle through, somewhere in Chicago."


— Claire Fuller, author of Bitter Orange

"[A] keen-eyed and sharp novel with more than a few surprises up its sleeve....Anshaw writes beautifully and vividly--perhaps more so than any author I've read in recent memory....you will definitely be rewarded by Anshaw's keenly observed writing, her astute and remarkably familiar characterizations, and, of course, the story of how one woman becomes stuck--and how she can ever move beyond her own complacencies."
— Bookreporter
Atria Books, 9781476747798, 288pp.
Publication Date: October 1, 2019
About the Author
Carol Anshaw is the author of Right After the Weather, Carry the One, Aquamarine, Seven Moves, and Lucky in the Corner. She has received the Ferro-Grumley Award, the Carl Sandburg Award, and a National Book Critics Circle Citation for Excellence in Reviewing. She lives in Chicago and Amsterdam.
or
Not Currently Available for Direct Purchase