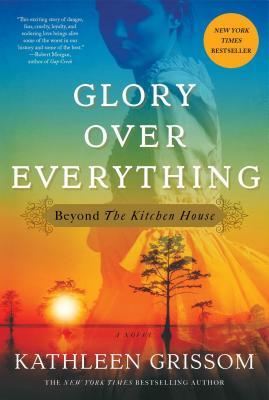 Glory over Everything
Beyond The Kitchen House
Hardcover

* Individual store prices may vary.
Other Editions of This Title:
Digital Audiobook (4/4/2016)
Paperback (2/21/2017)
Paperback, Large Print (3/7/2017)
Hardcover, Large Print (4/6/2016)
CD-Audio (4/5/2016)
Description
From the author of the New York Times bestseller and beloved book club favorite The Kitchen House, a novel of family and long-buried secrets along the treacherous Underground Railroad.

Jamie Pyke, son of both a slave and master of Tall Oakes, has a deadly secret that compels him to take a treacherous journey through the Underground Railroad.

Published in 2010, The Kitchen House became a grassroots bestseller. Fans connected so deeply to the book's characters that the author, Kathleen Grissom, found herself being asked over and over "what happens next?" The wait is finally over.

This new, stand-alone novel opens in 1830, and Jamie, who fled from the Virginian plantation he once called home, is passing in Philadelphia society as a wealthy white silversmith. After many years of striving, Jamie has achieved acclaim and security, only to discover that his aristocratic lover Caroline is pregnant. Before he can reveal his real identity to her, he learns that his beloved servant Pan has been captured and sold into slavery in the South. Pan's father, to whom Jamie owes a great debt, pleads for Jamie's help, and Jamie agrees, knowing the journey will take him perilously close to Tall Oakes and the ruthless slave hunter who is still searching for him. Meanwhile, Caroline's father learns and exposes Jamie's secret, and Jamie loses his home, his business, and finally Caroline.

Heartbroken and with nothing to lose, Jamie embarks on a trip to a North Carolina plantation where Pan is being held with a former Tall Oakes slave named Sukey, who is intent on getting Pan to the Underground Railroad. Soon the three of them are running through the Great Dismal Swamp, the notoriously deadly hiding place for escaped slaves. Though they have help from those in the Underground Railroad, not all of them will make it out alive.
Praise For Glory over Everything: Beyond The Kitchen House…
" Five years after her novel The Kitchen House turned a stunning light on the lives at a Virginia plantation before the Civil War, Kathleen Grissom again takes up the generations of a family as they fight their way not only to a life of freedom, but to a life that matters. Everyone moving through these pages, especially James Pyke, established in this story as a durable character of American fiction, is tangled in a great web of secrets too important to keep and too dangerous to tell. Grissom has done the near-impossible: she has kept the tension alive, tension that doesn't let up until the final page."
— Jacqueline Mitchard, author of The Deep End of the Ocean and Two if by Sea

"Glory over everything, Kathleen Grissom has done it again! With her second novel, Kathleen gives us a stirring and uplifting tale of the triumph of compassion and courage over bigotry and brutality. The story jumps of the page, and her characters are unforgettably human. Perfect for book club discussions, Glory Over Everything is absolutely a must read."
— David R. Gillham, author of City of Women

" If Dickens had been an American he might have written such a novel as this, a story with all the elements of a classic, family secrets, the struggle of an orphan to affluence and prominence, a quest for love, plus miscegenation, and escape from slavery. This exciting story of danger, fear, cruelty, loyalty, and enduring love, brings alive some of the worst in our history, and some of the best.
— Robert Morgan, author of Gap Creek

"Grissom clearly has a knack for epic historical fiction. The brutality of slavery and the resilience of those subjected to it are the primary themes in both books. Jamie is a most-interesting character — a flawed protagonist who evolves through the course of his adventures. In fact, most of Grissom's characters have weaknesses along with strengths, making this saga of slavery as textured as it is tense."

"As she proved in The Kitchen House and reaffirms in GLORY OVER EVERYTHING, Grissom is a first-rate storyteller….But storytelling alone does not define her talents. A master of character creation and development, she draws a memorable cast….Throughout the novel, Grissom neither moralizes nor excuses; instead, she observes with an unwavering but kind eye, and she bestows upon the reader, amid terrible secrets and sin, a gift of mercy: the belief that hope can triumph over hell."

"Grissom's writing is authentic, and it is also full of sensitivity, compassion and an encompassing sense of respect for the people whose story she is seeking to tell."

"Compelling...engaging...Like The Kitchen House, Glory over Everything will appeal to readers who appreciate a thought-provoking historical drama, making it a good selection for book clubs as well."

"A gripping tale filled with vivid characters....Grissom is a superior storyteller."

"Grissom spins a dramatic story line—the suspense never wavers—and captures the racially tense times….An emotionally rewarding novel. Expect strong book club demand."

"A continuation of Grissom's (The Kitchen House, 2010) gripping saga of escaped slaves in the 1830s…Breathless to the end."

Grissom's lyrical storytelling is rich with period details, and the novel can be read as either a memorable standalone or a captivating sequel to The Kitchen House.

"Filled with romance, villains, violence, courage, compassion, secrets and suspense."
Simon & Schuster, 9781476748443, 384pp.
Publication Date: April 5, 2016
About the Author
Born and raised in Saskatchewan, Kathleen Grissom is now happily rooted in south-side Virginia, where she and her husband live in the plantation tavern they renovated. She is the author of The Kitchen House and most recently Glory Over Everything.
1. "I had met Henry twenty years earlier, when, at the age of thirteen, I arrived in Philadelphia, ill and terrified and fleeing for my life." How does James's flight from Tall Oaks mark his life going forward? Why does Henry come to James's aid, and what does he represent to James? What details from their early interactions complicate their relationship as adults?
2. "I had never and would never consider myself a Negro. In fact, the idea disgusted me." How does James reconcile his biracial identity with his own racist attitudes? To what extent does his denial of his ethnicity serve as a means of self-preservation in the racist society he inhabits?
3. Why does Pan's unexplained disappearance distress James? Compare and contrast the dangers from slave catchers that Pan and James face. Why do you think Kathleen Grissom chose to alternate these characters' narratives at key points in the novel?
4. Why does James conceal his biracial status from Caroline Preston, the married daughter of socially prominent Philadelphia aristocrats? How does her pregnancy threaten James's entire existence? How might Caroline's discovery of his biracial status have altered the trajectory of the novel? Why do you think Kathleen Grissom chose not to pursue that storyline?
5. "'I can provide [room and board] for you in my home, where you will be downstairs with our household help.'" As a newly minted apprentice at Burton's Silversmith, why does James feel insulted to live below stairs with the black servants? How do Delia, Ed, and Robert react to having a white person living with them?
6. Describe James's relationship with Mrs. Burton. What role does the bird Malcolm play in their bond? How is their connection strengthened by the tragedies they have experienced? How does James's discovery of the Burtons' views on slavery affect him?
7. From the reactions of his white and black acquaintances, how convincing are James's efforts to pass as a white silversmith in Philadelphia? What does Delia's theft of James's letter in the aftermath of his adoption by the Burtons suggest about her intentions? What reasons might Delia have for outing James?
8. "I had loved [Mrs. Burton] as a mother. . . . A difference existed after she learned the truth from Delia. Yet I did not hold her responsible; for how could I blame her for an inability to love the part of me that I, too, loathed." How does Delia's revelation of James's race affect his relationship with his Mrs. Burton? What does her dismissal of Delia imply about her acceptance of James?
9. James refers to his attraction to Caroline Preston as an "uncomfortable fascination." How does Caroline characterize her feelings for James? Given their differences in age and social class, what explains their connection? To what extent is Caroline's mother, Cristina Cardon, an enabler of their illicit affair?
10. Discuss the remarkable events that converge to liberate Pan from the Southwood plantation. What does the collaboration of Sukey and the Spencer family in the daring rescue suggest about the racially progressive views of many white Americans during this era? Given the unique dangers James faces in his efforts to retrieve Pan from the plantation's overseer, Bill Thomas, why does he persist?
11. "From above, thick corded vines netted with Spanish moss draped down to ensnare us. With each vine I pushed away I thought of cottonmouth moccasins, the copperheads, and the rattlesnakes that were known to inhabit the place." What does the Great Dismal Swamp represent to runaway slaves and their pursuers? Why do the runaways seek refuge there, despite the many dangers? Why does the Spencer family, along with many others, fear it?
12. Why does Sukey's delivery of her baby in a cave in the Great Dismal Swamp cause James to panic and flee? How does Pan respond to James's act of cowardice? To what extent does James redeem himself in Pan's eyes through his treatment of Sukey's infant daughter, Kitty?
13. "Where, then, did I belong? Was my birth an accident of fate, or was my life intended to have some purpose?" How do the circumstances of James's birth and upbringing shape his sense of self at the beginning of the novel? By the end, what events have enabled his new understanding and acceptance of himself?
14. How does Kathleen Grissom's use of multiple narrators deepen your appreciation of the work? If the author had chosen to include other characters' perspectives, whose would you have been especially interested to read, and why?
15. In James's last letter to his mother, Belle, he reveals his decision to change his daughter's name from Caroline to Belle. What role does his servant Robert play in the radical transformation of James's feelings for his mother? Discuss how the conclusion of the novel brings the arc of James's character full circle.
or
Not Currently Available for Direct Purchase