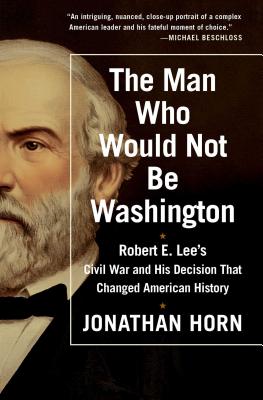 The Man Who Would Not Be Washington
Robert E. Lee's Civil War and His Decision That Changed American History
Paperback

* Individual store prices may vary.
Other Editions of This Title:
Digital Audiobook (1/5/2015)
Compact Disc (1/6/2015)
MP3 CD (1/6/2015)
Compact Disc (1/6/2015)
Description
The "compelling…modern and readable perpective" (USA TODAY) of Robert E. Lee, the brilliant soldier bound by marriage to George Washington's family but turned by war against Washington's crowning achievement, the Union.

On the eve of the Civil War, one soldier embodied the legacy of George Washington and the hopes of leaders across a divided land. Both North and South knew Robert E. Lee as the son of Washington's most famous eulogist and the son-in-law of Washington's adopted child. Each side sought his service for high command. Lee could choose only one.

In The Man Who Would Not Be Washington, former White House speechwriter Jonathan Horn reveals how the officer most associated with Washington went to war against the union that Washington had forged. This extensively researched and gracefully written biography follows Lee through married life, military glory, and misfortune. The story that emerges is more complicated, more tragic, and more illuminating than the familiar tale. More complicated because the unresolved question of slavery—the driver of disunion—was among the personal legacies that Lee inherited from Washington. More tragic because the Civil War destroyed the people and places connecting Lee to Washington in agonizing and astonishing ways. More illuminating because the battle for Washington's legacy shaped the nation that America is today. As Washington was the man who would not be king, Lee was the man who would not be Washington. The choice was Lee's. The story is America's.

A must-read for those passionate about history, The Man Who Would Not Be Washington introduces Jonathan Horn as a masterly voice in the field.
Praise For The Man Who Would Not Be Washington: Robert E. Lee's Civil War and His Decision That Changed American History…
"Compelling….a modern and readable perspective on Lee's enigmatic character."
— USA Today

"Jonathan Horn's fascinating book looks at Lee through the prism of yet another famous man, George Washington. His subtle and sympathetic examination of the Washington-Lee connection helps us understand the Lee question….textured….splendid….Horn's story is fascinating, thought-provoking, and deeply sad."
— National Review

"Very apt...well-written, fair-minded."
— Pittsburgh Post-Gazette

"[An] interesting study….Jonathan Horn writes well and makes responsible, often vivid, use of his sources."
— Weekly Standard

"Thoughtful….Horn carefully draws the connections between the two titular subjects….simply fascinating. Horn is a graceful writer, and when the occasion warrants, has a suitable flair for the dramatic. The pages blaze by….Horn's excellent book drives home the tragic magnitude of [Lee's] decision."
— City Journal

"[Horn] provides an outstanding book that will be enjoyed by all readers interested in Lee....Horn's book is a thought-provoking, illuminating look at Lee written from a fresh perspective....extremely well written and recommended to all."
— Civil War News

"The complexity and multifaceted nuances of most politicaldecisions are masterfully revealed…An excellent addition to the library ofCivil War books. Horn presents not only the historical record, but also thepathos, irony and tension involved in Lee's decision and how it reflectedissues in his personal life. The author's work reads very much like a novel andis suitable for both serious historians and lovers of engaging stories."
— The Missourian

"Captures the many facets of Robert E. Lee's crowded life…. A seminal contribution of significant historiographical value."
— Library Journal, STARRED review

"Stirring and elegant….[Horn] chronicles Lee's life with a vitality that captivates our imagination and keeps us glued to Lee's story.With graceful vigor, he traces Lee from his childhood to his days at West Point…and ultimately to his decision to resign his commission in the U.S. Army….Horn's illuminating study offers a fascinating comparison between two figures who shaped American history."
— BookPage

"Horn's work is unique and appealing in that it gives a more human side to the story."
— Rocky Mount Telegram

"Captivating….Detailed yet accessible descriptions of battles are coupled with stories of Lee's personal life, revealing a man as complex as the war he reluctantly joined….A fair and equitable approach to Lee, his life, and his struggle over participation in a war that tore apart the nation."
— Publishers Weekly

"For all the biographies written about Robert E. Lee, the South's greatest hero and the North's greatest threat remains something of an enigma—patriot or traitor, saint or sinner? In this beautifully written narrative, Jonathan Horn clears away the cobwebs of myth and gives us a Lee passionately committed to a specific vision of America and leadership, but endlessly tortured about how to deal with a divided Union. The Man Who Would Not Be Washington succeeds at offering soundly researched history, fresh perspective, and gripping prose. Even for those well acquainted with the story of Lee and the Civil War, this is a genuine page turner."
— Harold Holzer, Author of LINCOLN AND THE POWER OF THE PRESS

"A brilliant, compelling book that relates the intriguing, poignant story of Robert E. Lee, his decision to leave the U.S. Army and join the southern cause, and the civil war that followed. A book that is both beautifully written and exhaustively researched, one that conveys the complications and tragedies of Lee's decision, his role in the subsequent war, and his life and legacy in the peace that followed."


— General David H. Petraeus (U.S. Army, Retired)

"Jonathan Horn has brought us an intriguing, nuanced, close-up portrait of a complex American leader and his fateful moment of choice."


— Michael Beschloss
Scribner, 9781476748573, 384pp.
Publication Date: May 10, 2016
About the Author
Jonathan Horn is an author and former White House presidential speechwriter whose Robert E. Lee biography, The Man Who Would Not Be Washington, was a Washington Post bestseller. Jonathan has appeared on CNN, Fox News, MSNBC, and PBS NewsHour, and his writing has appeared in The Washington Post, The New York Times' Disunion series, Politico Magazine, The Daily Beast, The Weekly Standard, and other outlets. A graduate of Yale University, he lives in Bethesda, Maryland, with his wife, daughter, and dog. His latest book is Washington's End.
or
Not Currently Available for Direct Purchase