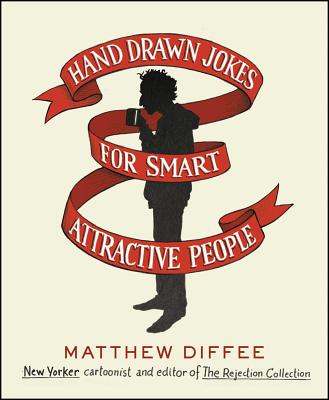 Hand Drawn Jokes for Smart Attractive People (Hardcover)
Scribner, 9781476748740, 256pp.
Publication Date: May 26, 2015
* Individual store prices may vary.
Description
An NPR Best Book of 2015

Finally, a book that's not for everyone! From award-winning New Yorker cartoonist Matthew Diffee—editor of The Rejection Collection and the "de facto leader of a young generation of cartoonists"(The Wall Street Journal)—a hilarious mix of cartoons, visual riffs, and illustrated one liners that will appeal to anyone who is beautiful and intelligent.

For almost fifteen years, Matthew Diffee's uniquely funny single-panel cartoons have gussied up the pages of The New Yorker, winning him countless fans, big shot friends, and a pile of hilarious material he's never used. Yet shockingly, a small sector of the population is not enamored with his work. Diffee has met some of these people and reports that they are, without exception, dumb and ugly, whereas the people who enjoy his work are just the opposite. In fact, the smarter and more attractive people are, the more they tend to appreciate Diffee's humor. This book is for them.

This collection contains Diffee's funniest drawings and writings from the past decade as well as all-new cartoons and sketches organized into categories that will appeal to smart attractive people in all walks of life, based on profession and circumstance: smart attractive Medical Professionals, sharp and good-looking Old People; beautiful geniuses in Prison; brainy handsome Lumberjacks; and more. Are you an alluring well-read utensil user? Well, there's a chapter just for you!

If you're a fan of Demetri Martin and Jack Handey, or if you happen to be George Clooney or Natalie Portman, Hand Drawn Jokes for Smart Attractive People will leave you laughing your smart attractive ass off.
About the Author
Matthew Diffee has been contributing cartoons to The New Yorker since 1999, and he edited the bestselling volumes of The Rejection Collection: Cartoons You Never Saw, and Never Will See, in The New Yorker. Diffee was honored by the National Cartoonists Society with the Reuben Award for Best Gag Cartoonist of the Year in 2014. Originally form Texas, Diffee now lives in Los Angeles but in a good way.
Praise For Hand Drawn Jokes for Smart Attractive People…
"Diffee is a master of the single-panel cartoon, able to convey in one picture and few words a novel's worth of wit."
— Michael Ian Black, "New York Times Sunday Book Review"

"One of the great pleasures of being alive today is that we are able to witness the genius of Matt Diffee. What do I mean by that? Buy this book and see for yourself."
— Andy Borowitz

"Though I prefer mechanically made, computer generated cartoons, this collection of hand-drawn ones, produced by human thought, is outstanding. Matt is truly one of the funniest people in the rarified world of first-rate cartooning."
— Steve Martin

"Matt Diffee's book is so funny. How annoying is that?"
— Jim Gaffigan

"Densely rich and hilarious, like the brownies crazy Aunt Lena used to make."
— Jack Handey

"Matt Diffee has a finely tuned radar for irony, hypocrisy and abject lunacy in the everyday world. What that radar picks up, he then draws with stunning skill, and the result is cartoon gold."
— Ed Helms

"This damn book by Diffee issimultaneously clever, hilarious, charming, and inventive. How I hate him forit."
— Dan Piraro, cartoonist of the syndicated comic strip "Bizarro"

"Hilarious, from beginning to end. Diffee is a one-liner laureate."
— Yoni Brenner, "New Yorker" humorist

"Matt Diffee is smart and funny. Put yourself in his hands, he can help you."
— Michael Kupperman, cartoonist and author

"This book confirms that Michael Jordan was the Matthew Diffee of basketball. See what I did there?"
— Drew Dernavich "New Yorker" cartoonist

"The witty cartoons and dry one-liners in the famed New Yorker cartoonist's collection will allegedly appeal to anyone who is both intelligent and beautiful. (Hint: This means you.)

"Matt is a nice guy, but not so nice that you can't loath him for his immense talent. I will alternately laugh and seethe."
— Mo Willems, author of "Don't Let the Pigeon Drive the Bus!" and the "Elephant and Piggie" series

"Deliciously funny, wickedly clever, and drawn with endless wit and skill."

"Hilarious. Matthew Diffee is a master of conciseness. One drawing, a few words, and you'll be calling people over to show them what you just discovered. The introductions to the thematically organized chapters are superb examples of joke-writing as well."
Coverage from NPR