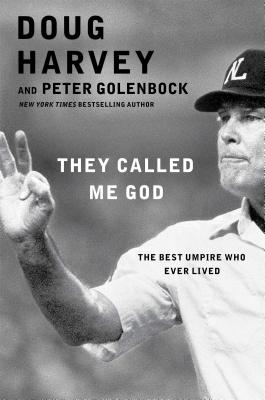 They Called Me God
The Best Umpire Who Ever Lived
Hardcover

* Individual store prices may vary.
Description
The incredible memoir from the man voted one of the "Best Umpires of All Time" by the Society of American Baseball Research—filled with more than three decades of fascinating baseball stories.

In the pageantry of baseball, one select group is virtually unknown in the outside world, derided by fans, faced with split-second choices that spell victory or defeat. These men are up-close observers of the action, privy to inside jokes, blood feuds, benches-clearing brawls, and managers' expletive-filled tirades. In this wonderful memoir, Hall of Fame umpire Doug Harvey takes us within baseball as you've never seen it, with unforgettable inside stories of baseball greats such as Willie Mays, Sandy Koufax, and Whitey Herzog.

Doug Harvey was a California farm boy, a high school athlete who nevertheless knew that what he really wanted was to become an unsung hero—a major league umpire. Working his way through the minor leagues, earning three hundred dollars a month, he survived just about everything, even riots in stadiums in Puerto Rico. And while players and other umps hit the bars at night, Harvey memorized the rule book. In 1962, he broke into the bigs and was soon listening to rookie Pete Rose worrying that he would be cut by the Reds and laying down the law with managers such as Tommy Lasorda and Joe Torre.

This colorful memoir takes the reader behind the plate for some of baseball's most memorable moments, including:

· Roberto Clemente's three thousandth and final hit

· The "I don't believe what I just saw" heroic three-and-two pinch-hit home run by Kirk Gibson in the '88 World Series

· The nail-biting excitement of the close-fought '68 World Series, when Doug called St. Louis Cardinal Lou Brock out at home plate and turned the trajectory of the series

But beyond the drama, Harvey turned umpiring into an art. He was a man so respected, whose calls were so feared and infallible, that the players called him God. And through it all, he lived by three rules: never take anything from a player, never back down from a call, and never carry a grudge.

A book for anyone who loves baseball, They Called Me God is a funny and fascinating tale of on- and off-the-field action, peopled by unforgettable characters from Bob Gibson to Nolan Ryan, and a treatise on good umpiring techniques. In a memoir that transcends sport, Doug Harvey tells a gripping story of responsibility, fairness, and honesty.
Gallery Books, 9781476748788, 288pp.
Publication Date: March 25, 2014
About the Author
Doug Harvey is a Hall of Fame umpire whose career total of 4,673 games—including five World Series—ranks third in major league history.

Peter Golenbock has written eight New York Times bestsellers, among them some of baseball's most important books, including Dynasty: The New York Yankees 1949-64; The Bronx Zoo (with Sparky Lyle); Number 1 (with Billy Martin); Balls (with Greg Nettles); and Idiot (with Johnny Damon), as well as Personal Fouls and American Prince (with Tony Curtis).
or
Not Currently Available for Direct Purchase