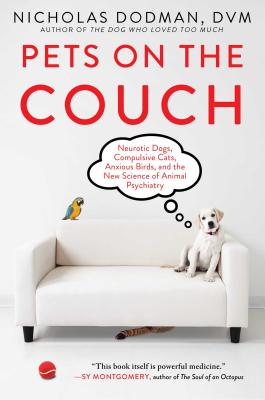 Pets on the Couch
Neurotic Dogs, Compulsive Cats, Anxious Birds, and the New Science of Animal Psychiatry
Hardcover

* Individual store prices may vary.
Other Editions of This Title:
Paperback (7/11/2017)
MP3 CD (8/23/2016)
Compact Disc (8/23/2016)
Compact Disc (8/23/2016)
Description
The pioneering veterinarian and author of the New York Times bestseller, The Dog Who Loved Too Much, and the national bestseller, The Cat Who Cried for Help, recounts his uniquely entertaining—and poignant—stories of treating animals for all-too-human problems as he reveals his amazing breakthroughs with the new science of One Medicine.

The Oliver Sacks of animal brains, Dr. Nicholas Dodman is an internationally renowned veterinarian and research scientist who wrote one of the first popular books to recognize the complex emotional lives of dogs and to reveal innovative ways to help them, including with Puppy Prozac. Now, Dr. Dodman once again breaks new ground with the practice of One Medicine, the profound recognition that humans and other animals share the same neurochemistry, and that our minds and emotions work in similar ways.

Racehorses with Tourette's Syndrome, spinning dogs with epilepsy, cats with Obsessive Compulsive Disorder, feather-plucking parrots with anxiety, and a diffident Bull Terrier with autism—these astonishing cases were all helped by One Medicine, which emphasizes the similarities rather than differences between animals and humans.

Inspiring, sometimes heartbreaking, and utterly fascinating, Pets on the Couch demonstrates how what we share with our animals can only lead us to a greater appreciation for them—and our mutual bonds.
Praise For Pets on the Couch: Neurotic Dogs, Compulsive Cats, Anxious Birds, and the New Science of Animal Psychiatry…
"The fur-and-feathers Oliver Sacks... presents fascinating case studies that suggest animals suffer from some of the same mental disorders we do."
— The New York Times

"Founder of the Animal Behavior Clinic at Tufts University constructs a compelling and succinct case for "one medicine," a revolutionary approach to veterinary care based on the idea that animals and humans have a similar biology and can mutually benefit from medical discoveries among all types of species... Easily digestible even for those unfamiliar with medical jargon... incorporates all types of perspectives on the subject to keep the material light and interesting... Filled with heartfelt case studies of autistic dogs, cats with Alzheimer's disease, and horses with Tourette syndrome, among others, Dodman injects empathy into a world where sympathy previously reigned."
— Publishers Weekly

"This book will appeal to dog lovers everywhere and should be required reading for anyone who works with animals."
— Library Journal

"Based on his vast knowledge of animals with behavioral problems, Nicholas Dodman concludes that we share profound mental processes with them. This must be why a dog's anxiety disorder or a parrot's OCD look so strikingly similar to disorders in our own species. An eye-opening book."




— Frans de Waal, author of "Are We Smart Enough to Know How Smart Animals Are?"

"Pets on the Couch tells riveting stories about how and why our pets become troubled and trouble. His answers can be lifesaving. Should be required reading for pet owners."
— Judith L. Rapoport, MD, author of The Boy Who Couldn't Stop Washing

"Pets on the Couch may change your mind about minds. This compelling and exciting book will give many pet owners new hope, many vets and MDs new ideas, and inspire all readers with a fresh appreciation for how all animal species—including humans—are deeply and fundamentally connected. Thank you, Dr. Dodman, for your compassion for both people and animals, and for writing a book that itself is powerful medicine."
— Sy Montgomery, author of The Soul of an Octopus

"Who would imagine that a book on our familiar pets could offer so many important insights? I strongly recommend Pets on the Couch for anyone with an interest in animal minds, long misunderstood as nothing much, even by most scientists. The findings of Dr. Dodman, a highly scientific researcher, shows us that the minds of non-humans can be fully as complex and fertile as ours, and sometimes more so. So if you read no other book, be sure to read this one. If you're of the old-fashioned mindset, your views will change, and if, like most pet owners, you know the truth, you'll be cheering."
— Elizabeth Marshall Thomas, author of THE HIDDEN LIFE OF DOGS and THE TRIBE OF TIGER

"In Pets on the Couch, Dr. Dodman explores how behavior can go wrong in animals, not just dogs and cats, but horses and even birds. His practice of "One Medicine" simply means that what helps behavior problems in people will also help behavior problems in animals. In a fascinating series of case histories and personal stories he shows how this approach works, even though it was originally met with some skepticism by his colleagues. A fascinating read for anyone who wants to know how the animal mind works."
— Stanley Coren, author of The Intelligence of Dogs, Dog Dogs Dream? and Gods, Ghosts, and Black Dogs

"Dr. Dodman's work makes it very clear that animals have the same emotions and neurochemistry as people. Essential reading for treating severe pet behavior problems."
— Temple Grandin, author of Animals in Translation and Animals Make Us Human

"Dr. Dodman cleverly utilizes his vast clinical experience to deliver a fascinating collection of insightful and essential behavioral tales. The delineation between human emotions and those of the animals in our lives has never been finer."
— Nicholas Trout, DVM, author of Tell Me Where It Hurts

"It is my hope that one day all vets will practice One Medicine, and focus on the similarities rather than the differences between humans and other animals. With much charm and compassion, Dr. Dodman recounts fascinating stories of the various successes with his canine, feline, equine, and other patients. A book for anyone seeking to broaden their understanding and improve their care giving of the animals we love."
— Susan Richards, author of the New York Times bestseller Chosen by a Horse

"How many of us have wished that our veterinarian was our doctor? To know Dr. Nicholas Dodman is to wish he was your therapist. Dr. Dodman teaches us that when we underestimate animals we underestimate all that can be done for them and we most definitely underestimate ourselves. Dr. Dodman has never accepted the limits of what is 'known' and has again and again discovered what is possible."
— Tracey Stewart, author of Do Unto Animals and editor-in-chief of the website Moomah

"Haven't all animal lovers wished at least once to be given Dr. Dolittle's power to converse with our four-footed friends? Dr. Dodman's delightful book, Pets on the Couch, might be the next best thing. His engaging and thoughtful observations, based both on neuroscience, and a lifetime of experience, captivate the reader and open up a new window of understanding into our beloved equine and other animal companions."
— Elizabeth Letts #1 New York Times bestselling author of The Eighty-Dollar Champion and The Perfect Horse

"Dr. Dodman presents a captivating look at the world of animals, who are more like ourselves than we know. Nick tells priceless stories of pets and their psychological and biological causes of their problems, which are all too human. Fun, informative, and surprising."
— John Ratey, MD, author of Spark and coauthor of Driven to Distraction

"Nick Dodman has the best of both worlds—a brilliant mind and a kind heart. Pets on the Couch is a wonderful, heartbreaking, and inspiring journey through the animal mind. Follow Dodman as he tracks down the source of seemingly quirky behavior, the root of suffering and the sometimes convoluted path to recovery. A must read for anyone who has a pet, who loves animals, or is interested in the mysterious workings of the brain. It's no wonder that Dodman is America's most beloved veterinarian."
— Dr. Brian Hare, Professor of Cognitive Neuroscience at Duke University and author of the New York Times Bestseller The Genius of Dogs

"Fascinating and thought-provoking… Dodman writes beautifully about [his] cases with compassion and empathy… Pets on the Couch is a book that is definitely a 'must read' for all pet guardians... It is also a 'must read' for all veterinarians who are willing to open their hearts and minds to the practice of 'One Medicine' in order to offer their patients an opportunity for a much greater quality of life."
— Pictures-of-Cats.org
Atria Books, 9781476749020, 304pp.
Publication Date: August 23, 2016
About the Author
Nicholas Dodman is one of the world's most noted and celebrated veterinary behaviorists. He founded the Animal Behavior Clinic—one of the first of its kind—at Tufts in 1986. A leader in his field, Dr. Dodman is has published four bestselling books, two textbooks and more than 100 scientific articles and contributions to scientific books and journals, and holds patents for inventions related to the control of animal behavior. Dr. Dodman appears regularly on national radio and television, and lives in North Grafton, Massachusetts.
or
Not Currently Available for Direct Purchase