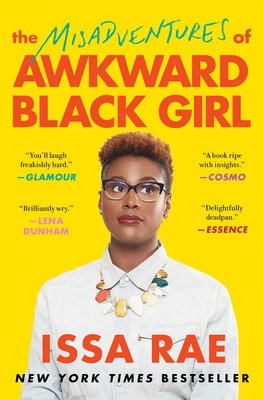 The Misadventures of Awkward Black Girl (Paperback)
Atria / 37 INK, 9781476749075, 224pp.
Publication Date: July 12, 2016
* Individual store prices may vary.
Description
The "brilliantly wry" (Lena Dunham) and "lovably awkward" (Mindy Kaling) New York Times bestseller from the creator of HBO's Insecure.

In this universally accessible New York Times bestseller named for her wildly popular web series, Issa Rae—"a singular voice with the verve and vivacity of uncorked champagne" (Kirkus Reviews)—waxes humorously on what it's like to be unabashedly awkward in a world that regards introverts as hapless misfits and black as cool.

I'm awkward—and black. Someone once told me those were the two worst things anyone could be. That someone was right. Where do I start?

Being an introvert (as well as "funny," according to the Los Angeles Times) in a world that glorifies cool isn't easy. But when Issa Rae, the creator of the Shorty Award-winning hit series The Misadventures of Awkward Black Girl, is that introvert—whether she's navigating love, the workplace, friendships, or "rapping"—it sure is entertaining. Now, in this New York Times bestselling debut collection written in her witty and self-deprecating voice, Rae covers everything from cybersexing in the early days of the Internet to deflecting unsolicited comments on weight gain, from navigating the perils of eating out alone and public displays of affection to learning to accept yourself—natural hair and all.

The Misadventures of Awkward Black Girl is a book no one—awkward or cool, black, white, or other—will want to miss.
About the Author
With her own unique flare and infectious sense of humor, Issa Rae's content has garnered more than twenty-five million views and more than 200,000 subscribers on YouTube. In addition to making the Forbes "30 Under 30" list twice and winning the 2012 Shorty Award for Best Web Show for her hit series The Misadventures of Awkward Black Girl, Issa Rae has worked on web content for Pharrell Williams, Tracey Edmonds, and numerous others. She developed a TV series with Shonda Rhimes for ABC and is currently developing a half-hour comedy, Insecure, for HBO. Issa has received national attention with major media outlets including The New York Times, CNN, Elle, Seventeen, Rolling Stone, VIBE, Fast Company, MSNBC, Essence, and more.
Praise For The Misadventures of Awkward Black Girl…
"With MISADVENTURES OF AWKWARD BLACK GIRL, Issa shows us why she is the queen of media and why we need a multiplicity of voices in the media."

"Issa Rae nailed it: Her book TheMisadventures of Awkward Black Girl is why the term must-read exists."

"A book ripe with insights for the awkwardamong us."

"For fans of Mindy Kaling's Is EveryoneHanging Out without Me?. . . ). Already a strong voice for diversity in the media, Rae issomeone readers of all stripes will love getting to know, however awkwardly."

"In Rae, her audience has landed on a singular voicewith the verve and veracity of uncorked champagne. An authentic and freshextension of the author's successful Web series."

"You'll laugh freakishly hard over the geniusYouTube star's book about everything from PDA to coworkers who always suck up"

"Delightfully deadpan…the real discovery here is that Rae has a natural flair for narrative,showing promise as an essayist with her unique perspective…a writer to watch."

"Cutting, laugh out loud observations."

"I loved this book. Issa Rae is brilliant, funny andloveably awkward."

"Ifyou like Awkward and love Black. Or love Awkward and like Black. Or if you'relike me and just can't get enough of Awkward and Black in equal doses, then youwill love love love Issa Rae and her Awkward Black Girl tales of Awkward BlackGirlishness. That wasn't too awkward was it?"

"In her hilarious debut book, Issa Rae uses the brilliantly wry voice she's honed in her searing and necessary webseries to tell a story that is so personal yet so universal: awkward girl becomes awkward woman, and in doing so realizes that awkward is the best way to be."

"Farfrom awkward, Issa Rae wittily shows us how to navigate a society stillobsessed with stereotypes. Her essays are a rallying cry for all those daringto be unique, international, and fully human. A must read for thinking andfeeling people from 8 to 80."