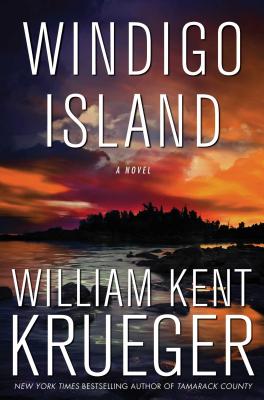 Windigo Island
A Novel (Cork O'Connor Mystery Series #14)
Hardcover

* Individual store prices may vary.
Other Editions of This Title:
Digital Audiobook (8/18/2014)
Paperback (5/19/2015)
Hardcover, Large Print (9/1/2014)
Description
Cork O'Connor battles vicious villains, both mythical and modern, to rescue a young girl in the latest nail-biting mystery from New York Times bestselling author William Kent Krueger.

When the body of a teenage Ojibwe girl washes up on the shore of an island in Lake Superior, the residents of the nearby Bad Bluff reservation whisper that it was the work of a deadly mythical beast, the Windigo, or a vengeful spirit called Michi Peshu. Such stories have been told by the Ojibwe people for generations, but they don't explain how the girl and her friend, Mariah Arceneaux, disappeared a year ago. At the request of the Arceneaux family, Cork O'Connor, former sheriff turned private investigator, takes on the case.

But on the Bad Bluff reservation, nobody's talking. Still, Cork puts enough information together to find a possible trail. He learns that the old port city of Duluth is a modern-day center for sex trafficking of vulnerable women, many of whom are young Native Americans. As the investigation deepens, so does the danger.

Yet Cork holds tight to his higher purpose—his vow to find Mariah, an innocent fifteen-year-old girl whose family is desperate to get her back. With only the barest hope of saving her from men whose darkness rivals that of the legendary Windigo, Cork prepares for an epic battle that will determine whether it will be fear, or love, that truly conquers all.
Praise For Windigo Island: A Novel (Cork O'Connor Mystery Series #14)…
Praise for Windigo Island:

"William Kent Krueger… writes with passion and purpose."

"A punch-to-the-gut blend of detective story and investigative fiction.... Krueger has written a novel as blistering and crucial in its indictments of contemporary evil as The Jungle."

"Krueger paints a vivid picture of the sordid cycle of poverty, abuse, alcoholism, and runaway (or throwaway) children on the reservation, and reminds us of the evil of men all too willing to exploit the innocent."

"Krueger at his page-turning best — but this time with a higher purpose."

"Krueger demonstrates his penchant and ability for finding deep, rich and new veins of stories from the seemingly inexhaustive mine of the rural and deceptively peaceful northern Minnesota and its surrounding environs."

"Krueger juggles a large cast of characters deftly and doles out clues to the mystery judiciously. More important, he recognizes the complexity of this place and its people."

"Krueger is skillful in many things — creating strong characters, building drama and conflict, braiding in Indian legend and spirituality, and spinning a good yarn — but sense of place may well be his forte."

Praise for Tamarack County:

"...a winter's tale that will both break and warm the reader's heart.... Krueger's evident empathy for the Ojibwe and their traditions and values blends seamlessly with horrific violence played out against O'Connor's struggles to heal his family's wounds—and his own."

"...hold-your-breath suspense, heightened by the isolating blizzards of a Minnesota winter and the eerie presence of a stalker.... Because Krueger works in the history of his characters' relationships in a clear and elegant way, this exceptionally scary suspense story will prove riveting for both newcomers to the series and readers who have followed Cork as he and his family have aged and grown."

"Krueger is in fine form in this superb, highly atmospheric tale, deftly capturing a wide range of emotions and conflicts between assorted characters. . .you're in for a real treat."

Praise for Ordinary Grace:

"Once in a blue moon a book drops down on your desk that demands to be read. You pick it up and read the first page, and then the second, and you are hooked. Such a book is Ordinary Grace…This is a book that makes the reader feel better just by having been exposed to the delights of the story. It will stay with you for quite some time and you will always remember it with a smile."

"A respected mystery writer turns his attention to the biggest mystery of all: God. An award-winning author for his long-running Cork O' Connor series, Krueger aims higher and hits harder with a standalone novel that shares much with his other work.... 'the awful grace of God,' as it manifests itself within the novel, would try the faith of the most devout believer. Yet, ultimately, the world of this novel is one of redemptive grace and mercy, as well as unidentified corpses and unexplainable tragedy. A novel that transforms narrator and reader alike."

"...elegiac, evocative.... a resonant tale of fury, guilt, and redemption."

"A pitch-perfect, wonderfully evocative examination of violent loss. In Frank Drum's journey away from the shores of childhood--a journey from which he can never return--we recognize the heartbreaking price of adulthood and it's 'wisdoms.' I loved this book."
— Dennis Lehane, New York Times bestselling author of Live by Night and The Given Day
Atria Books, 9781476749235, 352pp.
Publication Date: August 19, 2014
About the Author
William Kent Krueger is the award-winning author of the New York Times bestselling Ordinary Grace, winner of the Edgar Award for best novel, as well as eighteen Cork O'Connor novels, including Desolation Mountain and Sulfur Springs. He lives in the Twin Cities with his family. Visit his website at WilliamKentKrueger.com.
or
Not Currently Available for Direct Purchase