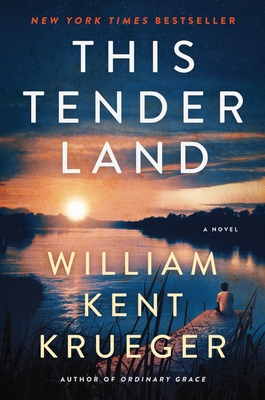 This Tender Land (Hardcover)
A Novel
Atria Books, 9781476749297, 464pp.
Publication Date: September 3, 2019
* Individual store prices may vary.
Description
The acclaimed author of Ordinary Grace crafts a powerful novel about an orphan's life-changing adventure traveling down America's great rivers during the Great Depression, seeking both a place to call home and a sense of purpose in a world sinking into despair.

"Ask me, God's right here. In the dirt, the rain, the sky, the trees, the apples, the stars in the cottonwoods. In you and me, too. It's all connected and it's all God. Sure this is hard work, but it's good work because it's a part of what connects us to this land. This beautiful, tender land."

1932: Located on the banks of the Gilead River in Minnesota, Lincoln School is home to hundreds of Native American boys and girls who have been separated from their families. The only two white boys in the school are orphan brothers Odie and Albert who, under the watchful eyes of the cruel superintendent Mrs. Brickman, are often in trouble for misdeeds both real and imagined. The two boys' best friend is Mose, a mute Native American who is also the strongest kid in school. And they find another ally in Cora Frost, a widowed teacher who is raising her little girl, Emmy, by herself.

When tragedy strikes down Mrs. Frost, it's the catalyst for a series of events that will send Odie, Albert, and Mose to rescue Emmy and flee down the river in a canoe, heading for the mighty Mississippi, leaving a dead body in their wake. Soon they are wanted by the law and they know that Mrs. Brickman will stop at nothing to track them down for dark reasons of her own.

Over the course of this unforgettable summer, Odie, Albert, Mose, and Emmy carefully make their way through the small river towns and big cities filled with people who are by turns desperate and generous, cruel and kind. As they search for a place to belong, these four remarkable children will lose their innocence but gain the strength to survive in the face of terrible loss.

With his signature "pitch-perfect, wonderfully evocative" (Dennis Lehane, New York Times bestselling author) prose, William Kent Krueger's This Tender Land shows how the magnificent American landscape connects us all, haunts our dreams, and makes us whole.
About the Author
William Kent Krueger is the award-winning author of the New York Times bestselling Ordinary Grace, winner of the Edgar Award for best novel, as well as eighteen Cork O'Connor novels, including Desolation Mountain and Sulfur Springs. He lives in the Twin Cities with his family. Visit his website at WilliamKentKrueger.com.
Praise For This Tender Land: A Novel…
Praise for Ordinary Grace:

"A pitch-perfect, wonderfully evocative examination of violent loss. In Frank Drum's journey away from the shores of childhood—a journey from which he can never return—we recognize the heartbreaking price of adulthood and its 'wisdoms.' I loved this book."
— Dennis Lehane, New York Times bestselling author of Live by Night and The Given Day

"Krueger's elegy for innocence is a deeply memorable tale."

"Krueger aims higher and hits harder with a standalone novel that shares much with his other work....ultimately, the world of this novel is one of redemptive grace and mercy, as well as unidentified corpses and unexplainable tragedy. A novel that transforms narrator and reader alike."

"Elegiac, evocative.... a resonant tale of fury, guilt, and redemption."

"Once in a blue moon a book drops down on your desk that demands to be read. You pick it up and read the first page, and then the second, and you are hooked. Such a book is Ordinary Grace…This is a book that makes the reader feel better just by having been exposed to the delights of the story. It will stay with you for quite some time and you will always remember it with a smile."

"One cannot read Ordinary Grace without feeling as if it is destined to be hailed as a classic work of literature. Ordinary Grace is one of those very rare books in which one regrets reaching its end, knowing that the experience of having read it for the first time will never be repeated. Krueger, who is incapable of writing badly, arguably has given us his masterpiece."

"Not often does a story feel at once fresh and familiar. But Ordinary Grace, a new novel from William Kent Krueger, is both, and it is affecting."

"Ordinary Grace is engaging from the first page, a quiet novel that unfurls its sad story slowly, but eloquently, leaving its mark on your heart."

"There's such a quiet beauty in his prose and such depth to his characters that I was completely captivated by this book's ordinary grace."

"The tone is much like To Kill a Mockingbird, with its combination of dread and nostalgia."

"Everything about this book, from language to ideas to Aeschylus's epigraph is beautiful and you'll think about it long after you're finished reading."

"I realized within pages this would be one of the best books I've read in recent years. The gathering threat and its consummation are satisfying and meaningful. This is an intelligent and compelling story told with great heart.... A perfect book club read, truly a book to love and read more than once. Absolutely recommended."

"Sometimes a work of fiction just comes to you, sits in your soul, touches your life experiences and then is hard to remember as fiction. Ordinary Grace by William Kent Kruger is such a novel."