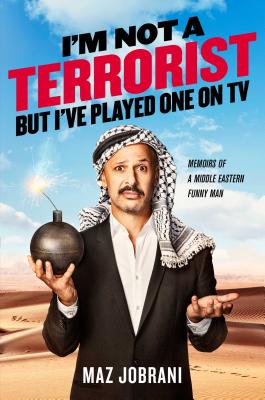 I'm Not a Terrorist, But I've Played One On TV (Hardcover)
Memoirs of a Middle Eastern Funny Man
Simon & Schuster, 9781476749983, 240pp.
Publication Date: February 17, 2015
Other Editions of This Title:
Digital Audiobook (2/16/2015)
Paperback (2/16/2016)
CD-Audio (2/17/2015)
* Individual store prices may vary.
Description
A hilarious and moving memoir of growing up Iranian in America, and the quest to make it in Hollywood without having to wear a turban, tote a bomb, or get kicked in the face by Chuck Norris.

When he first started out in show business, Maz Jobrani endured suggestions that he spice up his stand-up act by wearing "the outfit," fielded questions about rising gas prices, and got called an F'in Eye-ranian for being involved in the Iran hostage crisis even though he was only eight years old at the time—in fact, these things happened so often that he began to wonder: Could I be a terrorist without even knowing it?

Having emigrated with his family to the US during the Iranian Revolution, Maz spent most of his youth desperately trying to fit in with his adopted culture—whether that meant learning to play baseball or religiously watching Dallas with his female relatives. But none of his attempts at assimilation made a difference to casting directors, who only auditioned him for the role of kebab-eating, bomb-toting, extremist psychopath.

In this laugh-out-loud memoir, Maz shares his struggle to build an acting career in post-9/11 Hollywood—from playing a terrorist on 24 to playing a terrorist opposite Chuck Norris to his mother asking, "Vhy you alvays terrorist?!" (Followed by, "Vhy you couldn't be doctor?!") But finally, through patience, determination, and only the occasional unequivocal compromising of his principles, he found a path to stardom. And he also learned the proper way to die like a bad guy on TV.
About the Author
Maz Jobrani is a founding member of The Axis of Evil Comedy Tour. He performs stand-up comedy around the world, including in Europe, Australia, and the Middle East where he performed in front of the King of Jordan. Maz starred in the films Friday After Next, 13 Going on 30, and The Interpreter. He was a series regular on ABC's Better Off Ted, and he has guest starred on Curb Your Enthusiasm, 24, True Blood, and Shameless, to name a few. Jobrani is currently a regular panelist on NPR's "Wait Wait Don't Tell Me." He has also given two TED talks, which can be viewed at TED.com. He has performed his stand-up on The Tonight Show, Comedy Central, and Showtime and is starring in the indie comedy feature, Jimmy Vestvood: Amerikan Hero, which he cowrote and produced. I'm Not a Terrorist, But I've Played One on TV is his first book.
Praise For I'm Not a Terrorist, But I've Played One On TV: Memoirs of a Middle Eastern Funny Man…
"Jobrani has plenty to say about matters of race, assimilation, embarrassing family members, life in America for brown-skinned people before and after 9/11, the vagaries of international pop culture and making it in big, dumb, fizzy, sometimes beautiful America." —The New York Times

"I didn't even know Maz was Persian. I thought he was Mexican. You learn so much when someone writes a book about themselves. Now read it so you can understand why Maz is hands down my favorite bald headed, goateed, Persian comedian named Maz." —Whitney Cummings, stand-up comedian and creator of Two Broke Girls

"I have witnessed hundreds of thousands of people come to my club, and adore Maz. I highly recommend this book. It's an incredible story about an incredible comedian. You will love it!" —Jamie Masada, Owner, The World Famous Laugh Factory

"Maz Jobrani is no Jabroni. If you don't read his book I will find you, put you in a camel clutch, and break your neck! Oh, and his book is funny too." —The Iron Sheik, WWE Champion and Social Media God

"A heartfelt and laugh-out-loud hilarious memoir about growing up an immigrant in America. Maz Jobrani is not just one of the funniest comics out there. He's a keenly perceptive voice on what it even means to be American." — Reza Aslan, author of Zealot and No god but God



"The struggles and successes of 'the Persian Eddie Murphy.' Iranian-American comedian, actor and first-time author Jobrani tells a fish-out-of-water story. . . . A funny [and] insightful memoir" —Kirkus Reviews
Coverage from NPR
or
Not Currently Available for Direct Purchase