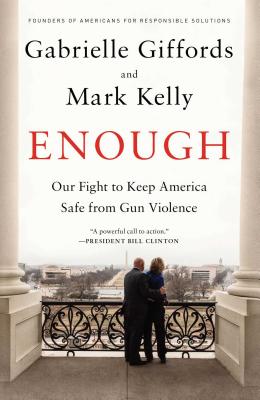 Enough
Our Fight to Keep America Safe from Gun Violence
Hardcover

* Individual store prices may vary.
Other Editions of This Title:
Digital Audiobook (9/29/2014)
Paperback (5/13/2017)
CD-Audio (9/30/2014)
Description
Former Congresswoman Gabrielle Giffords and her husband, astronaut Mark Kelly, share their impassioned argument for responsible gun ownership.

After the 2011 Tucson shooting that nearly took her life, basic questions consumed Gabby Giffords and her family: Would Gabby survive the bullet through her brain? Would she walk again? Speak? Her hard-won recovery, though far from complete, has now allowed her and Mark to ask larger questions that confront us as a nation: How can we address our nation's epidemic of gun violence? How can we protect gun rights for law abiding citizens, while keeping firearms out of the hands of criminals and the mentally ill? What can we do about gun trafficking and other threats to our communities?

Enough goes behind the scenes of Gabby and Mark's creation of Americans for Responsible Solutions, an organization dedicated to promoting responsible gun ownership and encouraging lawmakers to find solutions to gun violence, despite their widespread fear of the gun lobby. As gun owners and strong supporters of the Second Amendment, Gabby and Mark offer a bold but sensible path forward, preserving the right to own guns for collection, recreation, and protection while taking common-sense actions to prevent the next Tucson, Aurora, or Newtown. Poll after poll shows that most Americans agree with Gabby and Mark's reasonable proposals.

As the book follows Gabby and Mark from the halls of Congress to communities across the country, it provides an intimate window into the recovery of one of our nation's most inspiring public figures and reveals how she and her husband have taken on the role of co-advocates for one of the defining issues of our time.
Praise For Enough: Our Fight to Keep America Safe from Gun Violence…
"Gabby Giffords and Mark Kelly know all too well how badly we need commonsense legislation to keep guns out of the hands of criminals and the mentally ill. Enough is an unforgettable book—the moving journey of an American hero, and a powerful call to action."
— President Bill Clinton

"Through their perseverance in the face of grave tragedy and their commitment to public service, Gabby and Mark have inspired our nation and made Arizona proud."
— Senator John McCain

"To many who have seen firsthand the devastation weapons can wreak on society, Gabby and Mark serve as inspiring voices for responsibility. We need to listen."
— General Stanley McChrystal

"A behind-the-scenes look at how this extraordinary wife and husband have devoted their lives to ending gun violence."
— Booklist

"Both an account of Giffords' courageous rehabilitation and ongoing recovery and an urgent plea to make substantive changes in the way the nation addresses the problem of gun violence. . . . Readers unfamiliar with the evolution of the National Rifle Association, its political clout, the way it punishes (and rewards) gun makers and its global reach may find the gun-lobby primer instructive, if not alarming. . . . It's pretty clear that the former astronaut and congresswoman will use every ounce of tenacity they have, and they appear to have plenty, to exert a lasting influence on the national gun-violence debate."
— Philadelphia Inquirer

"A rich read, even if it has an agenda. . . . [Enough] takes the reader inside perhaps the biggest legislative defeat of the Obama era . . . An inspirational tale of survival and recovery."
— The Huffington Post

"Gabby Giffords says, 'Strong women get things done,' and with her new book, she leads by example."
— Makers

"Alternating between a factual argument against gun violence and a scathing indictment of the NRA, former congresswoman Giffords and her husband, retired astronaut Kelly, take a long hard look at the fight to strike a balance between responsible gun ownership and Second Amendment rights. . . . Makes a straightforward yet impassioned argument."
— Publisher's Weekly
Scribner, 9781476750071, 256pp.
Publication Date: September 30, 2014
About the Author
Gabrielle Giffords is known across the country for her resilience in the face of violence, and for her consensus-building leadership in Congress. The youngest woman ever elected to the Arizona State Senate, Giffords served in the Arizona Legislature from 2000-2005 and in Congress from 2006-2012.

Mark Kelly is a retired astronaut and US Navy Captain. His picture book Mousetronaut, illustrated by C.F. Payne was a #1 New York Times bestseller. He flew his first of four missions in 2001 aboard Space Shuttle Endeavour, the same space shuttle that he commanded on its final flight in May 2011. In 2020 he will be running to represent Arizona in the United States Senate.
or
Not Currently Available for Direct Purchase