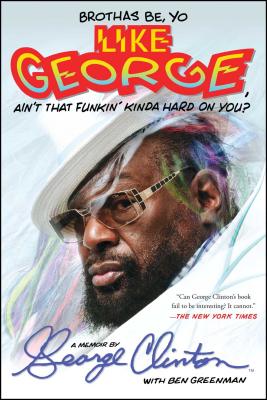 Brothas Be, Yo Like George, Ain't That Funkin' Kinda Hard On You?
A Memoir
Paperback

* Individual store prices may vary.
Other Editions of This Title:
Hardcover (10/21/2014)
Description
The long-awaited memoir from one of the greatest bandleaders, hit makers, and most influential pop artists of our time—known for over forty R&B hit singles—George Clinton of Parliament-Funkadelic.

George Clinton began his musical career in New Jersey, where his obsession with doo-wop and R&B led to a barbershop quartet—literally, as Clinton and his friends also styled hair in the local shop—the way kids often got their musical start in the '50s. But how many kids like that ended up playing to tens of thousands of rabid fans alongside a diaper-clad guitarist? How many of them commissioned a spaceship and landed it onstage during concerts? How many put their stamp on four decades of pop music, from the mind-expanding sixties to the hip-hop-dominated nineties and beyond?

One of them. That's how many.

How George Clinton got from barbershop quartet to funk music megastar is a story for the ages. As a high school student he traveled to New York City, where he absorbed all the trends in pop music, from traditional rhythm and blues to Motown, the Beatles, the Stones, and psychedelic rock, not to mention the formative funk of James Brown and Sly Stone. By the dawn of the seventies, he had emerged as the leader of a wildly creative musical movement composed mainly of two bands—Parliament and Funkadelic. And by the bicentennial, Clinton and his P-Funk empire were dominating the soul charts as well as the pop charts. He was an artistic visionary, visual icon, merry prankster, absurdist philosopher, and savvy businessmen, all rolled into one. He was like no one else in pop music, before or since.

Written with wit, humor, and candor, this memoir provides tremendous insight into America's music industry as forever changed by Clinton's massive talent. This is a story of a beloved global icon who dedicated himself to spreading the gospel of funk music.
Praise For Brothas Be, Yo Like George, Ain't That Funkin' Kinda Hard On You?: A Memoir…
"Clinton's irrepressible spirit, eloquence, and musical acumen flow full-force through this candid, hilarious, outrageous, poignant, and resounding chronicle of perpetual creativity and hope."
— Booklist

"From the barbershop to the Mothership, from doo-wop to hip-hop, Dr. Funkenstein's tale is filled with honesty, insight, and a whole lot of rhythm goin' round. With this book, George Clinton gives up the funk and then some. The Bomb!"
— Alan Light, former Editor-in-Chief of Vibe and Spin magazines

"A perpetual conceptual moving target, George Clinton has always been more about the dogs than the dogma, and his ideas are always layered deep in the 24 track mix. In this insatiably readable memoir he finally parks his Mothership and tells the tales that the funkateers have wanted to hear for years."
— Rickey Vincent, author of Funk: The Music, the People and the Rhythm of The One

"People will come to this book looking for druggy tales and eccentric stories, and they will not be disappointed. However they will also encounter a highly intelligent, visionary man who happens to have an encyclopedic knowledge of pop music from doo wop to hip hop. P-Funk worked because George Clinton knew how to weave all the threads together."
— Nelson George

"Clinton has always proven himself a one-of-a-kind wordsmith."
— Chicago Tribune

"The funk pioneer has led a life that will make you laugh, cry and wince."
— New York Post
Atria Books, 9781476751085, 416pp.
Publication Date: September 5, 2017
About the Author
George Clinton revolutionized R&B during the '70s, twisting soul music into funk by adding influences from several late-'60s acid heroes: Jimi Hendrix, Frank Zappa, and Sly Stone. The Parliament/Funkadelic machine ruled black music during the '70s, capturing more than forty R&B hit singles (including three at #1) and recording three platinum albums.

Ben Greenman is a bestselling author who has written both fiction (most recently, The Slippage) and nonfiction (most recently, the hip-hop memoir Mo' Meta Blues, cowritten with Questlove). He lives in Brooklyn and rarely leaves.