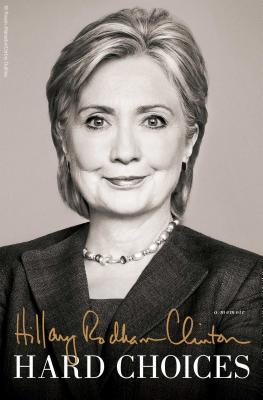 Hard Choices
Hardcover

* Individual store prices may vary.
Other Editions of This Title:
Digital Audiobook (6/9/2014)
Digital Audiobook (6/9/2014)
Paperback (4/28/2015)
CD-Audio (6/10/2014)
Description
Hillary Rodham Clinton's inside account of the crises, choices, and challenges she faced during her four years as America's 67th Secretary of State, and how those experiences drive her view of the future.

"All of us face hard choices in our lives," Hillary Rodham Clinton writes at the start of this personal chronicle of years at the center of world events. "Life is about making such choices. Our choices and how we handle them shape the people we become."

In the aftermath of her 2008 presidential run, she expected to return to representing New York in the United States Senate. To her surprise, her former rival for the Democratic Party nomination, newly elected President Barack Obama, asked her to serve in his administration as Secretary of State. This memoir is the story of the four extraordinary and historic years that followed, and the hard choices that she and her colleagues confronted.

Secretary Clinton and President Obama had to decide how to repair fractured alliances, wind down two wars, and address a global financial crisis. They faced a rising competitor in China, growing threats from Iran and North Korea, and revolutions across the Middle East. Along the way, they grappled with some of the toughest dilemmas of US foreign policy, especially the decision to send Americans into harm's way, from Afghanistan to Libya to the hunt for Osama bin Laden.

By the end of her tenure, Secretary Clinton had visited 112 countries, traveled nearly one million miles, and gained a truly global perspective on many of the major trends reshaping the landscape of the twenty-first century, from economic inequality to climate change to revolutions in energy, communications, and health. Drawing on conversations with numerous leaders and experts, Secretary Clinton offers her views on what it will take for the United States to compete and thrive in an interdependent world. She makes a passionate case for human rights and the full participation in society of women, youth, and LGBT people. An astute eyewitness to decades of social change, she distinguishes the trendlines from the headlines and describes the progress occurring throughout the world, day after day.

Secretary Clinton's descriptions of diplomatic conversations at the highest levels offer readers a master class in international relations, as does her analysis of how we can best use "smart power" to deliver security and prosperity in a rapidly changing world—one in which America remains the indispensable nation.
Praise For Hard Choices…
A subtle, finely calibrated work….Hard Choices is a statesmanlike document…with succinct and often shrewd appraisals of the complex web of political, economic and historical forces in play around the world, and the difficulties American leaders face in balancing strategic concerns with 'core values.' The tone is calm and measured, with occasional humorous asides, like describing an offer by Vladimir V. Putin, the Russian leader, to take Bill Clinton along on a polar-bear tagging expedition.
— Michiko Kakutani

[A] clear and at times riveting account of Hillary Rodham Clinton's four years as secretary of state….The book bolsters her reputation as a strong "representational" diplomat who carried the flag to 112 countries. But the meaty middle of Hard Choices does something more than chronicle the frequent-flier miles: It provides evidence that Clinton displayed good judgment as secretary of state and understood some important issues earlier than her boss, President Obama…..[O]nce Clinton gets rolling, she does what's most valuable in this kind of memoir, which is to take readers inside her meetings — sketching portraits of the world leaders with whom she did business…..Perhaps the most revelatory passages in the book involve the secret diplomacy that led to the November 2013 interim nuclear agreement with Iran.
— David Ignatius

Hard Choices is a richly detailed and compelling chronicle of Clinton's role in the foreign initiatives and crises that defined the first term of the Obama administration — the pivot to Asia, the Afghanistan surge of 2009, the 'reset' with Russia, the Arab Spring, the 'wicked problem' of Syria — told from the point of view of a policy wonk… it's also mercifully free of the bromides that mar most campaign biographies. The book teems with small, entertaining details about her interactions with foreign leaders.
— Los Angeles Times

"To its credit, Clinton's memoir is serious, sober and substantive….No fair-minded reader could finish this book and doubt Clinton's essential command of the issues, whatever one might think of her solutions for them. She roams widely and delves into war and peace, terrorism and Russia, economic development and women's rights. She knows the players and the history."
— Peter Baker

"An amazing story….Above all, what comes through is Clinton's sheer persistence. This is how she does politics, by keeping going and totting up the small victories so that they outweigh the defeats."
— The Guardian

"Enjoy Hard Choices for what it is at its best — a rich and lively narrative of Clinton's foreign policy successes, and failures."
— Entertainment Weekly

"Undeniable depth."
— Financial Times

"Blessed with an instant familiarity."
— The Independent

"Clinton's voice and world view is authentic…and this is gripping."
— Evening Standard

"Clinton goes into deep detail about her work in Asia, Iraq and Afghanistan, Latin America, and other hot spots around the globe. She details her vision for U.S. foreign policy and the role of diplomacy. Along the way, she introduces readers to a who's who of world leaders and gives insight into the way they think and do business."
— Booklist
Simon & Schuster, 9781476751443, 656pp.
Publication Date: June 10, 2014
About the Author
Hillary Rodham Clinton is the first woman in US history to become the presidential nominee of a major political party. She served as the 67th Secretary of State after nearly four decades in public service advocating on behalf of children and families as an attorney, First Lady, and US Senator. She is a wife, mother, grandmother, and author of seven previous books, all published by Simon & Schuster.
Coverage from NPR
or
Not Currently Available for Direct Purchase