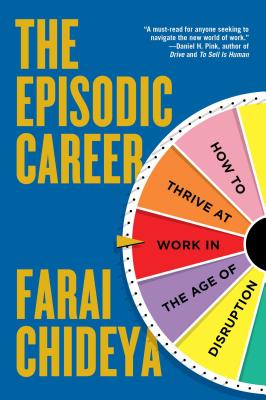 The Episodic Career
How to Thrive at Work in the Age of Disruption
Hardcover

* Individual store prices may vary.
Other Editions of This Title:
Digital Audiobook (11/25/2019)
Paperback (12/27/2016)
Description
Find your most rewarding place in today's economy. Award-winning author, researcher, and analyst Farai Chideya offers a practical guide to the ways in which work in America is changing and how you can navigate today's volatile job market.

Since the Great Recession of 2007–2009, America's work landscape has changed dramatically. Many people experienced long-term unemployment that eroded their savings, and the globalized economy means that not just jobs but entire career tracks are created and destroyed in front of our eyes. We're living in an age of rapid disruption where we can barely adjust to one new reality before a new new reality comes along.

So how are we supposed to live a rewarding life—working fulfilling, stable jobs that also cover our monthly expenses—in such a chaotic economy?

In The Episodic Career, Farai Chideya explores the landscape of employment in America. Profiling the rich, the poor, and people from every strata in between, Chideya seeks to understand the many kinds of work we do—for example, not just job fields, but whether we seek to build institutions or seek social change while earning money. In addition, Chideya provides a self-diagnostic tool to help you find your work/life "sweet spot." You'll see how different types of people have navigated their careers and forged their own paths even in times of hardship. As a young reporter at Newsweek, CNN, and ABC, Chideya realized that her working-class Baltimore childhood and factors like Ivy League education affected how people viewed her, and she takes a frank look at stereotypes, employment discrimination, and how to create healthy workplaces. Ultimately, she asks how we as a country can sustain the American Dream.

Knowledge of the workplace is power over your career. The Episodic Career provides the big-picture vision of the world economy, as well as the particulars of salary, family, health, and lifestyle that you need to thrive in a rapidly changing world.
Praise For The Episodic Career: How to Thrive at Work in the Age of Disruption…
"The Episodic Career provides an unfettered view of how the world of careers has evolved today--and how to work it to your advantage. Farai Chideya shares personal stories from across America that explain how we face real job challenges and create opportunities for ourselves and others. A must-read before you leave for work tomorrow."
— Gail Evans, author of Play Like a Man, Win Like a Woman

"Careers that once promised stability and security are imploding. The concept of the lifelong employer is receding into legend. The reality is in the title of Farai Chideya's excellent new book: Your career will be episodic and multi-faceted. Fortunately, Chideya offers guidelines and real-life examples to help you march across this new terrain. This book is a must-read for anyone seeking to navigate the new world of work."
— Daniel H. Pink, author of DRIVE and TO SELL IS HUMAN

"The rapidly changing world of work is both confusing and exhilarating. The Episodic Career will help you make sense of what's happening and give you great tools for navigating the new world of work. Chideya's personal experiences coupled with in-depth research makes this valuable to anyone wanting more satisfaction and joy in their working life."
— Barbara J. Winter, author of Making a Living without a Job

"With eye-opening data and insightful, real-life stories, The Episodic Career is a must-read on navigating careers in an era of disruption and globalization. Our workplace has changed forever, and Farai Chideya shows how to make the new world of careers work for you."
— John Gerzema, author of The Athena Doctrine and CEO of Young & Rubicam BAV Consulting

"The globalized, disruptive world of work presents dangers and opportunities. Simply put, job searches and job security don't work the way they used to. This practical, well-researched book is a guide to a better way for all who seek to navigate the new landscape."
— Chris Guillebeau, author of The Happiness of Pursuit and The $100 Startup

"In this smart and savvy book, journalist Chideya surveys the ever-changing American workplace, showing how to forge the best and most fulfilling career path."

"Numerous interesting stories about people in a wide range of careers... are woven through this well-written book, which has at its center a Work/Life Matrix that Chideya says will help you "Know yourself, set your goals, play by your own rules." ...Chideya's research on the changes in America's work culture and economy provides context, and there are plenty of role models via the book's wealth of stories about people who took risks, bounced back and found unexpected satisfaction in the unanticipated."

"Journalist and policy analyst Farai Chideya tackles how to survive in a time of broadening inequality and dwindling job market prospects... The Episodic Career is part policy summary, part journalistic narration, part self-help book."
Atria Books, 9781476751504, 304pp.
Publication Date: January 26, 2016
About the Author
Farai Chideya has combined media, technology, and socio-political analysis during her twenty-year career as an award-winning author, journalist, professor, and lecturer. She is a senior writer at the data journalism organization FiveThirtyEight, and has taught at New York University and Harvard. She frequently appears on public radio and cable television, speaking about race, politics, and culture. She was born and raised in Baltimore, Maryland, and graduated magna cum laude with a BA from Harvard University in 1990. Find out more at Farai.com.
or
Not Currently Available for Direct Purchase