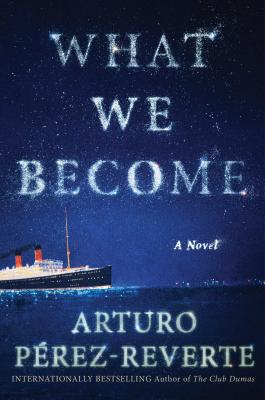 What We Become
A Novel
Hardcover

* Individual store prices may vary.
Other Editions of This Title:
Digital Audiobook (6/6/2016)
Paperback (4/4/2017)
Description
#1 bestselling author and Dagger Award winner Arturo Pérez-Reverte delivers an epic historical tale following the dangerous and passionate love affair between a beautiful high society woman and an elegant thief. A story of romance, adventure, and espionage, this novel solidifies Pérez-Reverte as an international literary giant.

En route from Lisbon to Buenos Aires in 1928, Max and Mecha meet aboard a luxurious transatlantic cruise ship. There Max teaches the stunning stranger and her erudite husband to dance the tango. A steamy affair ignites at sea and continues as the seedy decadence of Buenos Aires envelops the secret lovers.

Nice, 1937. Still drawn to one another a decade later, Max and Mecha rekindle their dalliance. In the wake of a perilous mission gone awry, Mecha looks after her charming paramour until a deadly encounter with a Spanish spy forces him to flee.

Sorrento, 1966. Max once again runs into trouble—and Mecha. She offers him temporary shelter from the KGB agents on his trail, but their undeniable attraction offers only a small glimmer of hope that their paths will ever cross again.

Arturo Pérez-Reverte is at his finest here, offering readers a bittersweet, richly rendered portrait of a powerful, forbidden love story that burns brightly over forty years, from the fervor of youth to the dawn of old age.
Praise For What We Become: A Novel…
WORLDWIDE ACCLAIM for What We Become:

"Mr. Pérez-Reverte is an accomplished storyteller, and anyone nostalgic for the lost, elegant days when people dressed for dinner and a tuxedo was obligatory in casinos will find much to delight them here...This thoroughly enjoyable novel cries out to be made into a movie."
— The Wall Street Journal

"[a] riveting and intricately layered historical novel."
— O Magazine

"Sparkling with witty dialogue, this elegantly translated thriller is enthusiastically recommended to sophisticated readers and those who wish to be."
— Library Journal, Starred Review

"Perez-Reverte summons the romantic spirit of an old black-and-white movie: impossibly glamorous, undeniably wistful."
— Kirkus, STARRED REVIEW

"Pérez-Reverte, who has written of women and adventure before, along with crime and betrayal,combines them all here in a hypnotic rhapsody of a novel that drinks freely from many genres: historical epic, Hitchcockian thriller, and, above all, grand love story, both heartbreaking and deliciously sexy. Pérez-Reverte masterfully,excruciatingly, jumps back and forth between the three encounters, playing the reader's emotions masterfully and creating as much tension through the love story as through the derring-do and the betrayals that stain both. An intoxicating entertainment, pulsing with life but, at the same time, with a kind of damp, hidden lament for all that was and is no more."
— Booklist, starred review

"Perez-Reverte is a highly accomplished author whose books inhabit the chasm between genre and literary fiction."
— BookBrowse

"[What We Become] is an extraordinary novel of love and adventure,passion and intrigue, emotion, betrayal and reunions spanning across four decades of the troubled twentieth century and represented by three fascinating times and places."
— El Mundo

"Beautiful language, a gripping story, authenticcharacters and fascinating sceneries – these are the ingredients for anexcellent novel."
— Nordeutscher Rundfunk

"A great love story...a fresh documentation of the lost history of Europe."
— El Pais

"What We Become is breathtakingly written."
— Westdeutscher Rundfunk

"Romance, life, desire and adventure, all told by Pérez-Reverte in the best way possible."
— La Vanguardia

"What We Become is a brilliant novel which takes us into the nostalgic world of tango,love,and crime."
— Neue Zurcher Zeitung

Part of Oprah's "6 Love Stories You Won't Be Able to Put Down" list:

"This riveting, intricately layered historical novel follows two paramours: Mesha is the beautiful wife of a famous composer, and Max is a charming con artist and spy. Their illicit affair begins aboard a luxury liner traveling from Lisbon to Buenos Aires."
— Oprah's Book Club

"This book is a masterpiece. It reads like a classic film. The story moves effortlessly between the dance halls of 1920s Buenos Aires, to a chess tournament in 1960s Italy, and back to Nice in the '30s. Max, a gentleman thief,meets Mecha, the beautiful wife of a famous composer, when he's working as a ballroom dancer on an ocean liner. It's his job to keep escorted women entertained. As you read, you can practically here the music as they are dancing. Their paths cross several more times in the intervening years, each time leaving its mark on them and their shared histories. As two of his capers escalate you find Max in two different nail biting moments at the same time, each making you turn pages faster and faster. WHAT WE BECOME does what Arturo Pérez-Reverte does best. He transports you to another place in time, and leaves you feeling nostalgic when the the book ends."
— John Kwiatkowski

Praise for International Bestselling Author, Arturo Pérez-Reverte:

"John le Carre meets Gabriel Garcia Marquez…"
— The Wall Street Journal

"Few contemporary writers conjure up derring-do as well as well as Arturo Pérez-Reverte."
— – The Christian Science Monitor

"Pérez-Reverte's literary thriller explodes withhistory, heartbreak [and] determination…"
— – Entertainment Weekly
Atria Books, 9781476751986, 464pp.
Publication Date: June 7, 2016
About the Author
Arturo Pérez-Reverte is the #1 internationally bestselling author of many critically acclaimed novels, including The Club Dumas, The Queen of the South, and The Siege, which won the International Dagger Award from the Crime Writers' Association. A retired war journalist, he lives in Madrid and is a member of the Royal Spanish Academy. His books have been translated into more than forty languages and have been adapted to the big screen.
or
Not Currently Available for Direct Purchase