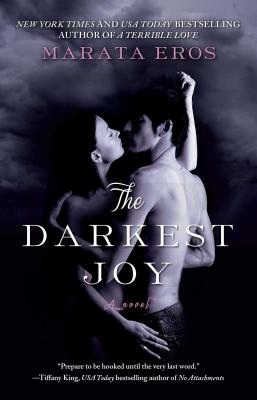 The Darkest Joy
Paperback

* Individual store prices may vary.
Description
A sexy and poignant new adult novel in the vein of Jamie McGuire's Beautiful Disaster from New York Times bestseller Marata Eros, about two lost souls who find each other in the wake of tragedy—only to learn that love may not be enough to heal the wounds of a dark and tortured past…

"I don't want my broken fixed. . . ."

Six months ago, Brooke Starr was one impeccable piano performance away from Juilliard. Now, she is lonely, devastated, orphaned . . . seeking solace in a place where the sun never sets and trying to make sense of the dark tragedy that clouds her shattered heart.

There are no coincidences. . . .

Deep-sea fisherman Chance Taylor can't imagine what his life would be if he'd never taken that midnight stroll to the pier. Had never seen the intriguing, raven-haired girl swan dive into the Alaskan sea. Had never plunged into the icy waters to rescue her . . . and finally felt her electric charge.

As their blazing chemistry consumes them, Chance is determined to save Brooke from her demons. But Brooke knows she must find her own footing. She thinks she's already lost everything—until the terror of her past catches up with her and threatens all that she has left: her life, her love, and the freedom to choose between drowning in grief and finding joy in the darkness.
Praise For The Darkest Joy…
"Prepare to be hooked until the very last word."
— Tiffany King, USA Today bestselling author of No Attachments

"Darkly addictive. . . . Marata keeps the tension high with romance and gripping suspense."
— Dannika Dark, author of Sterling

"The Darkest Joy is a heart rending emotional sucker punch to the gut. Don't get me wrong it is not all sorrow, there is laughter, Eros's signature snark, joy, friendship, love and even obsession. Yes, you will go through the gambit of emotions while immersed in this fabulous, memorizing, shocking plot. Marata Eros vividly captures the agony of profound loss but brilliantly depicts the beautiful and painful transformation that takes place after dealing with these life altering emotional scars. The Darkest Joy is a dark, beautiful, pulse pounding, suspense filled story that will keep you riveted till the end."
— Tome Tender

"Eros's dark and twisty prose adds a depth and dimension that is addictive."
— Martini Times Romance

"This is a great curl up on the couch with your favorite liquid date on a weekend night and enjoy kind of read."
— Flirty & Dirty Book Blog

"Eros's knack of giving us epic story lines amongst HOT, gritty, edgy and steamy sex scenes always leaves me wanting more!"
— Aussie Girl Book Lover

"This book was amazing, erotic, and filled with action."
— Crystal's Random Thoughts

"Eros very much has this sort of skat, rat-a-tat, jazzy improvisational writing style. . . . It gives her whole entire work real character. . . . And it really shines in this dark romance."
— Contagious Reads

"Any novel that can get me so riled that I yell at the characters through the pages is a winner in my book. . . . A beautiful tale of redemption, full of suspense and mystery."
— A Book Vacation

"This story had a cup of dark, a quart of thrilling, and a damn pound of super freaking sexy!"
— LipSmackin GoodBooks

"A completely terrifying, gut wrenching, and beautiful story."
— The Little Black Book Blog

"Between the suspense, intrigue, and volatile romance, I could not put this one down."
— Books Unhinged

"The chemistry between Jess and Devin is off the charts hot, and the sex is drop-your-drawers amazing. . . . The danger element just makes the story that much better, and leaves you on the edge of your seat dying to see what happens next."
— Always YA at Heart
Gallery Books, 9781476752211, 320pp.
Publication Date: February 18, 2014
About the Author
Marata Eros is the New York Times and USA TODAY bestselling author of dark, romantic new adult novels, including A Terrible Love and its companion novel A Brutal Tenderness. A passionate writer who loves interacting with her readers, Marata lives in South Dakota with her husband.