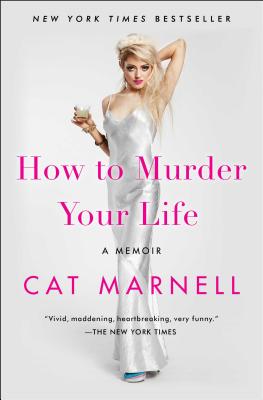 How to Murder Your Life
A Memoir
Paperback

* Individual store prices may vary.
Other Editions of This Title:
Digital Audiobook (1/30/2017)
Description
From the New York Times bestselling author and former beauty editor Cat Marnell, a "vivid, maddening, heartbreaking, very funny, chaotic" (The New York Times) memoir of prescription drug addiction and self-sabotage, set in the glamorous world of fashion magazines and downtown nightclubs.

At twenty-six, Cat Marnell was an associate beauty editor at Lucky, one of the top fashion magazines in America—and that's all most people knew about her. But she hid a secret life. She was a prescription drug addict. She was also a "doctor shopper" who manipulated Upper East Side psychiatrists for pills, pills, and more pills; a lonely bulimic who spent hundreds of dollars a week on binge foods; a promiscuous party girl who danced barefoot on banquets; a weepy and hallucination-prone insomniac who would take anything—anything—to sleep.

This is a tale of self-loathing, self-sabotage, and yes, self-tanner. It begins at a posh New England prep school—and with a prescription for the Attention Deficit Disorder medication Ritalin. It continues to New York, where we follow Marnell's amphetamine-fueled rise from intern to editor through the beauty departments of NYLON, Teen Vogue, Glamour, and Lucky. We see her fight between ambition and addiction and how, inevitably, her disease threatens everything she worked so hard to achieve. From the Condé Nast building to seedy nightclubs, from doctors' offices and mental hospitals, Marnell "treads a knife edge between glamorizing her own despair and rendering it with savage honesty.…with the skill of a pulp novelist" (The New York Times Book Review) what it is like to live in the wild, chaotic, often sinister world of a young female addict who can't say no.

Combining "all the intoxicating intrigue of a thriller and yet all the sobering pathos of a gifted writer's true-life journey to recover her former health, happiness, ambitions, and identity" (Harper's Bazaar), How to Murder Your Life is mesmerizing, revelatory, and necessary.
Praise For How to Murder Your Life: A Memoir…
"Sensational…Marnell treads a knife edge between glamorizing her own despair and rendering it with savage honesty. Several sections read like the drug-fueled interludes of The Goldfinch…She propels the reader through what could seem like repetitiveness (drugs, binges, bad mistakes, sprawling parties) with the skill of a pulp novelist."
— New York Times Book Review

"Jaw-dropping."
— New York Post

"The book is as compelling — and as problematic — as her magazine writing: vivid, maddening, heartbreaking, very funny, chaotic and repetitive, as benders are."
— New York Times

"[Marnell's] memoir brims with all the intoxicating intrigue of a thriller and yet all the sobering pathos of a gifted writer's true-life journey to recover her former health, happiness, ambitions and identity."
— Harper's Bazaar

"Cat Marnell's memoir How to Murder Your Life should come with a warning label that says buckle the FUCK up....[Marnell] writes about her life with a candor and self-awareness that is unexpected...I read this book in two wide-eyed sittings, cringing and laughing the whole way through."
— BuzzFeed

"Gripping."
— The New Republic

"Companionably charming...her control of style and tone is impressive, as is her wry self-awareness...Reading Marnell is so much fun: When she's sparkling, high and pretty, it seems so thrilling to be her."
— The Cut, NYMag.com

"Fantastically entertaining."
— Glamour

"Easily one of the most anticipated memoirs of the year...[Marnell's] got an inimitable style (and oh my god, so many have tried) and a level of talent so high, it's impossible not to be rooting for her."
— NYLON

"A gutting, riveting read that peels back the shiny facade that often cloaks the fashion publishing business. At its core, How to Murder Your Life is a cautionary tale about how even the most gifted, determined talents can fall victim to the grip of addiction, but it's also a peek behind the curtain at the inner workings of this competitive industry, and how the shiny world of magazines isn't as glamorous as it often appears. At the end, one thing is for certain: Marnell's storytelling abilities prove why so many of her editors took a chance on her despite the liability she became, and why she's cemented her spot as one of the internet generation's cult-favorite writers."
— Fashionista

"Marnell's writing is funny, self-deprecating, and deeply appealing to the type of person who reread Valley of the Dolls. The book features a breezy voice, moments of real insight, and stellar name-dropping. It's not hard to imagine some of it—the free open bars and free designer gifts and free private jets, at least—being really fun. And that's a testament to her writing, because in truth it sounds exhausting to be a famous drug addict, hallucinating mice in your apartment and gamely maintaining shockingly toxic relationships with people who steal from you or have sex with you while you're sleeping, all while losing job after job."
— Jezebel

"Marnell takes you through her rollercoaster of a life, which is marked by certain milestones like when she first tried Ritalin, when she moved to New York City, and how she made and ruined a career in one of the most competitive industries in the world. It's as intense as it is heartbreaking. But mostly its hilarious."
— Refinery29

"It's an addiction memoir for realists who've always wanted to get better but have also known there's no magic pill — for girls who suspected those that talk about how their lives have changed because of yoga or green juice or jesus to be completely full of shit. There are almost 400 pages of deep, dark struggle (which also are funny and engaging as hell) — but there's no ending, which is the only honest way to finish an addiction memoir."
— Thought Catalog

"How To Murder Your Life is like The Devil Wears Prada on crack - literally...The memoir, as funny as it is horrifying at times, offers a unique glimpse into the heyday of elite publishing, before Condé moved into One World Trade and interns sue...though she's not completely clean, Cat, a gifted writer, bitingly sharp, and acutely talented, has survived."
— GUEST OF A GUEST

"In this soul-riveting new memoir, [Marnell] divulges the true details of her life behind the shiny facade: prescription pill addiction, the wrath of bulimia and endless self-sabotage. How to Murder Your Life paints a vibrant portrait of addiction and the dark shades of consequences that come along with it."
— Brit + Co

"A marvel of a book...Through the highs, lows and lols, the self-loathing, self-tan and self-medicating, How to Murder Your Life is possibly the best book ever written by a recovering drug addict about the beauty industry."
— i-D, Vice

"Marnell's voice is original. She's startlingly honest and writes things nobody should...How to Murder Your Life is what every addict memoir should be: adventure-packed, shocking, darkly humorous, and gut-wrenching—the only thing missing is sobriety...You're likely to read it in one fast sitting."
— THE FIX

"Absorbing."
— Science of Us, NYmag.com

"You have to read Cat Marnell's new memoir "How to Murder Your Life"...It's so well written…I could not put it down."
— The Stripe

"[Marnell's] is a New York crash-and-burn story, a slow-motion train wreck rescued from mere voyeurism by Marnell's wit, impressive memory for people and vivid scenes, devastating honesty, and true gift with words."
— Publishers Weekly

"Though there is some healing, this isn't a recovery memoir. And it's much more than a manual for how to screw up one's life, or an encyclopedia of prescriptions, street drugs, and their glam nicknames (though it is both of these things). Marnell is a talented writer who's made a successful career centered on her passion. She writes emphatically and outrageously about things some would prefer to think don't exist, and that's pretty great."
— Booklist

"This is an interesting tale about toxic life in New York, big dreams, big goals and fighting to be happy."
— WGSN Insider

"A lurid, drug-laced, tale of privilege, beauty and bad decisions. I found it completely unrelatable and very compelling."
— The Rumpus

"Delicious."
— Daily Front Row

"A twenty-four hour read. A rip-roaring memoir of addiction that is at once glamorous and nasty, gaspingly funny and thoroughly gutting. Cat Marnell may have murdered her life but certainly not her writing. These pages have a pulse."


— Jessica Knoll, New York Times bestselling author of Luckiest Girl Alive
Simon & Schuster, 9781476752396, 384pp.
Publication Date: October 10, 2017
About the Author
Cat Marnell is a Condé Nast drop-out and former beauty editor at Lucky and xoJane.com. She wrote the "Amphetamine Logic" column for Vice. How to Murder Your Life is her first book.