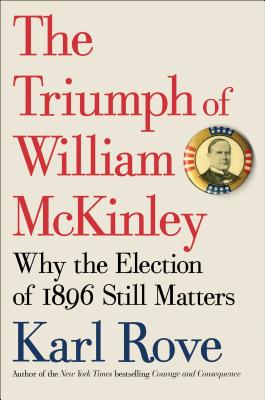 The Triumph of William McKinley (Hardcover)
Why the Election of 1896 Still Matters
Simon & Schuster, 9781476752952, 496pp.
Publication Date: November 24, 2015
Other Editions of This Title:
Digital Audiobook (11/23/2015)
Paperback (7/12/2016)
CD-Audio (11/24/2015)
* Individual store prices may vary.
Description
From New York Times bestselling author and political mastermind Karl Rove comes a fresh look at President William McKinley, whose 1896 campaign ended a bitter period of political gridlock and reformed and modernized his party, thereby creating a governing majority that dominated American politics for the next thirty-six years.

The 1896 political environment resembles that of today: A rapidly changing electorate affected by a growing immigrant population, an uncertain economy disrupted by new technologies, growing income inequality, and contentious issues the two parties could not resolve. McKinley found ways to address these challenges and win, which is why his campaign is so relevant to our politics now.

McKinley, a Civil War hero who preferred "The Major" above any other title he was given, changed the arc of American history by running the first truly modern presidential campaign. Knowing his party could only win if it grew beyond its base, he reached out to diverse ethnic groups, including openly seeking the endorsement of Catholic leaders and advocating for black voting rights. Running on the slogan "The People Against the Bosses," McKinley also took on the machine men who dominated his own party. He deployed campaign tactics still used today, including targeting voters with the best available technology. Above all, he offered bold, controversial answers to the nation's most pressing challenge—how to make a new, more global economy work for every American—and although this split his own party, he won the White House by sticking to his principles, defeating a charismatic champion of economic populism, William Jennings Bryan.

The 1896 election is a compelling drama in its own right, but McKinley's strategies offer important lessons for both political parties today.
About the Author
Karl Rove served as Senior Advisor to President George W. Bush from 2000–2007 and Deputy Chief of Staff from 2004–2007. He now writes a weekly op-ed for The Wall Street Journal and is a Fox News contributor. Before he became known as "The Architect" of President Bush's 2000 and 2004 campaigns, Rove was president of Karl Rove + Company, an Austin-based public affairs firm that was involved in over seventy-five campaigns for Republican candidates for president, governor and senator, as well as handling non-partisan causes and non-profit groups.
Praise For The Triumph of William McKinley: Why the Election of 1896 Still Matters…
"Having run--and won--two presidential campaigns, Karl Rove knows elections. The Triumph of William McKinley is a deeply informed and highly engaging account of one of the seminal elections in American history, the 1896 victory that ushered in more than a generation of Republican dominance. A vivid, intriguing and compellingly modern rendering of one of the most underappreciated episodes in American political history."
— Charles Krauthammer, author of Things That Matter

"The Triumph of McKinley is the Triumph of Karl Rove. This is a rousing tale told by a master storyteller whose love of politics, campaigning, and combat shines through on every page. Both the man and his times are brought to such vivid life that I felt myself catapulted back to the turn of the last century. And it was great fun to be there!"
— Doris Kearns Goodwin, Pulitzer Prize-winning author of Team of Rivals

"Either politics used to be more fun or Karl Rove just makes it seem that way. Whichever, his account of the 1896 election is written with great verve, even as it is informed by thorough research and illuminated by shrewd insight. This is political history at its most engaging."
— H.W. Brands, Professor of History, University of Texas at Austin, and author of Traitor to His Class

"Informed by his passion for history and by his love of strategy, Karl Rove has painted a colorful and detailed portrait of an important American moment. Highly recommended!"
— Jon Meacham, Pulitzer Prize-winning author of American Lion

"Karl Rove, who knows a thing or two about presidential campaigns, looks back at a watershed election over a century ago and shows how the winner, William McKinley, used it to change his party, the political process, and the nation. It's all here: the big themes, the backstage maneuvers, the personalities, the hoopla. A great read for historians, political junkies, and--in our own wild election cycle--Americans."
— Richard Brookhiser, author of Founders' Son: A Life of Abraham Lincoln

"McKinley's rise to the presidency is one of the major turning points in U.S. history, but it has never received the attention it deserves. . . . To help his readers understand McKinley's accomplishment, Mr. Rove . . . must take on the herculean task of explaining the meaning of the tariff and monetary controversies to 21st-century readers. . . . Few readers will have any idea about these debates, and it is to Mr. Rove's great credit that he brings them to life. . . . Mr. Rove's narration of the fall campaign is lively and compelling. . . . A rigorous book that should be studied by anyone interested in following McKinley to the White House."

"[Rove's] richly detailed, moment by moment account in The Triumph of William McKinley brings to life the drama of an electoral contest whose outcome seemed uncertain to the candidate and his handlers until the end. But there is more to this book than simply recounting the details of what was arguably the country's first modern presidential campaign. . . . The significance of Rove's book outruns this ambition. For it implicitly raises questions about the causes of electoral success and the rhythms of partisanship. . . . All that said, as Rove demonstrates, candidates and campaigns do matter. The durable electoral and policy outcomes produced by McKinley's victory over a dramatically dissimilar vision remind us how much can be at stake in a presidential election at a time of political polarization."

"A brilliant new book on the first modern presidential campaign. . . . It's a pleasure to read and piquantly relevant to today. . . . Rove delved deep into the primary sources and has produced a work that is meticulously researched . . . well written, and extremely discriminating with an eye for the telling detail. There are many fascinating, unjustly forgotten sagas from American political history revealed. . . . Rove provides a wonderful blend of narrative, scholarship, and knowing mastery of political campaign strategy. If you find politics, political intrigue, or American history compelling you will devour The Triumph of William McKinley."

"A superb book. . . . Rove achieves something new. He elevates McKinley's status to that of a historically important president. . . . Presidential candidates who read Rove's account of how McKinley won will be wiser."

"[A] fine new study of the 25th president and his election in 1896. . . . [Rove] proves a reliable guide to the machinations of gilded Age politics. . . . Much has been made of Theodore Roosevelt as the first modern president, but Rove convincingly shows that it was McKinley who helped usher presidential politics into the modern age. . . . Rove has done an admirable job of putting a historical spotlight on a once-beloved leader, reminding us that McKinley led his country into the 20th century in more than just the literal sense."

"A good, brisk read. . . . [Rove] has a sure touch. "

"Rove draws shrewd lessons from McKinley's win for Republicans fighting the next general election."

"For guidance in understanding the twisting path to the presidency in an era of extensive change and divided government, Karl Rove makes a compelling case that we should examine the election of 1896. . . . Rove shows himself to be a sure-handed historian. He ably relates the story of McKinley's rise. . . . A gripping, blow-by-blow account [that] brings to life a late-19th-century America that is . . . eerily familiar."

"McKinley, perhaps best known by Americans for the Alaskan mountain that once bore his name and the infamy of being one of the few American presidents to have been assassinated, was a vital and critical link in the history of the presidency. . . . Rove proves himself a surprisingly nimble and adept writer, juxtaposing shrewd political analysis with narrative verve. He expertly breaks down the challenges of McKinley's 1896 campaign, which he calls 'the first modern presidential primary campaign.' . . . A well-informed and -researched dissection of McKinley's overlooked influence."

"This substantive book by a political practitioner will appeal to and inform all readers, especially aficionados of American political history."

"An incisive look at what veteran political strategist Karl Rove calls "the first modern presidential primary campaign," and astute advice on how the modern Republican Party could benefit from the examples set by the 1896 William McKinley campaign. . . . Rove puts his accumulated knowledge of history to use to craft a superb political read."

"The Triumph of William McKinley is not only readable but also engrossing, a rare relevant history of the mechanics of politics. It educates today's America about politics of another time that are important to understanding our own America and a past now almost completely lost to the public memory."

"A well-researched narrative infused with the insights of a shrewd partisan warrior."

"The Triumph of William McKinley ultimately is another reminder of the valuable lessons of the past, not to mention the reality that there is nothing in the world today that hasn't happened before, no matter the pesky belief that the world revolves around us."

"Rove's fascination with and understanding of how the [political] process has worked throughout our history shines through in his new book, The Triumph of William McKinley: Why the Election of 1896 Still Matters."

"A fascinating glimpse at 19th-century politics."

"Rove [has] feeling for the personal, human cost of politics . . . Rove reminds us that presidential campaigns were no less grueling in the era before the direct primary than they are today, at least for candidates who hadn't sewed up the victory in advance, and he brings a professional's appreciation to McKinley's patient planning."

"An interesting and well-researched book. . . . [Rove's] analysis of political strategy and reasons for McKinley's victory is excellent. . . . The book should please and interest political junkies of both parties."

"With his groundbreaking book, The Triumph of William McKinley, we gain deep insights into Rove's genius, an important episode in American history, and the fundamentals of modern politics. . . . [A] valuable contribution to the study of American history [and] practically a scientific manual any would-be "influencer" should digest deeply and thoroughly until the insights gained become instinctive reactions. One also discovers the deep insights which, love him or hate him, made and make Karl Rove himself a fixture in today's political scene."
— W. R. Collier, Jr.
Coverage from NPR
or
Not Currently Available for Direct Purchase