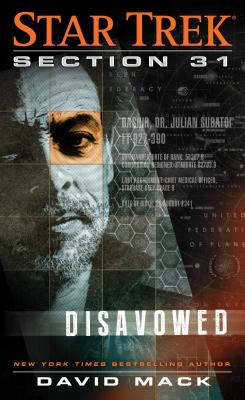 Star Trek
Section 31: Disavowed (Star Trek: Deep Space Nine)
Mass Market

* Individual store prices may vary.
Description
The pulse-pounding new Star Trek thriller from David Mack—a direct sequel to the New York Times bestselling series The Fall!

Amoral, shrouded in secrecy, and answerable to no one, Section 31 is the mysterious covert operations division of Starfleet, a rogue shadow group committed to safeguarding the Federation at any cost. Doctor Julian Bashir sacrificed his career for a chance to infiltrate Section 31 and destroy it from within. Now it's asking him to help it stop the Breen from stealing a dangerous new technology from the Mirror Universe—one that could give the Breen control over the galaxy. It's a mission Bashir can't refuse—but is it really the shot he's been waiting for? Or is it a trap from which even his genetically enhanced intellect can't escape?

™, ®, & © 2014 CBS Studios, Inc. STAR TREK and related marks are trademarks of CBS Studios, Inc. All Rights Reserved.
Pocket Books/Star Trek, 9781476753089, 352pp.
Publication Date: October 28, 2014
About the Author
David Mack is the award-winning and New York Times bestselling author of more than thirty novels of science fiction, fantasy, and adventure, including the Star Trek Destiny and Cold Equations trilogies. His writing credits span several media, including television (for episodes of Star Trek: Deep Space Nine), film, short fiction, and comic books. He resides in New York City.