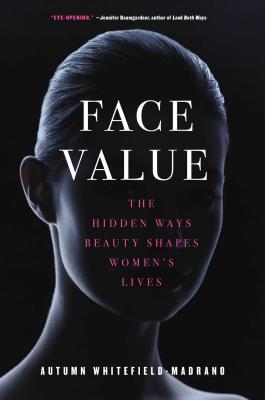 Face Value (Hardcover)
The Hidden Ways Beauty Shapes Women's Lives
Simon & Schuster, 9781476754000, 288pp.
Publication Date: June 21, 2016
Other Editions of This Title:
Paperback (6/27/2017)
Compact Disc (6/6/2017)
Compact Disc (6/14/2016)
MP3 CD (6/14/2016)
Compact Disc (6/14/2016)
Pre-Recorded Audio Player (6/14/2016)
* Individual store prices may vary.
Description
A thought-provoking examination of how we think and talk about beauty today—and the unexpected and often positive ways that beauty shapes our lives.

For decades, we've discussed our insecurities in the face of idealized, retouched, impossibly perfect images. We've worried primping and preening are a distraction and a trap. But have we focused too much on beauty's negative influence?

In Face Value, journalist Autumn Whitefield-Madrano thoughtfully examines the relationship between appearance and science, social media, sex, friendship, language, and advertising to show how beauty actually affects us day to day. Through meticulous research and interviews with dozens of women across all walks of life, she reveals surprising findings, like that wearing makeup can actually relax you, that you can convince people you're better looking just by tweaking your personality, and the ways beauty can be a powerful tool of connection among women.

Equal parts social commentary, cultural analysis, careful investigation, and powerful personal anecdotes, Face Value is provocative and empowering—and a great conversation starter for women everywhere.
About the Author
Autumn Whitefield-Madrano is the creator of the popular website The Beheld, which examines questions behind personal appearance and is syndicated at The New Inquiry. She writes for Marie Claire, Ms., and Salon, and previously worked at Glamour and CosmoGirl. She is the author of Face Value: The Hidden Ways Beauty Shapes Women's Lives.
Praise For Face Value: The Hidden Ways Beauty Shapes Women's Lives…
"A surprising take on the role of beauty...Citing research and examining everything from compliments (is "cute" a dis?) to photoshopping, the author comes to a provocative conclusion: The REAL beauty myth might be that caring about appearance is bad for us."
—People

"a non-fiction survey of the way women interact with beauty standards today, invites women to explore their relationship to beauty culture, beyond the surfaces… Whitefield-Madrano sought to understand how beauty affects women on a deeper level: what it means, how it appears in our culture, the role it plays in our lives."
—ELLE.COM

"Using personal interviews and scientific studies, the book is informative, intriguing, and relevant."
—Bustle

"FACE VALUE is particularly apt for a generation of women who came of age with glossies…The most striking section of the book is imagining how that fresh sobriety felt."
—New York Times Book Review

"Wherever there is a conventional, easy conclusion or stereotype about beauty's role in human lives, she injects doubt, and detail, and nuance…When a culture is so tangled up in its own contradictory anxieties, teasing out the nuances is precisely the kind of effort—and Face Value is precisely the kind of book—that can be beneficial…Whitefield-Madrano is an expert guide in all that, writing with a cheerful, blog-inflected tone (one of Face Value's chapters is called "Hotties, Foxes, and Cankles") and yet citing the studies and the people you'd expect…Face Value is an immensely valuable work, one that seamlessly—and impressively—combines the tropes of the academic lit review and the memoir and the work of cultural criticism into an engaging, and timely, follow-up to The Beauty Myth and the other similar books that have come before."
—The Atlantic

"Whitefield-Madrano spent more than a decade writing about beauty for women's magazines, interviewing hundreds of women about their relationships with their looks. Now she's spilling everything she knows in her new book."
—New York Post

"After more than a decade spent working at women's magazines, the author has a bird's eye view of the behemoth that is the beauty industry and how it affects us every day. Whitefield-Madrano explores these notions in her blog, The Beheld, and goes even deeper in Face Value, a fascinating, deeply researched book with personal touches of how women interact with beauty. The blend of interviews, memoir, social commentary, studies and analysis of beauty culture will have you questioning your own relationship to beauty and its role in social media, society, advertising, relationships and so much more."
—Forbes

"Thoughtful and erudite, Whitefield-Madrano's ongoing investigation into the ways beauty, both as an ideal and as a practice, has shaped women's lives is at once playful, illuminating and troubling."
—The Guardian

"A wide-ranging, often entertaining look at how we feel about, well, looks…Whitefield-Madrano is alert both to feminist critiques of "the beauty imperative" and to the idea, raised many of the women she spoke with for the book, that beauty can also be an arena for artistry, self-expression, and confidence…on the whole it's a fascinating look at a surprisingly broad topic."
—Boston Globe

"If contradiction lives at the heart of beauty, then Whitefield-Madrano, a lifelong reader of teenage beauty magazines who also has a solid grounding in second-wave feminism, is well poised to untangle its knots… It is smart, even-handed, and personal, the last of which I mean as pure praise… Whitefield-Madrano casts a skeptical gaze on all totalizing ideologies of beauty, avoiding prescription and condemnation, instead paying close attention to the particulars of women's experiences across race, sexuality, and gender expression… This is a brand of beauty feminism to rally behind.
—Pacific Standard

"Nuances [are] skillfully navigated as the book outlines the history, theory, and expert feminist voices who have been shaping the female view of self for generations. This is a valuable addition to contemporary feminist writing, providing much-needed perspective to a pervasive issue that young women and staunch feminists will glean much from.... Ideal for readers new to the subject but also great for anyone interested in social science and history."
—Library Journal, starred review

"In Face Value, Autumn Whitefield-Madrano gets beyond clichés and polemics to explore the complex ways in which the desire for beauty actually plays out in women's lives. She gracefully weaves together scholarly research, the experiences of a diverse array of women, and insights from her own life to reveal new and surprising patterns. Engaging, thought-provoking, bold, and true, Face Valuedeserves to become an instant classic."
—Virginia Postrel, author of THE POWER OF GLAMOUR

"To anyone who has ever fallen down the intellectual rabbit hole of contemporary beauty culture, let Autumn Whitefield-Madrano be your tour-guide through its existential wonderland. With meticulous research, witty prose, and compelling personal narrative, Face Value offers readers the trifecta of superb nonfiction. A must read!"
—Kjerstin Gruys, author of MIRROR, MIRROR OFF THE WALL

"Beauty may be a $58.3 billion industry, but Face Value provides an antidote to the popular idea that women are beauty's mindless victims. Drawing upon an arsenal of science, interviews, and a close examination of her own experiences, Autumn Whitefield-Madrano shows that beauty is neither an apolitical plaything nor women's all-powerful bête noire. Fresh, compassionate, and funny, Face Value will make you rethink your own relationship with beauty."
—Rachel Hills, author of THE SEX MYTH

"In Face Value, Autumn Whitefield-Madrand perceptively interrogates the (often unearned) power that is beauty. In doing so reveals how ambivalent women are about this power even as it tangles with every element of self and community."
—Jennifer Baumgardner, author of LOOK BOTH WAYS

"A fascinating and fun look into the world of beauty and the major role it plays in our daily lives."
—Jennifer L. Scott, author of LESSONS FROM MADAME CHIC

"She uses interviews, academic studies and her personal experiences with beauty to understand if makeup can be feminist in the era of the #flawless selfie, but also increased scrutiny of beauty and trends like #nomakeup."
—Paper Magazine
or
Not Currently Available for Direct Purchase