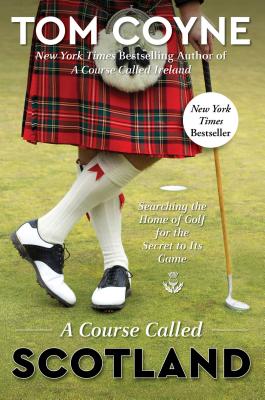 A Course Called Scotland (Hardcover)
Searching the Home of Golf for the Secret to Its Game
Simon & Schuster, 9781476754284, 336pp.
Publication Date: July 3, 2018
Other Editions of This Title:
Digital Audiobook (7/2/2018)
Paperback (6/4/2019)
Compact Disc (7/3/2018)
* Individual store prices may vary.
Description
NEW YORK TIMES BESTSELLER • "One of the best golf books this century." —Golf Digest

From Tom Coyne—the author of the New York Times bestselling A Course Called Ireland, hailed as "a joy from start to finish" by The Wall Street Journal—comes the heartfelt and humorous celebration of his quest to play golf on every links course in Scotland, the birthplace of the game he loves.

For much of his adult life, bestselling author Tom Coyne has been chasing a golf ball around the globe. When he was in college, studying abroad in London, he entered the lottery for a prized tee time in Scotland, grabbing his clubs and jumping the train to St. Andrews as his friends partied in Amsterdam; later, he golfed the entirety of Ireland's coastline, chased pros through the mini-tours, and attended grueling Qualifying Schools in Australia, Canada, and Latin America. Yet, as he watched the greats compete, he felt something was missing. Then one day a friend suggested he attempt to play every links course in Scotland, and qualify for the greatest championship in golf.

The result is A Course Called Scotland, a hilarious golf and travel adventure throughout the birthplace of the sport and home to some of the oldest and most beloved courses in the world, including St. Andrews, Turnberry, Dornoch, Prestwick, Troon, and Carnoustie. With his signature blend of storytelling, humor, history, and insight, Coyne weaves together his journey to more than 100 legendary links courses in Scotland with compelling threads of golf history and witty insights into the contemporary home of golf. As he journeys Scotland in search of the game's secrets, he discovers new and old friends, rediscovers the peace and power of the sport, and, most importantly, reaffirms the ultimate connection between the game and the soul. It is a rollicking love letter to Scotland and golf as no one has attempted it before.
About the Author
Tom Coyne is the author of the New York Times bestsellers A Course Called Ireland and A Course Called Scotland; Paper Tiger; and the novel A Gentleman's Game, named one of the best twenty-five sports books of all time by The Philadelphia Daily News and adapted into a motion picture starring Gary Sinise. He has written for GOLF Magazine, Sports Illustrated, The Golfer's Journal, and numerous other publications. He earned an MFA in fiction writing from the University of Notre Dame, where he won the William Mitchell Award for distinguished achievement. He lives in Philadelphia with his wife and two daughters, and he is an associate professor of English at St. Joseph's University.
Praise For A Course Called Scotland: Searching the Home of Golf for the Secret to Its Game…
"One of the best golf books this century."
—Golf Digest

"Tom Coyne has a knack for setting impossible tasks for himself. . . . Mr. Coyne is back at it again with A Course Called Scotland. This time he avails himself of cars, planes, and ferries, but the task he sets is no less preposterous: to play 107 courses in 56 days. . . . Readers who enjoyed Mr. Coyne's rollicking Irish book will be interested to learn how their fearless travel guide has fared in the intervening years. . . . There's no less wit in the writing—British weather forecasts, he concludes, are 'as useful as ashtrays on motorbikes'—and almost as many well-rendered characters, both locals he meets and friends and readers who join him along the way. . . . All the famous courses are here: St. Andrews, Dornoch, Turnberry, Carnoustie. But even seasoned golf travelers will be unfamiliar with many of the courses Mr. Coyne finds. He tees it up where nature carved holes that no architect would dream of, where 12 holes instead of 18 suit the members just fine, and where munching sheep, not mowers, keep the fairway grass short. Does he discover the secret to the game? He finds several, including, most practically, 'never, ever give up.' "
—John Paul Newport, The Wall Street Journal

"They said it couldn't be done—that he'd never be able to top Ireland. But with Scotland, he did it. Damn you, Tom Coyne!"
—Michael Bamberger, author of Men in Green

"A fast-moving, insightful, often funny travelogue encompassing the width of much of the British Isles . . . One of the reasons A Course Called Scotland works so well is because Coyne extended an offhanded invitation to listeners of a radio show to join him in Scotland. . . . The eclectic cast of characters who pop up throughout the story underscore the deep connections forged through travel."
—Golfweek

"Coyne has a wonderful way of making the reader feel a part of the quest. You experience his trials and tribulations as well as the sense of wonder and awe that comes with playing golf in Scotland."
—Chicago Tribune

"There is a purity in the Scots' game that isn't about manicured greens or a ball's 'spin rate.' Coyne admires their 'homemade' swings that merely focus on getting the golf ball around the course and in the hole. He becomes convinced that perfection is an illusion, though a powerful one. He slowly accepts his limitations, one day at a time, swing after swing."
—Bloomberg

"Tom Coyne's much-anticipated follow-up to his fun book A Course Called Ireland lived up to my high expectations. Who wouldn't be jealous of Coyne's adventures getting to play every links in Scotland? He mixes well his commentary on the courses with the historical significance of each place he visits. This is a must-read."
—Golf Advisor

"The author entertains us with accounts of foul weather, fair friends (one of whom got hit in the face with a drive), and astonishing courses, some dating back centuries. . . . Golfers and golf-o-philes will gobble this down."
—Kirkus Reviews

"In this witty and charming follow-up to A Course Called Ireland, Coyne continues living a golfer's dream by playing every links course in Scotland, golf's birthplace. . . . Enthusiasts will revel in Coyne's eloquent narration of his course-by-course adventures, while casual fans might be tempted to pick up their clubs a little more often."
—Publishers Weekly

"Fighting through physical exhaustion, self-doubt, homesickness and spates of nasty weather, Coyne knocks out 111 full or partial rounds on 107 courses, sometimes three rounds a day, in his search for the 'secret' of great golf. It's no secret that his passion for the game (and life) shows through on every page, and we get to follow his every step through modern golf's birthplace."
—Golf Tips Magazine

"News of a new tale by Tom Coyne is always reason to celebrate—assuming you love golf, irresistible storytelling, a cast of colorful characters and a poignant journey through the birthplace of the game. Lots of us share Tom's Mitty-dream of running away to the great links lands and the lesser known coastal gems of Scotland. But he's masterfully accomplished the feat with his charming pilgrimage around the game's Holy Land that unfolds as smoothly as a fine single malt. Coyne's trademark wit, humor, unerring ear for the locals, and deep knowledge of the game are on full display, rendering this a poetic journey you won't soon forget."
—James Dodson, author of Final Rounds

Praise for A Course Called Ireland

"There is no golf trip like an Irish golf trip, and Tom Coyne has risen to meet that road. I look forward to reading this again. Pack it with your sticks."
—Bill Murray

"Equal parts touching, wry, and hilarious."
—The New York Times

"Witty and winning . . . A joy from start to finish."
—The Wall Street Journal

"Like the country itself, Coyne's book is an affable ramble through a charmed land."
—Chicago Tribune

"A Course Called Ireland explores the history of the land being traveled and pauses for tales both tall and short, as well as, in this case, for pub songs. Coyne finds plenty of all of the above from Kilkee to Kerry, the long way. Golfers reading this book may wish they'd been walking by Coyne's side."
—Boston Globe

"A delightful and fun book."
—Minneapolis Star-Tribune

"A really good read."
—The Modesto Bee
or
Not Currently Available for Direct Purchase