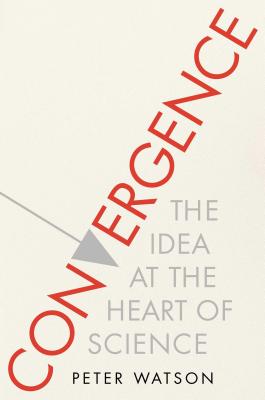 Convergence (Hardcover)
The Idea at the Heart of Science
Simon & Schuster, 9781476754345, 576pp.
Publication Date: February 21, 2017
* Individual store prices may vary.
Description
A brilliant history of science over the past 150 years that offers a powerful new argument—that the many disparate scientific branches are converging on the same truths.

Convergence is a history of modern science with an original and significant twist. Various scientific disciplines, despite their very different beginnings, have been coming together over the past 150 years, converging and coalescing. Intimate connections have been discovered between physics and chemistry, psychology and biology, genetics and linguistics. In this groundbreaking book, Peter Watson identifies one extraordinary master narrative, capturing how the sciences are slowly resolving into one overwhelming, interlocking story about the universe.

Watson begins his narrative in the 1850s, the decade when, he argues, the convergence of the sciences began. The idea of the conservation of energy was introduced in this decade, as was Darwin's theory of evolution—both of which rocketed the sciences forward and revealed unimagined interconnections and overlaps between disciplines. The story then proceeds from each major breakthrough and major scientist to the next, leaping between fields and linking them together. Decade after decade, the story captures every major scientific advance en route to the present, proceeding like a cosmic detective story, or the world's most massive code-breaking effort.

Watson's is a thrilling new approach to the history of science, revealing how each piece falls into place, and how each uncovers an "emerging order." Convergence is, as Nobel Prize-winning physicist Steven Weinberg has put it, "The deepest thing about the universe." And Watson's comprehensive and eye-opening book argues that all our scientific efforts are indeed approaching unity. Told through the eyes of the scientists themselves, charting each discovery and breakthrough, it is a gripping way to learn what we now know about the universe and where our inquiries are heading.
About the Author
Peter Watson is an intellectual historian, journalist, and the author of thirteen books, including Convergence; Ideas: A History; The Age of Atheists; The German Genius; The Medici Conspiracy; and The Great Divide. He has written for The Sunday Times, The New York Times, the Observer, and the Spectator. He lives in London.
Praise For Convergence: The Idea at the Heart of Science…
"Convincing ... A provocative history probes the connections that are helping to unify scientific disciplines. … Watson examines an impressive array of connections … Whether you identify as a biologist, an astrophysicist, or a mathematician, one thing's for certain: We're all ultimately working with the same fabric." —Science

"Watson offers the reader a 'big history' of the modern sciences ... Those seeking a grand overview of science's greatest hits over the past century will find it here."
—Washington Post

"[A] massive tour de force…Watson persuasively presents a deep and challenging idea." —Publishers Weekly

"A delightful exploration … a sweeping, entirely fascinating history of science during the last 200 years [in which readers] will find an abundance of enlightening material." —Kirkus Reviews, Starred Review

"Convergence will blow your mind … an exhaustive dash through a marathon of centuries of scientists and their discoveries to illuminate one … profound thesis."
—Charleston Post and Courier

"Fascinating … Watson treats biology, chemistry, and physics as entangled plotlines, and readers' excitement will build as more connections are made. … Highly recommended for general readers of science and history." —Library Journal, Starred Review

"Convergence is profoundly simple and simply profound – and possibly the most important book you'll read this year."
—Fortean Times

"Grand sweep and brisk pacing … very satisfying in its way."
—Inference Review

"Anyone interested in science will enjoy this fascinating, fast-paced, intellectual journey through the history of scientific ideas. Watson masterfully weaves the concept of convergence through covering an astonishing breadth of scientific and cultural domains." — Mario Livio, astrophysicist, author of Brilliant Blunders and Why?