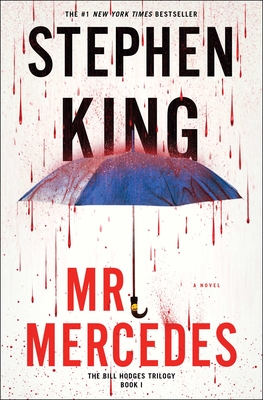 Mr. Mercedes
A Novel (The Bill Hodges Trilogy #1)
Hardcover

* Individual store prices may vary.
Other Editions of This Title:
Digital Audiobook (6/2/2014)
Mass Market (12/29/2015)
Paperback (1/6/2015)
Prebound (12/29/2015)
CD-Audio (12/29/2015)
CD-Audio (6/3/2014)
Paperback, Spanish (11/26/2019)
Description
Now an AT&T Audience Original Series

WINNER OF THE EDGAR AWARD FOR BEST NOVEL
#1 New York Times bestseller! In a mega-stakes, high-suspense race against time, three of the most unlikely and winning heroes Stephen King has ever created try to stop a lone killer from blowing up thousands.

In the frigid pre-dawn hours, in a distressed Midwestern city, hundreds of desperate unemployed folks are lined up for a spot at a job fair. Without warning, a lone driver plows through the crowd in a stolen Mercedes, running over the innocent, backing up, and charging again. Eight people are killed; fifteen are wounded. The killer escapes.

In another part of town, months later, a retired cop named Bill Hodges is still haunted by the unsolved crime. When he gets a crazed letter from someone who self-identifies as the "perk" and threatens an even more diabolical attack, Hodges wakes up from his depressed and vacant retirement, hell-bent on preventing another tragedy.

Brady Hartsfield lives with his alcoholic mother in the house where he was born. He loved the feel of death under the wheels of the Mercedes, and he wants that rush again. Only Bill Hodges, with a couple of highly unlikely allies, can apprehend the killer before he strikes again. And they have no time to lose, because Brady's next mission, if it succeeds, will kill or maim thousands.

Mr. Mercedes is a war between good and evil, from the master of suspense whose insight into the mind of this obsessed, insane killer is chilling and unforgettable.
Praise For Mr. Mercedes: A Novel (The Bill Hodges Trilogy #1)…
"Pays off exuberantly . . . Surprising and invigorating."
— The New York Times

"Classic Stephen King. Creepy, yet realistic characters that get under your skin and stay there, a compelling story that twists and turns at breakneck speed, and delightful prose that, once again, proves that one of America's greatest natural storytellers is also one of its finest writers."
— Associated Press

"On one level, Mr. Mercedes is an expertly crafted example of the classic race-against-the-clock thriller. On another, it is a novel of depth and character enriched throughout by the grace notes King provides in such seemingly effortless profusion. It is a rich, resonant, exceptionally readable accomplishment by a man who can write in whatever genre he chooses."
— Washington Post

"Think of Mr. Mercedes as an AC/DC song: uncluttered, chugging with momentum, and a lot harder to pull off than it looks. . . . King has written a hot rod of a novel,perfect for a few summer days at the pool. Mercedes-Benz commands drivers to demand 'the best or nothing.' In pop-fiction terms, that motto still applies to Stephen King, too. With apologies to AC/DC, the highway to hell never felt so fun."
— Christian Science Monitor

"A taut, suspenseful race-against-time book . . . [King is] in reliably fine form."
— The New York Times

"A taut, calibrated thriller . . . The majority of the book is merciless and unforgiving, and the scariest thing about it is how plausible the whole scenario is."
— Miami Herald

"The nerve-shredding denouement is vintage King—a pulse-pounding race against time . . ."
— Fort Worth Star-Telegram

"A full-throttle sprint to the finish; the last 80 pages cannot be doled out over multiple reading sessions. You'll have to swallow them all in a single gulp."
— Sarasota Herald Tribune

"A literary Van de Graaff generator: tightly paced and parsed with dynamic dialogue and traumatic twists."
— Columbus Dispatch

"An oh-so-dark mystery that never shuts the door on love, loss and, possibly, redemption."
— Cleveland Plain Dealer

"No one can create a villain quite like King. . . . [A]ll the elements come together in a very public, potentially explosive finale (with a surprising post script). King fans may find themselves furiously turning pages long into the night."
— Seattle Times

"Along book that doesn't feel like one. King's pacing is perfect here . . . [Y]ou should read Mr. Mercedes. You'll be checking your automobile's back seat for months, if not years."
— BookReporter.com

"A fast-paced whodunit."
— Esquire

"King excels in his disturbing portrait of Brady, a genuine monster in ordinary human form who gives new meaning to the phrase'the banality of evil."
— Publisher's Weekly

"The most straight-up mystery-thriller of [King's] career…Pretty darn fresh."
— Booklist

"Nicely dark, never predictable and altogether entertaining."
— Kirkus

"King deftly takes elements of hard-boiled mysteries and puts a fresh spin on them."
— USA Today

"A showdown between good and evil that characterizes the best of King's work, regardless of genre."
— Los Angeles Times

"King may have left out the supernatural in Mr. Mercedes, but his gifts for creating thoroughly believable characters and thrumming suspense are in full play. He keeps raising the stakes and ratcheting up the violence, and just when you think everything is settled there's one spine-icing little turn on the very last page."
— Tampa Bay Times

"King creates such vivid characters—people you can picture yourself drinking a beer with or inviting over for lunch. So when he puts them in great peril, and that includes Jerome's family and pet dog and the Mercedes' owner's family, it's a race against time . . ."
— St. Louis Post-Dispatch

"Hartfield is sensitive, sympathetic and one of King's most realistic characters. He is a lot like Norman Bates from Psycho, in the worst ways imaginable.You can add Hartfield to the list of great King villains, alongside the shape-shifting monster Pennywise from It and the hypnotic vampire Kurt Barlow from Salem's Lot."
— Boston Herald

"A fast-paced cat-and-mouse game between Hodges, the motley group of unlikely heroes that he assembles, and the Mercedes Killer."
— Pittsburgh Post-Gazette

"As always, Stephen King draws very real people and scenes straight out of life as we know it . . ."
— Raleigh News & Observer

"A trimmer-than-usual King, but that doesn't mean he skimps on the suspense and spine-tingling chills."
— People Magazine

"With Mr.Mercedes, [King] demonstrates that he can still rock a pure genre novel like nobody's business. . . . a thrilling example of King's boundless imagination."
— Bookpage

"A war between good and evil, from the master of suspense whose insight into the mind of this obsessed, insane killer is chilling and unforgettable."
— Cemetery Dance

". . . barrels toward a memorable conclusion. King's work has almost always gotten lost in translation on the big screen, but his tense, propulsive, ultra-fast-paced climax here seems like it was written with the movie in mind."
— Onion AV Club
Scribner, 9781476754451, 448pp.
Publication Date: June 3, 2014
About the Author
Stephen King is the author of more than sixty books, all of them worldwide bestsellers. His recent work includes Fairy Tale, Billy Summers, If It Bleeds, The Institute, Elevation, The Outsider, Sleeping Beauties (cowritten with his son Owen King), and the Bill Hodges trilogy: End of Watch, Finders Keepers, and Mr. Mercedes (an Edgar Award winner for Best Novel and a television series streaming on Peacock). His novel 11/22/63 was named a top ten book of 2011 by The New York Times Book Review and won the Los Angeles Times Book Prize for Mystery/Thriller. His epic works The Dark Tower, It, Pet Sematary, Doctor Sleep, and Firestarter are the basis for major motion pictures, with It now the highest-grossing horror film of all time. He is the recipient of the 2020 Audio Publishers Association Lifetime Achievement Award, the 2018 PEN America Literary Service Award, the 2014 National Medal of Arts, and the 2003 National Book Foundation Medal for Distinguished Contribution to American Letters. He lives in Bangor, Maine, with his wife, novelist Tabitha King.