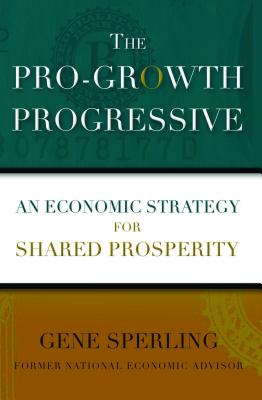 The Pro-Growth Progressive
An Economic Strategy for Shared Prosperity
Paperback

* Individual store prices may vary.
Other Editions of This Title:
Hardcover (11/8/2005)
Description
President Bill Clinton's National Economic Adviser addresses the main issues that were at the center of debate in Bush's second term: Social security reform, outsourcing, and deficit reduction. After two consecutive elections in which Democratic candidates failed to turn clear economic advantages into electoral victory, a debate is raging over what the Democrats should do now. The narrow, red state-blue state argument between chest-beating populists and soulless centrists offers the answer to neither the country's economic future nor the political future of the Democrats. In The Pro-Growth Progressive, President Clinton's longest-serving national economic advisor, Gene Sperling, argues that the best economic strategy for our nation--and the best strategy for progressives whether they be Democrat, Republican, or Independent--is to pursue policies that are both progressive and pro-growth, that promote progressive values of upward mobility, fair starts, and economic dignity as well as embrace markets and innovation. Sperling describes how both parties offer the American public impoverished choices: Democrats in the-sky-is-falling party too often pretend that the way to promote progressive values and expand the American middle class is to slow the pace of the global economy, stop all outsourcing, and intervene in the market. Republicans of the don't-worry-be-happy party hold fast to the bankrupt vision that the best thing for economic growth is the smallest government possible, and have made the conservative deficit hawks of the 1990s an endangered species. But The Pro-Growth Progressive is neither an all-out assault on the Bush agenda nor a partisan call for Democrats to move further left. Both conservatives and progressives have to accept hard truths about the limitations of their approaches. Drawing on his years of policy experience, Sperling lays out a third way on the issues that are dominating the news and Bush's second term: social security, ownership, globalization, and deficit reduction. He explains the policy alternatives that respect the power of free markets while giving government a role in ensuring that the markets benefit all working families. Focused and timely, The Pro-Growth Progressive offers a realistic vision of free enterprise and economic growth in which government can improve education, reduce poverty, and restore the country to fiscal sanity.
Praise For The Pro-Growth Progressive: An Economic Strategy for Shared Prosperity…
"In the 1990s, Gene Sperling played a pivotal role in America's progressive economic revival, which led to record job growth, higher middle-class wages, and millions of Americans being lifted out of poverty. With this book, he offers a far-reaching but commonsense vision of how to do it again, in a more complex time. For anyone committed to long-term prosperity that benefits all Americans, this book is a must read."

-- President Bill Clinton



"Gene Sperling, one of the chief architects of Clintonomics, does it again. With humanity, optimism, and realism, his important book, The Pro-Growth Progressive, tells us how to channel the forces of economic change to our advantage."

-- George A. Akerlof, Nobel Laureate in Economics 2001



"Globalization confronts us with a baffling array of domestic, economic, and political issues, alongside some rapidly emerging geo-political and geo-economic forces. Gene Sperling's balanced and sophisticated analysis, and an unusually wide array of possible prescriptions, is indeed an impressive piece of work."

-- Peter G. Peterson, former Secretary of Commerce and author of Running On Empty



"Even if you have never completed an economics course, this hugely readable book charts a comprehensible and balanced course between doctrinaire policies of both right and left. No misty theoretician, Sperling espouses specific and practical responses to economic and societal problems that too many have thought insoluble."

-- Arthur Levitt, former Chairman of the Securities and Exchange Commission


Simon & Schuster, 9781476754819, 368pp.
Publication Date: June 29, 2013