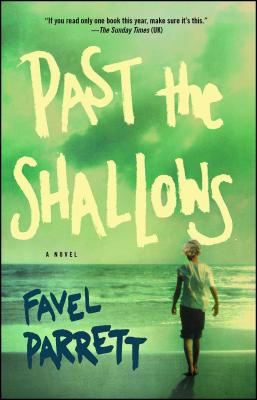 Past the Shallows (Paperback)
A Novel
Washington Square Press, 9781476754871, 272pp.
Publication Date: April 22, 2014
* Individual store prices may vary.
Description
"If you read only one book this year, make sure it's this" (The Sunday Times, London): An award-winning debut novel from a rising star in Australia—a hauntingly beautiful story about the bond of brotherhood and the fragility of youth.

Joe, Miles, and Harry are growing up on the remote southern coast of Tasmania—a stark, untamed landscape swathed by crystal blue waters. The rhythm of their days is dictated by the natural world, and by their father's moods. Like the ocean he battles daily to make a living as a fisherman, he is wild and volatile—a hard drinker warped by a devastating secret. Unlike Joe, Harry and Miles are too young to move out, and so they attempt to stay as invisible as possible whenever their father is home. Miles tries his best to watch out for Harry, but he can't be there all the time. Often alone, Harry finds joy in the small treasures he discovers by the edge of the sea—shark eggs, cuttlefish bones, and the friendship of a mysterious neighbor. But sometimes small treasures, or a brother's love, simply are not enough…
About the Author
Favel Parrett was named Newcomer of the Year in 2012 by the Australian Book Industry Awards (ABIA) for her debut novel, Past the Shallows. She lives in Australia with her partner, David, and her two dogs, Dougal and Bear. Find out more at FavelParrett.com.au.
Praise For Past the Shallows: A Novel…
"Compulsively readable...the simple, unaffected tone of Parrett's writing makes this a poignant read—but it's the story of how these two emotionally distant brothers help each other that makes the novel so moving."

"[A]n understated and beautifully penned story… Parrett's writing is exquisite in its simplicity and eloquence, and her narrative is heart-rending. This poignant story resonates."

"Parrett deservedly received critical claim in Australia for this haunting fiction debut. Her writing is vivid and distinct...Parrett's novel sings with an emotional power that marks her as a writer to watch."

"Vibrant and intensely moving, this story about three boys in thrall to their angry father sucked me instantly into its emotional currents. Favel Parrett has created a novel as lovely, mysterious, powerful and entrancing as the capricious ocean around which her characters' lives revolve."
— Christina Schwarz

"Parrett's remarkable debut examines the bleak life of a broken family in Tasmania, in spare, unflinching prose."

"If you read only one book this year, make sure it's this."

"A finely crafted literary novel that is genuinely moving and full of heart."

"So real, so true—this novel sweeps you away in its tide."
— Robert Drewe

"Wintonesque."

"Parrett's debut marks the addition of a strong voice to the chorus of Australian literature."

"A work by a new master...Parrett's debut is an uncompromising and memorable tale."