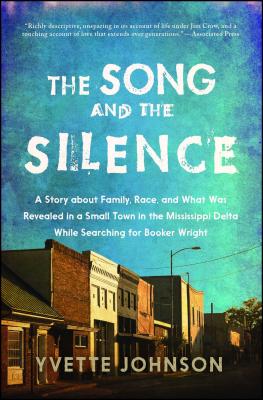 The Song and the Silence (Paperback)
A Story about Family, Race, and What Was Revealed in a Small Town in the Mississippi Delta While Searching for Booker Wright
Atria Books, 9781476754956, 336pp.
Publication Date: January 9, 2018
Other Editions of This Title:
Compact Disc (5/2/2017)
MP3 CD (5/2/2017)
Compact Disc (5/2/2017)
Hardcover (5/9/2017)
* Individual store prices may vary.
Description
In this "beautiful, evocative" (Booklist, starred review) memoir, Yvette Johnson travels to the Mississippi Delta to uncover the moving, true story of her late grandfather Booker Wright, whose extraordinary act of courage would change his and, later, her life forever.

"Have to keep that smile," Booker Wright said in the 1966 NBC documentary Mississippi: A Self-Portrait. At the time, Wright was a waiter in a "whites only" restaurant and a local business owner who would become an unwitting icon of the Civil Rights Movement. For he did the unthinkable: speaking in front of a national audience, he described what daily life was truly like for black people of Greenwood, Mississippi.

Four decades later, Yvette Johnson, Wright's granddaughter, found footage of the controversial documentary. No one in her family knew of his television appearance. Even more curious for Johnson was that for most of her life she'd barely heard mention of her grandfather's name.

Born a year after Wright's death and raised in a wealthy San Diego neighborhood, Johnson admits she never had to confront race in the way Southern blacks did in the 1960s. Compelled to learn more about her roots, she travels back to Greenwood, Mississippi, a beautiful Delta town steeped in secrets and a scarred past, to interview family members about the real Booker Wright. As she uncovers her grandfather's compelling and ultimately tragic story, she also confronts her own conflicted feelings surrounding race, family, and forgiveness.

"With profound insight and unwavering compassion, Johnson weaves an unforgettable story" (Publishers Weekly, starred review) about her journey in pursuit of her family's past—and ultimately finding a hopeful vision of the future for us all.
About the Author
Yvette Johnson is a writer, film producer, and speaker. She coproduced the documentary Booker's Place: A Mississippi Story, which premiered at the 2012 Tribeca Film Festival.
Praise For The Song and the Silence: A Story about Family, Race, and What Was Revealed in a Small Town in the Mississippi Delta While Searching for Booker Wright…
"With profound insight and unwavering compassion, Johnson weaves an unforgettable story . . . . Brilliantly constructs a complex and empathetic look at racism in the South."
— Publishers Weekly (Starred Review)

"In addition to beautiful, evocative descriptions, a great strength of Johnson's writing lies in her unique ability to absorb and relay several dimensions of conversations about painful and emotional topics."
— Booklist (Starred Review)

"A timely story of fragmentation and division and of picking one's way through the minefield that was—and is—the racially riven South . . . . Johnson's story is highly personal, but it folds easily into the larger story of African-Americans striving for economic and political betterment."
— Kirkus Reviews

"Richly descriptive, unsparing in its account of life under Jim Crow, and a touching account of love that extends over generations."
— Associated Press

"This rich and complex family history will appeal to anyone desiring a greater understanding of the consequences of intolerance in America."
— Library Journal

"This is the best [book] I have read capturing the essence of the two most important issues of our time—the move of the black race from rural to urban, and the struggle encountered in the move from poor to middle-class."

— James Meredith, first African American to attend the University of Mississippi and author of A Mission from God

"Insightful and beautifully written, The Song and the Silence is one of those special books that is imprinted on my heart and will be on my mind forever."
— Amy Hill Hearth, author with the Delany Sisters of the New York Times bestseller, Having Our Say

"The Song and the Silence is riveting and insightful account of Yvette Johnson's six-year quest to find out who her grandfather was and how he lived his life. In doing so she shares painful details about race relations during the Civil Rights Era, and sheds light on a period of U.S. history characterized by unspeakable injustice and inequality. A skilled story-teller, Johnson brings history to life with vivid details and powerful narrative techniques."
— Duane Roen, professor of English, Arizona State University

"A heartfelt, beautifully written odyssey for a heritage that was worth seeking. An often emotionally harrowing journey taken by the author . . . . Through many interviews with those who had known her grandfather what she encountered was complex, deeply moving and often painful. Over time she came to appreciate her own legacy, which was a gift not only for Ms. Johnson but for all the readers who go on this journey with her."
— Aviva Slesin, documentarian and Open Arts program professor, Tisch School of the Arts, New York University

"Johnson brings a compassionate and uncompromising gaze to the tragic history of her African American family. An unforgettable take on how we are shaped by an unknown past and how an open-eyed and honest voyage through that pain can make us whole."
— Karen Branan, author of The Family Tree