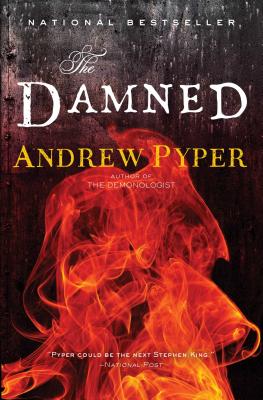 The Damned
A Novel
Paperback

* Individual store prices may vary.
Other Editions of This Title:
Digital Audiobook (2/9/2015)
Library Binding, Large Print (4/1/2015)
Hardcover (2/10/2015)
Description
OPTIONED FOR FILM BY LEGENDARY PICTURES (Interstellar, the Dark Knight films, Godzilla)

"The Damned underlines Pyper's growing reputation as one of the most talented successors to the inimitable Stephen King." —Daily Mail (UK)

Most people who have a near-death experience come back alone...but not Danny Orchard.

After he survived a fire that claimed the life of his evil twin sister, Ashleigh, Danny wrote a bestselling memoir about going to heaven and back. But despite the resulting fame and fortune, he's never been able to enjoy his second chance at life: Ash won't let him.

She's haunted Danny for twenty years and now, just when he's met the love of his life and has a chance at real happiness, she wants more than ever to punish him for being alive—so she sets her sights on Danny's new wife and stepson. To save them from her wrath, he'll have to meet his sister where she now resides—and hope that this time he can keep her there forever.
Praise For The Damned: A Novel…
"Smart, inventive….this is what demons—living or otherwise, human or not—do best: they mesmerize, they seduce, they stop us in our tracks."—The New York Times Book Review

"An intense and satisfying supernatural story...The novel underlines Pyper's growing reputation as one of the most talented successors to the inimitable Stephen King."
—Daily Mail (UK)

"Pyper is a master architect of dread...Compulsive and nerve-jangling, The Damned is a story about personal hells and the relationships that haunt us."
—Lauren Beukes, author of The Shining Girls and Broken Monsters

"Prepare yourself for a sleepless night or two once you've settled in with this smart, suspenseful and absolutely terrifying book that takes the bad seed concept to a whole new level. Pyper has the unique ability to take us to the darkest places and convince us that the things we find there are not only entirely possible and real, but that we might just take some piece of them back with us once we close the cover and turn out the lights."
— Jennifer McMahon, New York Times bestselling author of The Winter People

"It's an uncommon novel that moves a reader, and a rare one that frightens them, but only the most extraordinary accomplish both at the same time. Enter The Damned, a tour de force that sinks sticky claws into the soft dark places in your psyche—and refuses to let go, no matter how you squirm."
—Marcus Sakey, author of The Blade Itself and the Brilliance Saga

"Pyper has a knack for imbuing the ordinary with palpable and frighteningly plausible horror. . . . [His] pacing, as well as the novel's length, is perfect, and his evocative description of Detroit, a city desolate in its decline, comes off as both sad and poetic at the same time. A treat for fans of intelligent treatments of the supernatural and rock-solid writing."
—Kirkus Reviews

"The author of relentlessly award-winning best sellers […] returns with more supernatural thrills."
—Library Journal

"In this literate supernatural thriller . . . as in the best horror, Pyper's keen eye for the quotidian makes the fantastic feel plausible."
—Publishers Weekly

"The Damned guarantees many sleepless nights. . . . A novel that will get your heart racing without insulting your intelligence. . . . A supernatural thriller narrated by the author of a popular memoir in the 'heaven tourism' genre is a brilliant conceit."
—The Globe and Mail (Canada)

"As well-written as it is chill-inducing . . . Pyper's story darkly explores the connection between two siblings that's forever, but maybe not in the best sense. . . . A masterful conceit."
—USA Today, 3.5 out of 4 stars

"Frightening, graphic and full of surprises . . . I would put this author right up there with Stephen King." —The Oklahoman
Simon & Schuster, 9781476755120, 304pp.
Publication Date: February 9, 2016
About the Author
Andrew Pyper is the internationally bestselling author of ten previous novels, including The Demonologist, which won the International Thriller Writers award for Best Hardcover Novel, and The Killing Circle, which was selected a New York Times Best Crime Novel of the Year. He lives in Toronto. Visit AndrewPyper.com and follow him on Twitter @AndrewPyper.
or
Not Currently Available for Direct Purchase