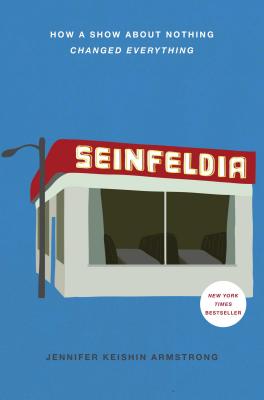 Seinfeldia (Hardcover)
How a Show About Nothing Changed Everything
Simon & Schuster, 9781476756103, 320pp.
Publication Date: July 5, 2016
Other Editions of This Title:
Paperback (6/6/2017)
MP3 CD (7/5/2016)
Compact Disc (7/5/2016)
Hardcover, Large Print (7/20/2016)
* Individual store prices may vary.
Description
"Her book, as if she were a marine biologist, is a deep dive...Perhaps the highest praise I can give Seinfeldia is that it made me want to buy a loaf of marbled rye and start watching again, from the beginning." —Dwight Garner, The New York Times Book Review

The hilarious behind-the-scenes story of two guys who went out for coffee and dreamed up Seinfeld—the cultural sensation that changed television and bled into the real world, altering the lives of everyone it touched.

Comedians Larry David and Jerry Seinfeld never thought anyone would watch their silly little sitcom about a New York comedian sitting around talking to his friends. NBC executives didn't think anyone would watch either, but they bought it anyway, hiding it away in the TV dead zone of summer. But against all odds, viewers began to watch, first a few and then many, until nine years later nearly forty million Americans were tuning in weekly.

In Seinfeldia, acclaimed TV historian and entertainment writer Jennifer Keishin Armstrong celebrates the creators and fans of this American television phenomenon, bringing readers behind-the-scenes of the show while it was on the air and into the world of devotees for whom it never stopped being relevant, a world where the Soup Nazi still spends his days saying "No soup for you!", Joe Davola gets questioned every day about his sanity, Kenny Kramer makes his living giving tours of New York sights from the show, and fans dress up in Jerry's famous puffy shirt, dance like Elaine, and imagine plotlines for Seinfeld if it were still on TV.
About the Author
Jennifer Keishin Armstrong is the author of Sex and the City and Us, Seinfeldia, and Mary and Lou and Rhoda and Ted. She writes about pop culture for several publications, including The New York Times Book Review, Fast Company, Vulture, BBC Culture, Entertainment Weekly, and several others. She grew up in Homer Glen, Illinois, and now lives in New York City. Visit her online at JenniferKArmstrong.com.
Praise For Seinfeldia: How a Show About Nothing Changed Everything…
***A NEW YORK TIMES BEST SELLER***

"Her book, as if she were a marine biologist, is a deep dive...Perhaps the highest praise I can give Seinfeldia is that it made me want to buy a loaf of marbled rye and start watching again, from the beginning."
—Dwight Garner, The New York Times

"Even for those of us who imagine ourselves experts, Armstrong scatters delicious details throughout her book, like so many Jujyfruits we can't resist… [I]n describing the making and writing of this singular show, Armstrong is queen of the castle. Her stories about "Seinfeld" are real — and they're spectacular."
—Washington Post

"Armstrong is an excellent writer and a first-rate journalist. I can attest from firsthand knowledge that Seinfeldia is not only a great read but an accurate historical description about two comedians and one TV show that changed the course of television history."
—Kenny Kramer, the real-life inspiration for Sienfeld's Kramer

"Lively and illuminating. A wildly entertaining must-read not only for Seinfeld fans but for anyone who wants a better of understanding of how television series are made."
—Booklist, starred review

"Even as someone lucky enough to be on the show, I couldn't put Seinfeldia down."
—Larry Thomas, "The Soup Nazi"

"[S]avvy and engaging…the best way to enjoy "Seinfeldia" is to read the book with TV remote in hand, calling up episodes on Hulu as Ms. Armstrong adroitly recounts the back story of these still-captivating shows that were never, ever about nothing."
—Wall Street Journal

"Armstrong proves herself the perfect guide to understanding who, what, when, where, why, and how this show came to define American culture in the '90s…. Seinfeldia is as funny and interesting as a good episode of the show it covers. Armstrong's pacing and attention to detail makes it a book about pop culture that goes by almost too quickly."
—A.V. Club, Grade: A-

"The heart of Armstrong's book and its most engaging quality is how it all came to be: the Seinfeld rules of the road that seemed to be without rules; the actors who left their indelible mark (Bryan Cranston as dentist Tim Whatley, Teri Hatcher as one of Jerry's "spectacular" girlfriends) and the parade of moments about nothing that really turned out to be something."
—USA Today

"Armstrong's intimate, breezy history is full of gossipy details, show trivia, and insights into how famous episodes came to be. How nothing could become something or how a national TV audience learned to live in a Beckett-ian world. Perfect for Seinfeldians and newcomers alike."
—Kirkus Reviews

"Armstrong offers a masterly look at one of the greatest shows. The research involved makes this a boon to television scholars, but Seinfeld enthusiasts will also enjoy this funny, highly readable book."
—Library Journal

"This book is the ultimate score for any Seinfeld addict."
—Fred Stoller, author of My Seinfeld Year

"At last, here is the quintessential book on how and why a show about nothing managed to wend its way through the mediocrity and emerge as a hit. Read it."
—Mike Sacks, author of Poking a Dead Frog

"Seinfeldia is an addictive read for any TV lover. Jennifer Keishin Armstrong's trenchant insight into the cultural phenomenon and pervasive fandom of the beloved show is real, and it's spectacular."
—Maris Kreizman, author of Slaughterhouse 90210

"From the stories behind the stories to the characters behind the characters, Seinfeldia delivers everything you always wanted to know."
—William Irwin, editor of Seinfeld and Philosophy

"Jennifer Keishin Armstrong has managed to do the impossible - she's written a book about nothing. Which is everything. Because it's Seinfeld. Through Armstrong's pen, we learn exactly how a couple of neurotic comics hijacked "nothingness" (once the exclusive domain of Buddhist monks and their serene, mountaintop "monk-spas") and transported it into every TV set in America."
—Mary Birdsong, Reno 911