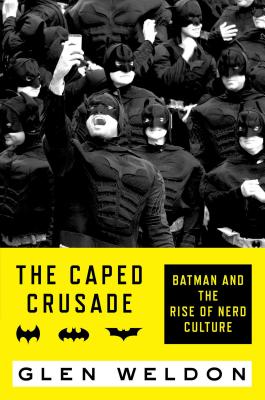 The Caped Crusade
Batman and the Rise of Nerd Culture
Hardcover

* Individual store prices may vary.
Other Editions of This Title:
Digital Audiobook (3/21/2016)
Paperback (3/21/2017)
Description
A witty, intelligent cultural history from NPR book critic Glen Weldon explains Batman's rises and falls throughout the ages—and what his story tells us about ourselves.

Since his creation, Batman has been many things: a two-fisted detective; a planet-hopping gadabout; a campy Pop-art sensation; a pointy-eared master spy; and a grim and gritty ninja of the urban night. For more than three quarters of a century, he has cycled from a figure of darkness to one of lightness and back again; he's a bat-shaped Rorschach inkblot who takes on the various meanings our changing culture projects onto him. How we perceive Batman's character, whether he's delivering dire threats in a raspy Christian Bale growl or trading blithely homoerotic double-entendres with partner Robin on the comics page, speaks to who we are and how we wish to be seen by the world. It's this endlessly mutable quality that has made him so enduring.

And it's Batman's fundamental nerdiness—his gadgets, his obsession, his oath, even his lack of superpowers—that uniquely resonates with his fans who feel a fiercely protective love for the character. Today, fueled by the internet, that breed of passion for elements of popular culture is everywhere. Which is what makes Batman the perfect lens through which to understand geek culture, its current popularity, and social significance.

In The Caped Crusade, with humor and insight, Glen Weldon, book critic for NPR and author of Superman: The Unauthorized Biography, lays out Batman's seventy-eight-year cultural history and shows how he has helped make us who we are today and why his legacy remains so strong.
Praise For The Caped Crusade: Batman and the Rise of Nerd Culture…
"A roaring getaway car of guilty pleasures—film gossip, comic-book esoterica, hilarious tales of nerd rage. . . . Weldon writes with humor and Day-Glo élan." —Jennifer Senior, The New York Times

"Smart, witty and engrossing." —The Wall Street Journal

"The Caped Crusade is a great read for those who are proud Gothamites, those less initiated, and those who flip the switch on the Bat-Signal in order to find themselves. . . .A sharp, deeply knowledgeable and often funny look at the cultural history of Batman and his fandom...both a page-turner and a Riddler Trophy." —Chicago Tribune

"Engaging. . . . What Weldon ultimately achieves here is a character and comic-franchise history that is itself flexible enough to become what the reader needs it to be. If you're a Bat-neophyte, this is an accessible introduction; if you're a dyed-in-the-Latex Bat-nerd, this is a colorfully rendered magical history tour redolent with nostalgia." —The Washington Post

"For fans of Gotham's Batman, this is the perfect book to pick up before you head to the movie. . . . Even casual fans will find themselves quickly turning pages to learn more about how our comic heroes affect and even shape our everyday lives." —Bookish

"[The Caped Crusade] accomplishes what so many supervillains, from The Joker to Bane, have long desired to do: pin down Batman and systematically dissect him. Weldon navigates Batman's history with an expert step...a winning mix of humor, and incisive social analysis. Even his footnotes are funny. Under that famous cowl, he sees ugliness, wonder, and the undercurrents of pop culture in all their conflicting glory." —NPR

"Writing a book about Batman is tricky. He is a cultural icon deeply meaningful to many because his story touches on themes of loss, adversity and perseverance. Also, he is an implausible character who defies laws of physics and common sense every time he swoops on gun-blazing lunatics. Weldon successfully walks the tightrope, showing reverence for the character but keeping it fun." —Associated Press

"Excellent, insightful. . . .Weldon has crafted that rare jewel: a book of comics analysis that nerds and "normals" alike can enjoy." —Publishers Weekly (starred review)

"Sprawling in scope, yet written with breezy flair. . .An enthusiastic, immersive, entertaining guide for both die-hard Batfans and curious onlookers." —Kirkus Reviews

"The Caped Crusade is breezy, insightful, and surprisingly moving. Glen Weldon is the illuminating, hilarious writer Batman deserves—and the one we need right now." —DC Pierson, author of The Boy Who Couldn't Sleep and Never Had To and Crap Kingdom

"Simply put, The Caped Crusade is the best book I've read this year....Highly addictive reading, with just the right blend of comic book history and nerd culture analysis." —Comic Book Herald

"The Caped Crusade: Batman and the Rise of Nerd Culture doesn't read like a history book, and it's not just due to the author's fantastic storytelling. Weldon informs the reader of the history of Batman with a passion that can be found in any tried and true Batman fan and with a level of knowledge I've never encountered before. It is the book that Gotham City deserves, and I can't recommend it enough." —ComicsVerse

"Weldon, a critic for NPR, offers possibly the most erudite and well-researched fanboy manifesto ever." —Booklist

"There's no better time to stop, relax, take a breath and read NPR critic Glen Weldon's history of Batman…Because here, in these entertaining pages, you will discover that nerd rage over the Dark Knight is nothing new." —Mashable (Geek Book of the Week)

"[A] smart, engaging dissection of Batman's pulpy comic-book roots, his rise to campy '60s TV stardom, his takeover of toy shelves and his resurrection as the dark knight of the silver screen." —Parade

"Sinkinginto the pages of 'The Caped Crusade' is the next-best thing to debating who'sthe better Batman." —Detroit Free Press

"Anyone familiar with Weldon's frequent NPR appearances will delight in this book's near-perfect translation of his verbal and comedic sensibilities. Its tone is reverent and analytical, acknowledging the absurdities of Batman and celebrating its wondrous appeal in equal measure." —DCist

"Strikes a seemingly impossible balance in its own right, serving as both a reasonably concise crash course in the character's history and an astute pop-sociological analysis of what this all means. . . . It's at once brisk and breezy and exceedingly well researched and lovingly constructed, offering something for both nerds and 'normals' alike in a time when the nerds have won." —Playboy

"If you looked at Glen Weldon's utility belt, you'd find wit, humor & endless knowledge about Batman. Thankfully he's condensed that utility belt into a book where you will learn the origin, the ups, the downs and the sideways of one of the most iconic bat-based superheroes of all time." —Kumail Nanjiani, comedian and star of HBO's Silicon Valley

"This is the hero's journey of Batman from a raw idea of a character to a cornerstone of pop culture. Weldon pulls the back the cowl and reveals us—creators, performers and fans—all collaborating to shape a modern myth that bends with the times to endure. Once I started, I kept reading every chance I got." —Jeff Parker, writer of BATMAN '66

"The Caped Crusade is seriously informed, daringly opinionated and endlessly charming...It's not just a book about Batman, its Nerd Culture's origin story." —Guy Branum, host of Pop Rocket
Simon & Schuster, 9781476756691, 336pp.
Publication Date: March 22, 2016
About the Author
Glen Weldon has been a theater critic, a science writer, an oral historian, a writing teacher, a bookstore clerk, a movie usher, a PR flack, an inept marine biologist, and a slightly-better-than-ept competitive swimmer. His work has appeared in The New York Times, The Washington Post, The New Republic, Slate, The Atlantic, The Village Voice, The Philadelphia Inquirer, and many other places. He is a panelist on NPR's Pop Culture Happy Hour and reviews books and comic books for NPR.org. The author of Superman: The Unauthorized Biography and The Caped Crusade: Batman and the Rise of Nerd Culture, he lives in Washington, DC.
Coverage from NPR
or
Not Currently Available for Direct Purchase