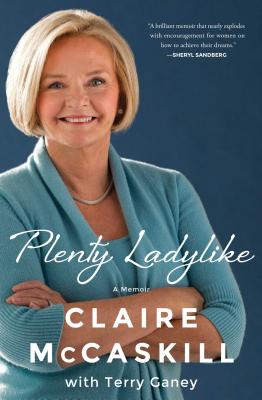 Plenty Ladylike
A Memoir
Hardcover

* Individual store prices may vary.
Other Editions of This Title:
Digital Audiobook (8/10/2015)
Paperback (8/23/2016)
CD-Audio (8/11/2015)
Description
The female senator from Missouri shares her inspiring story of embracing her ambition, surviving sexist slings, making a family, losing a husband, outsmarting her enemies—and finding joy along the way.

Claire McCaskill grew up in a political family, but not at a time that welcomed women with big plans. She earned a law degree and paid her way through school by working as a waitress. By 1982 Claire had set her sights on the Missouri House of Representatives. Typically, one voter whose door she knocked on said: "You're too young; your hair is too long; you're a girl….Go find yourself a husband." That door was slammed in her face, but Claire always kept pushing—first as a prosecutor of arsonists and rapists and then all the way to the door of a cabal of Missouri politicians who had secret meetings to block her legislation.

In this candid, lively, and forthright memoir, Senator McCaskill describes her uphill battle to become who she is today, from her failed first marriage to a Kansas City car dealer—the father of her three children—to her current marriage to a Missouri businessman whom she describes as "a life partner." She depicts her ups and downs with the Clintons, her long-shot reelection as senator after secretly helping to nominate a right-wing extremist as her opponent, and the fun of joining the growing bipartisan sisterhood in the Senate.

From the day she was elected homecoming queen in high school, Claire has loved politics and winning. Her memoir is unconventional: unsparing in its honesty, full of sharp humor and practical wisdom, and rousing in its defense of female ambition.
Praise For Plenty Ladylike: A Memoir…
"Senator McCaskill is a role model for women who aspire to win on their own terms. Plenty Ladylike is a powerful, unapologetic primer on the successful exercise of real power and what it takes to get it, keep it, and use it. This is a brilliant memoir that nearly explodes with encouragement for women on how to achieve their dreams."
— Sheryl Sandberg, Facebook COO and author of Lean In

"Plenty Ladylike reclaims hard work, boldness, and tenacity as essential ladylike qualities. Claire's successes, from demanding taxpayers' dollars are used effectively to passing new protections for victims of sexual assault, make clear that women should run for and demand a seat at the table."
— Donna Brazile, Vice Chairwoman of the Democratic National Committee

"Honest and fearless, Claire McCaskill is one of the most authentic and compelling people I have met in public life. In this candid memoir, she recalls a journey of struggle and triumph that underscores the unique challenges women face in a male-dominated arena. It's a great story."
— David Axelrod, former Senior Advisor to the President

"Claire McCaskill's trademark invincibility was forged in childhood--inspired by exceptional parents, powered by a bone-deep self-confidence, and driven by a defiant rejection of any gender stereotyping that might stand in her way. In her electrifying and bracingly honest memoir, Plenty Ladylike, McCaskill reveals how her tireless ambition and steely spirit fueled the fascinating upward trajectory of her life. I was spellbound by McCaskill's story, and I know that women everywhere will cheer along with me at her march into the pages of history."
— Marlo Thomas, actress and author of Free to Be...You and Me

"Claire is known by her colleagues for her courage, leadership, and resolve. Plenty Ladylike is an honest and heartfelt look into how she became the first woman from the state of Missouri elected to serve in the United States Senate. Her story is both instructional and inspirational for all people committed to the unfinished business of America: making our nation a place of liberty and justice for all, no matter your race, religion, or gender."
— Cory Booker, US Senator

"Claire McCaskill has always been a fighter for what she believes in, and a powerful advocate for women."
— Ellen Malcolm, Founder of EMILY's List

"A quietly charming, inspiring memoir."

"McCaskill's memoir is straightforward, plainspoken, and at once deeply personal and thoroughly political."

"A highly readable, relatively fast moving and surprisingly frank political autobiography."

"Vivid detail. . . . What will strike a reader is not only her candidness when talking about the challenges of working with the men she has grown up with in politics but also her willingness to go where few politicians do and talk about deeply emotional parts of her life like her divorce, finding love again and the death of her mom, Betty Anne. . . . It's plenty clear [Plenty Ladylike] is not just another politician's book. . . . Amid stories of the tough road traveled by women in politics, Plenty Ladylike offers a narrative of encouragement for them to do it anyway."

"Regardless of the reader's political bent, it would be hard not to appreciate McCaskill's feisty ascent through what had been a male-dominated political realm. Her tale . . . rings true to her persona as an ambitious, plain-spoken leader who wins her way, without apology."

"A crisp read. . . . It seldom slows down."

"An eye-opening read with perspective on the continual evolution of American politics."
Simon & Schuster, 9781476756752, 272pp.
Publication Date: August 11, 2015
About the Author
In 2006 Claire McCaskill was the first woman from Missouri elected as a United States senator and continues to serve in that position today. She has a BA and a JD from the University of Missouri and worked for the Jackson County prosecutor's office before she was elected to her first state legislature position in the Missouri House in 1982. She lives in St. Louis with her husband and blended family of seven children and nine grandchildren. Plenty Ladylike is her first book.
or
Not Currently Available for Direct Purchase