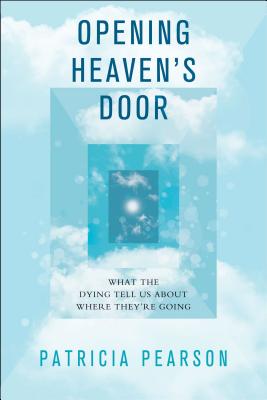 Opening Heaven's Door (Hardcover)
Investigating Stories of Life, Death, and What Comes After
Atria Books, 9781476757063, 272pp.
Publication Date: May 13, 2014
Other Editions of This Title:
Paperback (5/19/2015)
Paperback (5/22/2014)
* Individual store prices may vary.
Description
The first book by a respected journalist on Nearing Death Awareness—similar to Near-Death Experience—this groundbreaking, beautifully written exploration will forever alter your perceptions of the nature of death and life.

People everywhere carry with them extraordinary, deeply comforting experiences that arrived at the moment when they most needed relief: when they lost a loved one. These experiences can include clear messages from beyond, profound and vividly beautiful visions, mysterious connections and spiritual awareness, foreknowledge of a loved one's passing—all of which evade explanation by science and logic. Most people keep these transcendent experiences secret—deathbed experiences, Nearing Death Awareness, and shared death experiences. Individuals and families guard them for fear they will be discounted by hyperrational scrutiny. Yet these very common occurrences have the power to console, comfort, and even transform our understanding of life and death.

Prompted by her family's surprising, profound experiences around the death of her father and her sister, reporter Patricia Pearson sets out on an open-minded inquiry, a rare journalistic investigation of Nearing Death Awareness. Pearson discovers that roughly half of bereaved people, as well as nurses, hospice workers, soldiers, and others who constantly observe the dying, have had intimations of enduring bonds that can radically help people to process their grief and their fear. Opening Heaven's Door offers deeply affecting stories of messages from the dying and the dead in a fascinating work of investigative journalism, pointing to new scientific explanations that give these luminous moments the importance felt by those who experience them. Pearson also delves into out-of-body and near-death experiences, examining stories and research to make sense of these related but distinct categories that shed light on Nearing Death Awareness.

Countless people experience these coincidences when a loved one dies, while others experience such visions while they are dying themselves. These phenomena point toward a larger spiritual reality, and the reality of life (or something else) after death, yet are ignored in a cultural framework that dismisses anything that cannot be explained by the physical brain. But by dismissing or discounting these occurrences, we hamper our own healing. Challenging current assumptions about what we know and what we are still unable to explain, Opening Heaven's Door is a groundbreaking, beautifully written exploration that will forever alter your perceptions of the nature of life and death.
About the Author
Patricia Pearson's work has appeared in The New Yorker, The New York Times, and Business Week, among other publications. A former member of USA TODAY's Op-Ed Board of Contributors, she gave a recent TEDx talk, "Why Ghosts are Good for You," which points to research showing the importance of NDAs in helping people cope with grief. She is based in Toronto, Canada.
Praise For Opening Heaven's Door: Investigating Stories of Life, Death, and What Comes After…
"The word is out: you don't die when you die. That's the message from around 15 million Americans who have experienced a near-death experience, as Patricia Pearson, in sparkling prose, shows in this enormously engaging book. I know, I know: this premise causes serious intellectual indigestion in die-hard skeptics, but we should not be diverted by their leaky arguments. The fear of total annihilation with physical death has caused more suffering in human history than all the physical diseases combined. Pearson's message is a Great Cure for this Great Fear. This book conveys deep meaning and hope. It takes the pressure off and makes life more fulfilling and joyous. There is only one reason why you should not read this magnificent book: if you have a secret way not to die. But since the statistics so far are against you, let Pearson be your guide."
— Larry Dossey, MD, author of One Mind: How Our Individual Mind Is Part of a Greater Consciousness and Why It Matters

"Pearson brings her blend of humor, sympathy, and keen critical intelligence to a topic that is all too often off limits to writers of her caliber. This is exactly the smart book on the possibility of an afterlife that readers curious about the topic but leery of mush have been looking for."
— Ptolemy Tompkins, author of The Modern Book of the Dead and collaborator with Dr. Eben Alexander on Proof of Heaven an

"Pearson has brought us something rare: a unique blend of gifted storytelling combined with exhaustive scientific research about dying, grief, and spiritual connectivity. Opening Heaven's Door leaves us enthralled that death's mystery may be life's solution."
— Allan J. Hamilton, MD, author of The Scalpel and the Soul

"In this compelling and provoking read, Patricia Pearson examines death and dying with uncommon thoughtfulness, asking questions too rarely asked. Moving and insightful, Opening Heaven's Door is an important work for all of us struggling with the inevitably of death."
— Steven Galloway, author of The Confabulist and The Cellist of Sarajevo

"Your life is over the moment you die. So I used to believe, with something like religious fervor. And then I read Opening Heaven's Door, and such is the power and art, the passion and rigor of Patricia Pearson's writing that I'm not nearly so sure of myself. This is a splendid book in all the ways a book can be splendid. It is a book to be read and re-read and urged upon friends."
— Barbara Gowdy, author of We So Seldom Loo

"Patricia Pearson's Opening Heaven's Door is a fascinating examination of the conclusion of all our struggles and victories: the instant of death. This omnivorous journey through grief and neuroscience and spirituality carries the reader swiftly along and into places we can never truly know—but Pearson provides an unprecedented glimpse."
— Kevin Patterson, award-winning author of

"'On the night of my father's death,' said the author's sister at their father's memorial service, 'I had an extraordinary spiritual experience.' How can you put down a book that begins like that? Hardheaded and openhearted, Pearson has brought together riveting accounts of near-death experiences that will shake your assumptions about where life ends, and what death means. For seekers and skeptics alike, Opening Heaven's Door is profoundly comforting, questing, and wise."
— Marni Jackson, author of Pain: The Fifth

"This remarkable new book by Patricia Pearson is a rare thing: bringing journalistic rigor to an impossible question… The book succeeds so well because it favors questions over answers, humility over certainty, and (when called for) crunchy ice-breaking humor over earnestness. But mostly it succeeds because of its unabashed concern with love, as it's experienced not just by those at heaven's door, but by the human tribe that's inevitably left behind when someone dies. Love, too, is a mystery that changes us."

"A wide-ranging account of discoveries and evolving understanding about life, death, the afterlife, and the true dimensions of consciousness. Numerous firsthand accounts, observations and results of scientific research provide a readable primer on psi phenomena, significantly expanding our understanding of the realities of our existence."

"Readers will be humbled and filled with a sense of hope rather than fear as they realize that the deaths of loved ones, or even their own deaths, are not losses, but simply transitions. A fascinating and candid analysis of the process of dying."

"Quite a book. A lot of marvelous material. The quality of books on this theme varies enormously. This is certainly a substantive, eloquent, and worthwhile effort."
— Anne Rice, on her public Facebook page
or
Not Currently Available for Direct Purchase