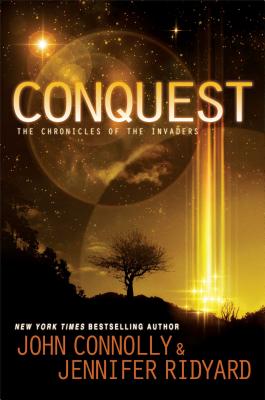 Conquest: The Chronicles of the Invaders (Hardcover)
The Chronicles of the Invaders
Atria Books, 9781476757124, 435pp.
Publication Date: February 11, 2014
* Individual store prices may vary.
or
Not Currently Available for Direct Purchase
Description
The first in a stunning new science fiction trilogy, Conquest introduces a world where humanity has been conquered by a powerful alien rulership--unless a group of young rebels can unlock their powers and help rescue humankind from its terrible fate. Earth is no longer ours. . . . It is ruled by the Illyri, a beautiful, civilized, yet ruthless alien species. But humankind has not given up the fight, and Paul Kerr is one of a new generation of young Resistance leaders waging war on the invaders. Syl Hellais is the first of the Illyri to be born on Earth. Trapped inside the walls of her father's stronghold, hated by the humans, she longs to escape. But on her sixteenth birthday, Syl's life is about to change forever. She will become an outcast, an enemy of her people, for daring to save the life of one human: Paul Kerr. Only together do they have a chance of saving each other, and the planet they both call home. For there is a greater darkness behind the Illyri conquest of Earth, and the real invasion has not yet even begun. . . .
About the Author
John Connolly was born in Dublin. He is the bestselling author of eighteen books, including the Charlie Parker series and The Book of Lost Things, and is an editor of the prizewinning nonfiction anthology Books to Die For. Conquest is his twentieth published book. Jennifer Ridyard was born in England and grew up in South Africa, where she worked as a journalist for many years. Conquest is her first novel. John and Jennifer live in Dublin. For more information on John and Jennifer, visit them on Twitter @JConnollyBooks and @JennieRidyard, or at ChroniclesoftheInvaders.com.
Advertisement